Broadcast Cable Connectivity
High performance, low attenuation, high RF power signal transmission in the most efficient and cost-effective way possible.
HELIFLEX® sets the standard FOR DECADES.
HELIFLEX is a high-performance RF cable with a design that offers the lowest possible attenuation and signal distortion. Designed and patented by RFS over 70 years ago, this style of cable has become the de-facto industry standard. HELIFLEX solutions have a higher power rating compared to foam dielectric cables of the same dimension, making it ideal for terrestrial television and radio broadcasting, and other applications that need to transport high-power signals from the transmitter to the antenna.
Learn more
Challenges
Terrestrial Broadcast Challenges
High performance
Broadcast systems must deliver a strong, interference-free signal from extremely tall towers to ensure high-quality transmissions across very large service areas. For maximum performance, every component in broadcast systems, from RF transmission lines to antennas, filters and combiners must safely sustain the highest power levels and provide the lowest losses in their class.
Trouble free connectivity
Trouble-free high-power signal transport from transmitters, filters, and combiners to broadcast antenna systems require cables and connectors that are high performance, low attenuation, low VSWR, and easy to install.
Futureproof reliability
To avoid the costs and hassles of servicing and replacing equipment in remote areas and on very tall towers, broadcasters need extremely reliable systems and components. Cable and components must operate trouble-free in harsh outdoor environments over a lifetime spanning many decades with minimal routine maintenance. Cable connectivity solutions also need to adapt to support the evolution of new television standards.
Industry Trends
Power efficiency
It's not enough for broadcast system components to support very high RF power transmissions. To reduce carbon emissions at broadcast sites, each component must make the most efficient possible use of power. The most power-efficient broadcast systems include lowest loss air dielectric coaxial cable connectivity, antennas with higher gain, lowest loss internal cabling and radiating patterns that distribute power only where required, and filters, combiners and connectors with advanced power handling capabilities.
Infrastructure sharing
As broadcasters evolve to support NextGen TV and 5G TV, they're looking for opportunities to reduce capital and operating costs. Sharing broadcast equipment is an important way to gain these efficiencies. To enable infrastructure sharing, broadcast equipment including cable connectivity must support multiple channels and frequencies.
Futureproof equipment
No broadcaster can afford to invest in network infrastructure that limits their ability to continue evolving or worse, becomes obsolete. The broadcast systems and connectivity they invest in today must be designed to anticipate their needs tomorrow. These solutions support multiple broadcast standards, including 5G broadcast, DVB-T2, ATSC 3.0, DTMB-A and ISDB-T.
RFS Solutions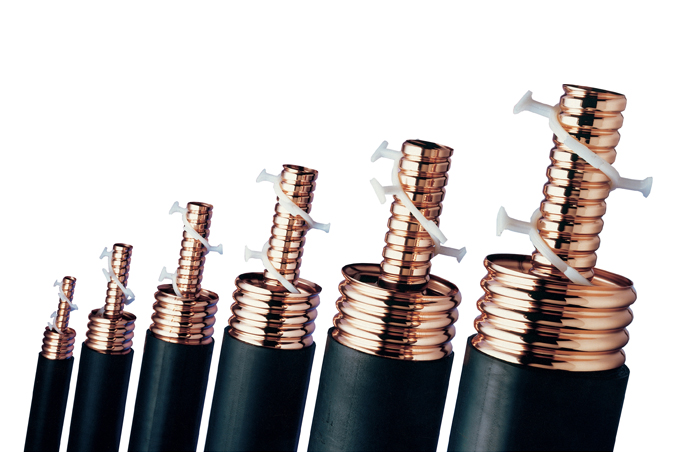 High-Power Transmission Line Systems
RFS high-power transmission line systems include large-diameter HELIFLEX® air-dielectric coaxial cables that provide extremely low losses to deliver the site efficiencies needed to reduce operating costs and carbon emissions.
Our HELIFLEX transmission lines are made from premium materials to provide the highest power and lowest loss of all equivalent-sized competitive offerings.
HELIFLEX cables are air-filled coaxial cables where the inner conductor is centered by dielectric spacers. Designed and patented by RFS over 70 years ago, this style of cable has become the de-facto industry standard, with RFS's premium HELIFLEX solutions installed across the globe. Available in cable sizes between 7/8" and 6 1/8" (larger sizes available on request), the unique helix corrugation makes for a flexible and versatile cable that offers big advantages for a range of applications.
Discover High-Power Transmission Line Systems
References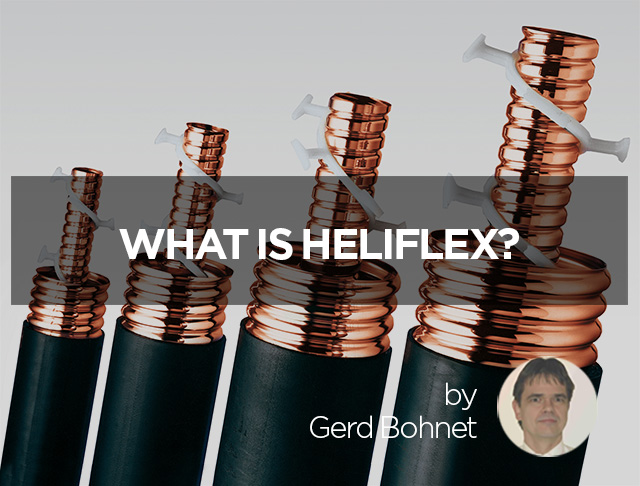 What is HELIFLEX?
March 22, 2023
HELIFLEX®: Designed and produced by RFS for over 70 years, our HELIFLEX solutions have been installed across the globe. Here, Gerd Bohnet, Product Line Manager Waveguide & Air Dielectric Cable at RFS talks us through the solution and how it is used.
Read blog about HELIFLEX
Contact us
Are you looking for more information on our solutions or would like to get in touch with an RFS expert?
Fill in the form below to tell us more about your request and we will get you to the right people as soon as possible