Mines
Get the wireless connectivity needed to accelerate and automate mine operations
We bring mine operators more than four decades of experience designing and delivering innovative wireless solutions for underground environments, including more than 40% of the world's metros. And we extend our underground connectivity solutions with cutting-edge solutions for above-ground and in-building wireless connectivity. With fast and reliable wireless connectivity throughout mines, people, systems and equipment can operate in safer, more efficient and effective ways to increase productivity at lower cost.
Learn more
Challenges
Mining Challenges
Environment and cost
Mines are often comprised of oddly shaped, confined spaces surrounded by rock. Telecom infrastructure installations typically occur at night, during short time periods, and require specially trained personnel to ensure secure, long-lasting deployments. To keep installation costs down, wireless solutions must be designed to overcome these physical and environmental challenges.
Radio signal propagation
Outdoor wireless coverage can't penetrate into mines, but there are very limited locations to install antennas and repeaters in tight underground spaces. Mine tunnel curves and signal blockages caused by heavy, moving equipment compound propagation challenges. It takes significant RF expertise to ensure reliable access to wireless connectivity deep underground.
Complex requirements
As mine operators leverage more digital technologies, data and automation, they need a faster, more reliable wireless network that can support a wide variety of demanding and real-time applications. The wireless network must seamlessly support all wireless technologies and frequencies up to 6 GHz with consistently high quality and capacity.
Mission-critical connectivity
There's no room for even the slightest weakness in the wireless connectivity in mines — lives depend on it. To ensure people, systems and equipment have reliable access to wireless connectivity at all times, every solution component must be engineered to withstand harsh conditions, maximize performance and maintain communications should disaster strike.
Regulatory requirements
Wireless connectivity solutions in mines must meet stringent government and industry regulations for mine safety. But many solution providers don't have the expertise, experience or dedication it takes to design and manufacture wireless solutions with the robust construction, superior resilience and extreme fire resistance needed to comply with regulations.
Industry Trends
Worksite safety
Everyone at mine sites must have access to reliable, high-quality wireless communications, no matter where they are, or what event has occurred. Wireless connectivity solutions that protect mine staff:
Extend to every corner of the mine, above-ground and underground, indoors and outdoors
Meet the highest global standards for low smoke, flame and fire retardance
Support all communications technologies and frequencies up to 6 GHz
Learn about fire-safe communications equipment
Industry 4.0
Mine operators recognize that wireless connectivity is essential to take advantage of Industry 4.0 technologies that enable safer, more sustainable and efficient operations. They're looking for wireless solutions that:
Provide a single, converged, 5G-ready wireless network for all Industry 4.0 technologies
Deliver the reliability, performance and low latency needed for real-time applications such as remote IoT sensor monitoring and data analytics
Ensure network security end-to-end
Autonomous operations
Using autonomous vehicles, robotics and remotely operated equipment at mines is an effective way to increase efficiency and productivity while reducing costs. To support autonomous operations at mines, wireless connectivity solutions must:
Take connectivity to the deepest, most confined and difficult to reach areas of the mine
Deliver consistently high performance
Support different types of autonomous vehicles and equipment today and tomorrow
Navigate connectivity in mines
Rugged reliability
Every piece of equipment used at mines, right down to communications cables and connectors, must be designed to reliably perform for years in harsh environments:
Cable jackets must be specially constructed to withstand temperature and humidity swings and to resist degradation, even after years of exposure to vibration and abrasion
Connectors must include built-in seals against the outer conductor and the cable jacket to protect against water and dust intrusion
RFS Solutions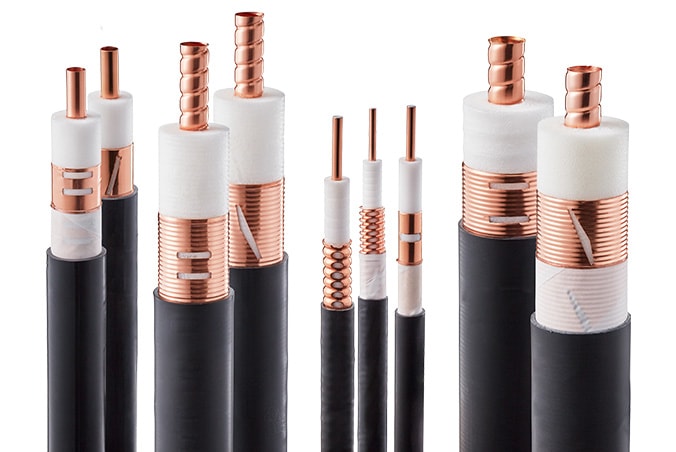 RADIAFLEX® Radiating Cables
RFS RADIAFLEX is the industry's most advanced portfolio of 5G-ready radiating cables for contoured wireless coverage in buildings and underground. RADIAFLEX cables support all services up to 6 GHz with high performance, making them ideal for multiband, multi-operator applications in any indoor environment. With a variety of different bending radii, performance levels and outer conductor types to choose from, there's a RADIAFLEX radiating cable for even the most challenging coverage requirements.
Discover RADIAFLEX® Radiating Cables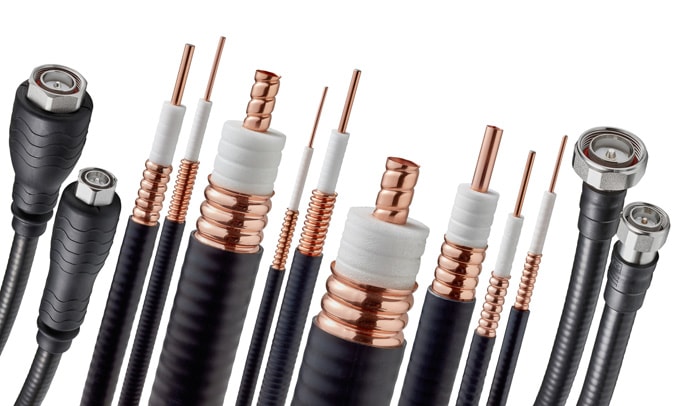 CELLFLEX® Coaxial Cables and Jumpers
RFS CELLFLEX coaxial cables and jumpers combine industry-leading electrical performance with remarkable flexibility and strength. These premium attenuation, low-loss cables support all frequencies from low MHz ranges to 6 GHz, and are available in 20 models ranging from 1/4-inch to 1 5/8-inch in diameter. The CELLFLEX portfolio also includes CELLFLEX Lite, lighter weight coaxial cables that are ideal when fluctuating copper prices rise and in areas where copper theft is an issue.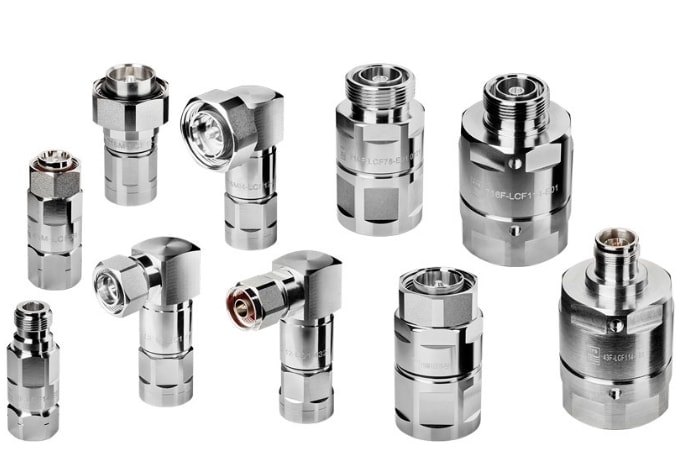 Connectors and Accessories
RFS OMNI FIT™ Premium and OMNI FIT Standard connectors are well-known for their precision-engineered performance, ease of installation and long life in the field. They can be used with copper and aluminum cables, and are the perfect complement to our CELLFLEX and CELLFLEX Lite coaxial cables. The connectors support all frequencies up to 6 GHz, making them ideal for smooth evolution to 5G globally. A comprehensive range of adapters, grounding kits, hangers, clamps and tools complete the portfolio.
Discover Connectors and Accessories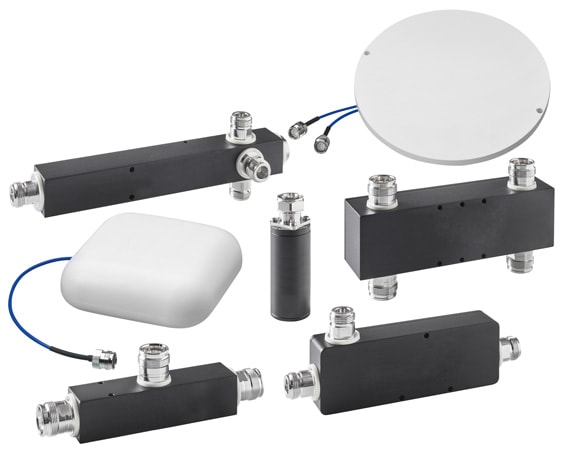 Passive RF Components
RFS passive RF components operate in all frequency bands from 555 MHz to 6 GHz and provide optimal passive intermodulation (PIM) performance to reduce interference and support the highest throughput levels end-to-end. Our comprehensive portfolio includes all components required for an end-to-end, 5G-ready distributed antennas system, including: combiners, hybrid combiners and couplers, directional couplers, diplexers and triplexers, power splitters, loads and attenuators.
Discover Passive RF Components
References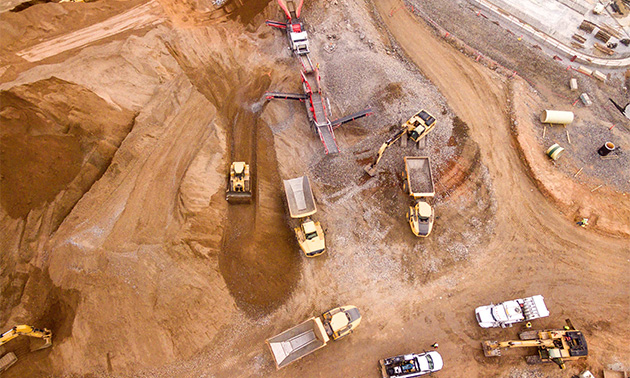 Mines in Canada
Canada | 2018-Present
More than 1.65 million feet of RFS RADIAFLEX® radiating cables have been installed in mines throughout Canada, and particularly in Sudbury, Ontario, since 2018. These mines rely on 7/8-inch and 1/2-inch RADIAFLEX cables installed throughout their operations to support voice communications, video feeds and remote control of mining equipment in areas where human control of equipment is too dangerous.
Contact us
Are you looking for more information on our solutions or would like to get in touch with an RFS expert?
Fill in the form below to tell us more about your request and we will get you to the right people as soon as possible