5G-S Series Antennas


Sector Antenna for 5G and FeMBMS

Rev : 01 | Rev date : 16 Feb 2022

PRODUCT DESCRIPTION

The 5G-S series sector antennas are designed for FeMBMS (Further evolved Multimedia Broadcast Multicast Service) applications in the UHF Broadcast and 5G/LTE 700 MHz bands.
Four azimuth radiation pattern types are available to provide flexibility in coverage planning. Six antenna heights are available providing antenna gains from low gain to very high gain.
Standard antennas incorporate circular polarization for improved transmission to portable and indoor devices. The 5G-S antennas can also be configured for MIMO transmission.


FEATURES / BENEFITS
High power Broadcast overlay mode reduces the load on regular unicast LTE cells.
Multiple sector-type azimuth radiation patterns are available.
Multiple antenna gain options are available.
Circular polarization to improve in-building reception on portable devices.
Independent polarization inputs allow MIMO or MISO using orthogonal polarization.
Traditional broadcast and LTE/5G can share the same antenna using VPT combiners.
Very low wind loading.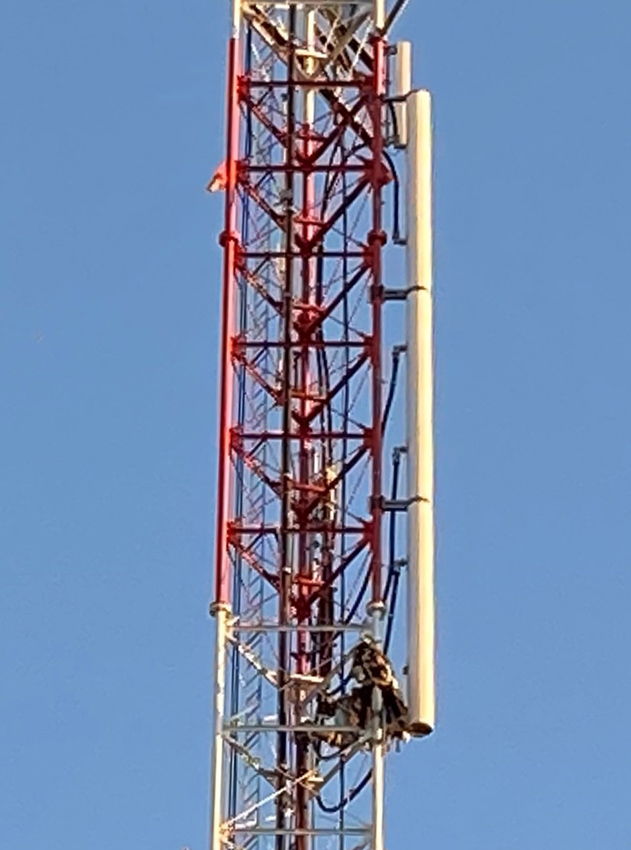 Details

Product Type

Sector Antenna
for 5G Television
Electrical Specifications

Antenna Type
Sector Antenna for 5G Television
Operating Frequency Range
MHz
470-700
Polarization
Circular or MIMO
Azimuth Radiation Pattern
Sector, refer to Azimuth radiation patterns
VSWR
<1.3:1 (1.1 on channel if specified)
Impedance
Ohms
50
Mechanical Specifications

Radome Diameter
mm (in)
381 (15)
Pressurization Operational
kPa (psi)
10 to 25 (1.4-3.6)
Pressurization Test
kPa (psi)
100 (15)
Material

Material - Radome
UV Resistant Fibre Glass
Material - Insulators
Virgin PTFE
Material - Support Pole / Mounting
Hot Dipped Galvanized Steel
Material - Feedline & Radiators
Copper
Material - Reflecting System
Aluminum
Color
White, others on request
Model Number Specifications

Antenna Model
5G-S160-04
5G-S160-08
5G-S160-12
5G-S160-16
5G-S160-20
5G-S160-24
Gain
dBd [Note 1]
9.0
11.3
12.9
14.1
15.1
15.8
Antenna Model
5G-S260-04
5G-S260-08
5G-S260-12
5G-S260-16
5G-S260-20
5G-S260-24
Gain
dBd [Note 1]
11.1
13.4
15.0
16.2
17.2
17.9
Antenna Model
5G-S360-04
5G-S360-08
5G-S360-12
5G-S360-16
5G-S360-20
5G-S360-24
Gain
dBd [Note 1]
12.5
14.8
16.4
17.6
18.6
19.4
Antenna Model
N/A
5G-S460-08
5G-S460-12
5G-S460-16
5G-S460-20
5G-S460-24
Gain
dBd [Note 1]
N/A
15.2
16.9
18.1
19.1
19.8
Number of Bays
4
8
12
16
20
24
Power Rating
kW
5
10
15
20
25
30
Input Connector
1-5/8" EIA
3-1/8" EIA
3-1/8" EIA
3-1/8" EIA
4-1/2" IEC
4-1/2" IEC
Mounting Type
Top or Side
Side
Height
m (ft) [note 2]
2.29 (7.5)
4.30 (14.1)
6.49 (21.3)
8.69 (28.5)
10.91 (35.8)
13.11 (43.0)
Weight
kg (lb) [note2]
114 (251)
238 (525)
445 (981)
621 (1370)
804 (1773)
1050 (2315)
Effective Area Front (No Ice)

m2 (ft2)


0.50 (5.3)
1.00 (10.8)
1.51 (16.2)
2.01 (21.7)
2.52 (27.1)
3.02 (32.5)
Notes
Note 1: Gain is at mid-band and when configured for dual linear polarisation
Note 2: Data shown is for side mounted antennas
Note 3: Beam-tilt and Null-fill is standard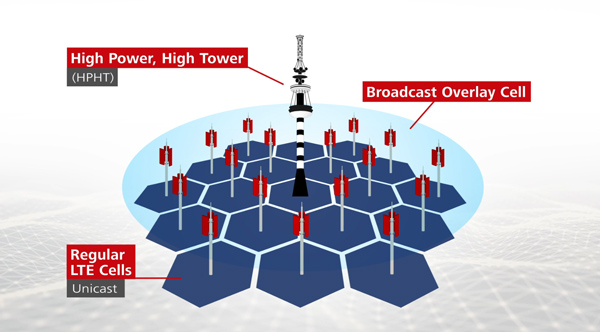 LTE Broadcast Overlay Call Concept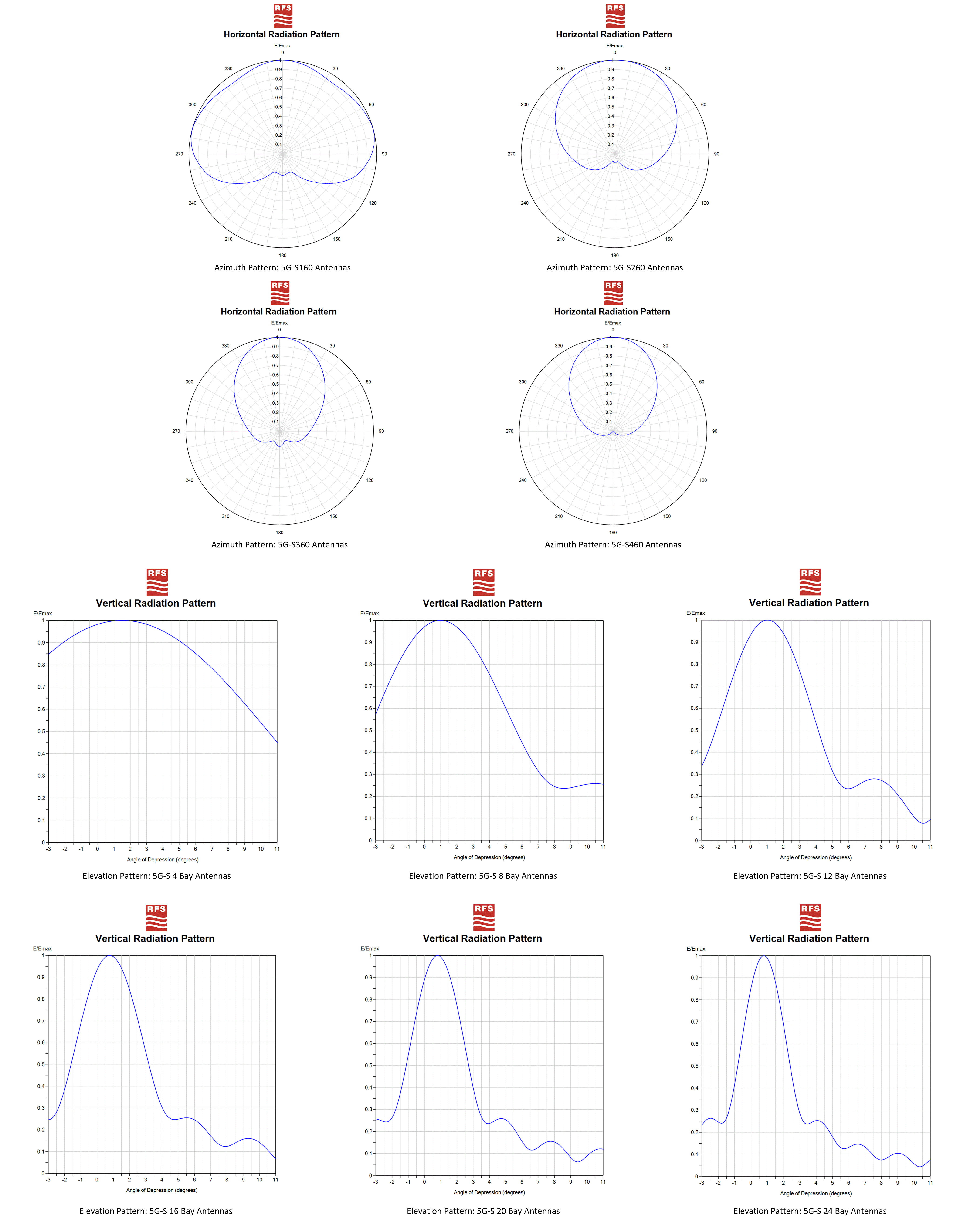 Azimuth and Elevation Radiation Patterns