606LV


44-88MHz TV Panel Arrays
606L Series

Rev : 02 | Rev date : 27 Jan 2021

The 606L series of panels are low wind load antennas engineered to provide customized coverage for any single TV channel in Band I.
The 606LV panel comprises two separate dipole and screen assemblies vertically spaced one-half wavelength apart.
Each assembly has one half-wave dipole mounted on a screen with a 7/8" EIA input and must be mounted in pairs. Both the dipole and screen are made from galvanized steel tube for maximum strength and minimum wind load.
The open construction of these panels permits easy inspection and maintenance after installation.
The 606LV antenna can be arranged in an array to provide the required coverage for a particular service area. Array design is carried out by RFS engineers to provide both directional and omni-directional patterns as well as beam tilt and null fill tailored to the customer's specification.
Panels are fed through a power divider network, normally fully pressurized, and designed to meet the power handling requirements at the customer's specified site. As each half panel is rated at 5kW, high power ratings are achieved.
To minimize shipping costs panels are supplied in "knock down" form with dipoles, screens, power dividers and interconnecting cables in separate packages. Full assembly details are provided.

FEATURES / BENEFITS
Low wind load
Pressurizable to dipole feed points
Feed system radomes available for snow and ice conditions
Temperature range -40 to +60 degrees C available
Supplied in kit form for easy transport
Four-sided array design
Rugged galvanized steel construction
Horizontal polarization - 606L
Vertical polarization - 606LV
Array design provides both directional and omnidirectional patterns as well as beam tilt and null fill to suit individual customer requirements, contact RFS for details.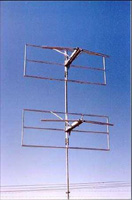 606L Antenna Series showing 606L panel
Structure

Product Line
Antenna TV
Product Type
Band I (Low VHF) TV Panel Array 606LV
Electrical Specifications

Frequency Range
MHz
44 - 88
Polarization
Vertical
Nominal Gain (Mid-band)
dBd
7.5
Half Power Beamwidth Azimuth
degrees
64
Return Loss
dB
26 Vision, 23 across channel
Impedance (unbalanced)
Ω
50
Mechanical Specifications

Number of Channels
Single
Input Connector
2 x 7/8" EIA Flange / Panel
Mounting (Standard)
mm (in)
8 x 16mm (8 x 5/8") bolts
Recommended Spacing between Bays
cm (in)
273 (107)
Effective Area Front (full antenna) No Ice
m² (ft²)
1.38 (14.85)
Effective Area Side (full antenna) No Ice
m² (ft²)
1.2 (12.9)
Design Wind Speed
km/h (mph)
240 (150)
Pressurization Operational
kPa (psi)
10 - 25 (1.5 - 3.6)
Pressurization Test
kPa (psi)
100 (15)
Weight
kg (lb)
130 (287)
Material

Material - Insulators
PTFE
Material - Reflecting Screen
Hot Dipped Galvanised steel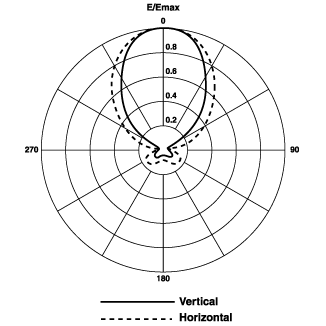 Radiation Pattern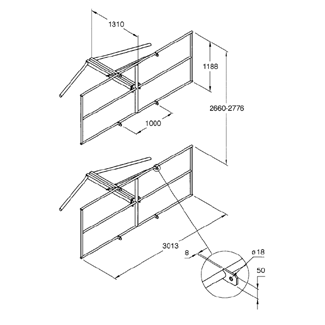 606L Dimensions
Notes
Note 1 Dimensions and weights are for Ch E3 (54 to 61 MHz). These figures will vary with the selected channel.