661-1


174-230MHz TV Quadrant Antenna
661 Series

Quadrant antennas provide a cost effective top or side mount TV antenna for omnidirectional coverage in Band III.
Quadrant antennas are ideal for low and medium power single channel Band III TV applications. Coverage is basically omnidirectional and may be altered somewhat by adjustment of the positions of the radiators on the RFS antenna test range.
Each bay comprises two radiating elements to give approximately 3.5dBd gain. Up to six bays are available to meet higher gain needs.
The antenna system may be operated with pressurized or unpressurized feeders.

FEATURES / BENEFITS
Designed for high corrosion resistance and long life in harsh environments
Includes top mounted hot dip galvanized support pole
All solid outer, jacketed cables for high reliability
Stainless steel radiators
Omnidirectional coverage
Horizontal polarization
Available in low power (unpressurized) and medium power (pressurized) versions.


661 Series showing 661-4 Antenna
Structure

Product Line
Antenna TV
Product Type
Band III (High VHF) TV 661-1 Antenna
Electrical Specifications

Frequency Range
MHz
174 - 230
Polarization
Horizontal
Nominal Gain (Mid-band)
dBd
3.5
Return Loss
dB
26 Vision, 23 across channel
Power Rating
kW
0.25/bay unpressurized
2.5/bay pressurized
Impedance (unbalanced)
Ω
50
Mechanical Specifications

Number of Channels
Single
Input Connector
7/8" EIA Flange
Base Diameter
mm (in)
336 (13-1/4)
Mounting (Standard)
mm (in)
8 x 20mm (3/4) bolts on 297mm (11-3/4) PCD
Effective Area Front (full antenna) No Ice
m² (ft²)
0.871 (9.40)
Effective Area Front (full antenna) with 12.5mm(0.5") Radial Ice
m² (ft²)
0.871 (9.40)
Effective Area Side (full antenna) No Ice
m² (ft²)
0.823 (8.90)
Effective Area Side (full antenna) 12.5mm (0.5") Radial Ice
m² (ft²)
0.823 (8.90)
Base Moment
kNm (lb-ft)
1786
Base Shear
kN (lb)
1854
Design Wind Speed (max)
km/h (mph)
240 (150)
Pressurization Operational
kPa (psi)
10 - 25 (1.5 - 3.6)
Pressurization Test
kPa (psi)
100 (15)
Weight
kg (lb)
90 (198)
Packaging Information

Shipping Weight, Kg (lb)
kg (lb)
90 ()
Material

Material - Insulators
PTFE
Material - Support Pole / Mounting
Galvanised Steel
Material - Radiators
Stainless Steel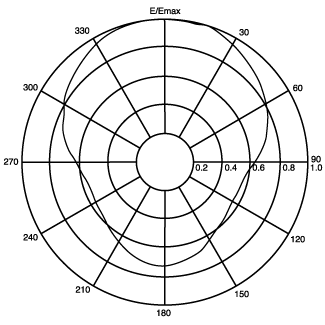 Azimuth Radiation Pattern

Top View