662VP


174-230MHz TV/DAB Panel Array
662 Series

Rev : 02 | Rev date : 05 Aug 2022

The 662VP has been designed for vertically polarized Band III TV/DAB applications or alternatively, combined horizontal and vertical applications in the 174 - 230MHz frequency range and is extremely useful as an antenna building block.
Two dipoles are mounted in square configuration off a reflective screen to enable the vertical components to be fed separately.
The dipoles are fabricated from stainless steel for maximum corrosion protection. The screen is hot dipped galvanized to international standards.
662VP panels are available with either 1 or 2 input connectors.
All panels are available with either 7-16 DIN or 7/8" EIA flanged input connectors. The 7-16 DIN versions are un-pressurized. Contact RFS for details.

FEATURES / BENEFITS
Vertical polarization, also available in horizontal and circular polarization depending on model
Full band (174 - 230MHz) operation is possible
High power handling capacity
Designed for high corrosion resistance and long life in harsh environments
Array design allows a variety of standard radiation patterns and customized patterns to suit customer requirements. Contact RFS for details.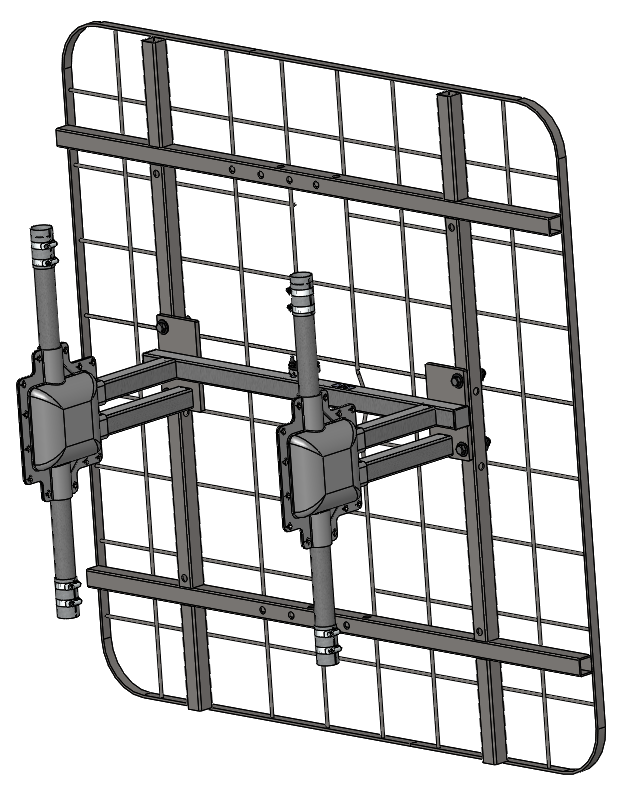 662VP Antenna
Structure

Product Line
Antenna TV
Product Type
Band III (High VHF) TV/DAB 662VP Panel Arrays
Electrical Specifications

Frequency Range
MHz
174 - 230
Polarization
Vertical
Nominal Gain (Mid-band)
dBd
7.5/ plane
Half Power Beamwidth Azimuth
degrees
65
Return Loss
dB
20 (co-phased array), 25 (phase rotated) Note 4
Impedance (unbalanced)
Ω
50
Mechanical Specifications

Number of Channels
Multichannel
Input Connector
2 x 7-16 DIN
2 x 7/8" EIA Flange
1 x 7-16 DIN
1 x 7/8" EIA Flange Note 3
Mounting (Standard)
mm (in)
4 x 12mm (4 x 1/2") bolts
Effective Area Front (full antenna) No Ice
m² (ft²)
0.6 (6.46)
Effective Area Side (full antenna) No Ice
m² (ft²)
0.6 (6.46)
Design Wind Speed
km/h (mph)
240 (150)
Pressurization Operational
kPa (psi)
10 - 25 (1.5 - 3.6)
Pressurization Test
kPa (psi)
100 (15)
Weight
kg (lb)
36 (80)
Material

Material - Insulators
PTFE
Material - Reflecting Screen
Hot Dipped Galvanised steel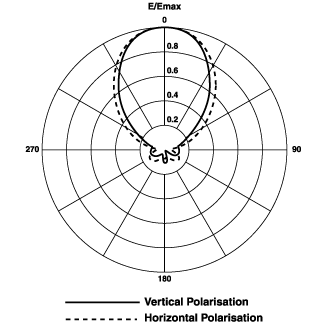 Radiation Patterns per Plane of Polarisation
HRPs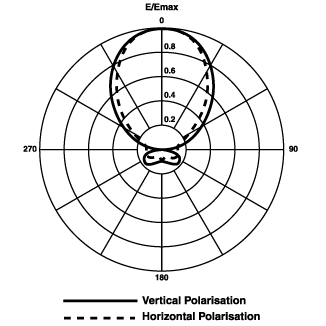 Radiation Patterns per Plane of Polarisation
VRPs
Notes
Note 1 Power rating is limited by the input connector type. 3kW for 7-16 DIN, 4kW for 7/8" EIA
Note 2 662CP Model is available with quad or dual inputs
Note 3 662HP and 662VP models available with dual or single inputs
Note 4 Return loss 662HP/VP when an interleaved independent arrays, use values for 662HP or 662VP