663


174-230MHz TV Panel Arrays
663 Series

The 663 series has been designed for horizontally polarized VHF Band III TV applications.
Each panel consists of two dipoles mounted in front of a plane reflector. The baluns are mounted in front of the reflector, and support the dipoles. The panel is fully radomed with a fibreglass reinforced plastic radome. The radiator assemblies may be fitted onto the backscreen in an inverted format when assembled as an array element.
The dipole and screen element are fabricated from 6000 series aluminium for maximum corrosion protection. Each panel is fed by a single 7/8"" EIA flange connector.

FEATURES / BENEFITS
Digital TV compatible
Horizontal polarization
High power handling capacity
Designed for high corrosion resistance and long life in harsh environments.


663 Antenna
Structure

Product Line
Antenna TV
Product Type
Band III (High VHF) TV 663 Panel Arrays
Electrical Specifications

Frequency Range
MHz
174 - 230
Polarization
Horizontal
Nominal Gain (Mid-band)
dBd
7
Half Power Beamwidth Azimuth
degrees
66
Return Loss
dB
> 26 array element,20 single element
Power Rating
kW
4
Peak Voltage Rating
kV
27
Impedance (unbalanced)
Ω
50
Mechanical Specifications

Number of Channels
Multichannel
Input Connector
7/8" EIA Flange
Dimensions (Height or Length)
cm (in)
120 (47.2)
Dimensions (Width)
cm (in)
120 (47.2)
Dimensions (Depth)
cm (in)
66 (26)
Mounting (Standard)
mm (in)
8 x 10mm (3/8) bolts
Effective Area Front (full antenna) No Ice
m² (ft²)
0.90 (9.70)
Effective Area Front (full antenna) with 12.5mm(0.5") Radial Ice
m² (ft²)
0.90 (9.70)
Effective Area Side (full antenna) No Ice
m² (ft²)
1.10 (11.80)
Effective Area Side (full antenna) 12.5mm (0.5") Radial Ice
m² (ft²)
1.10 (11.80)
Design Wind Speed (max)
km/h (mph)
240 (150)
Wind Load @ 50 m/sec Front
kN (lb)
3.51 (790)
Wind Load @ 50 m/sec Side
kN (lb)
1.9 (427)
Wind Load @ 50 m/sec Rear
kN (lb)
4.75 (1067)
Pressurization Operational
kPa (psi)
10 - 25 (1.5 - 3.6)
Pressurization Test
kPa (psi)
100 (15)
Weight
kg (lb)
50 (110)
Packaging Information

Shipping Weight, Kg (lb)
kg (lb)
50 ()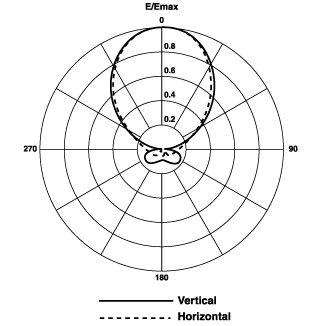 Radiation Pattern