6PPXX162E Series


Band IV/V (UHF) PeakPower+TM bandpass filter

Rev : 01 | Rev date : 02 Jun 2021

The RFS 6PPXX162E is designed for global filtering applications associated with DTV television transmission. It is a 6-pole fan-cooled filter incorporating two cross couplings to meet all mask requirements.

FEATURES / BENEFITS
Very compact for easy integration into equipment.

Very low insertion loss (lowest for this size).

Highest power rating for size/class.

Tunable over full UHF band (470 – 862 MHz).

Adjustable bandwidth, available for 6, 7 & 8 MHz channels for global applications.

External, non-invasive coupling adjustment.

Tunable for ETSI non-critical and ISDB-T critical and ATSC applications.

-5 to 55 degree ambient temperature operation.

115V (50/60Hz) and 230V (50/60Hz) fan cooling kits available.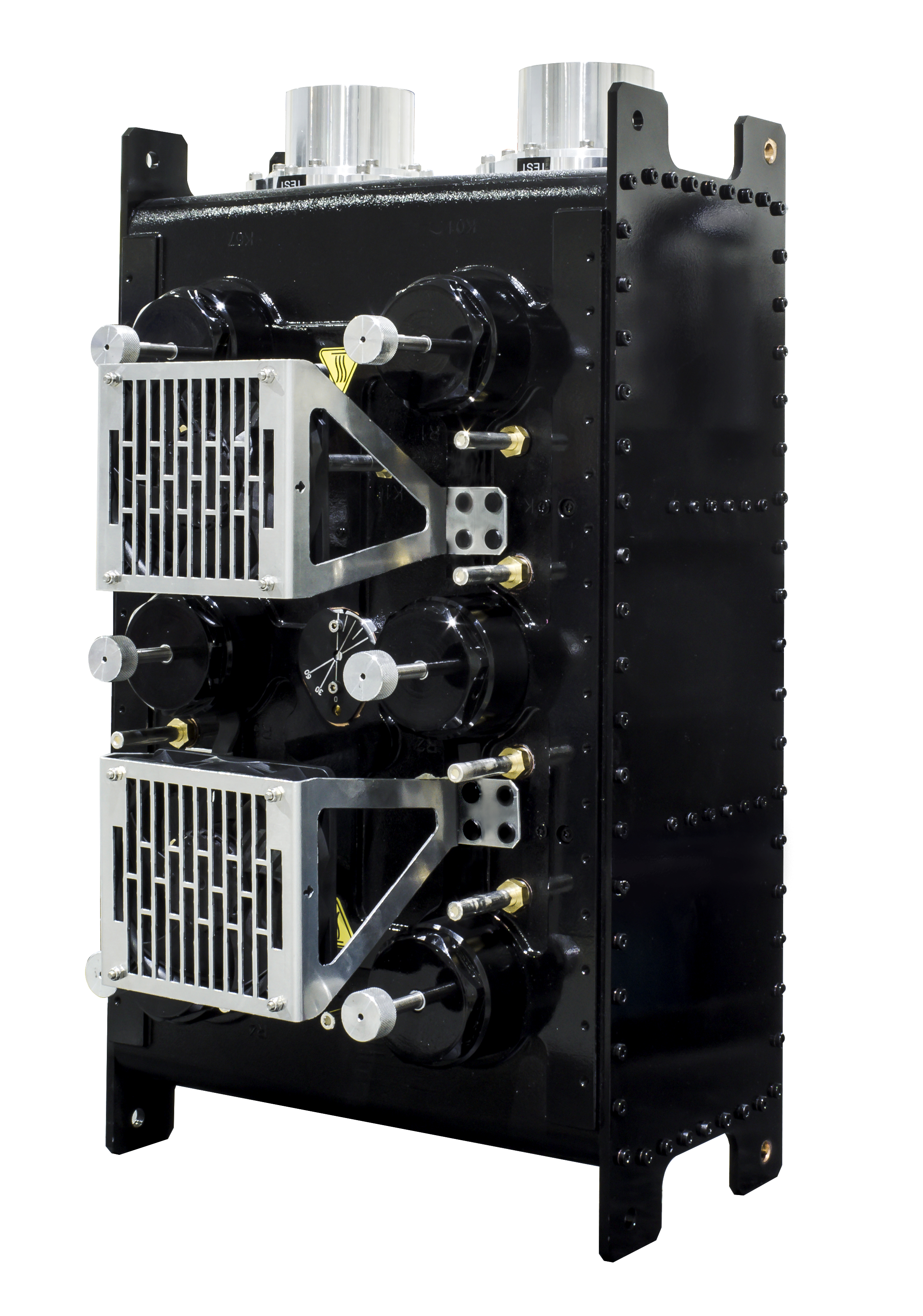 6PPXX162E Fan Cooled Filter
General Specifications

Product Line
Filters
Product Type
Band IV/V (UHF) TV Bandpass Filter
Model
6PPXX162E
Filter type
6 Pole with 2 cross couplings - 160 mm ground plane spacing - Fan cooled
Input / Output Connector
NAX77D, 1-5/8" EIA Unflanged Female, 1-5/8" EIA Flanged Female & 3-1/8" EIA Flanged or Unflanged Female (Standard)
Electrical Specifications

Impedance
Ω
50
Mechanical Specifications

Dimension-WxDxH
mm (in)
346 x 619 x 270 (13.6 x 24.4 x 10.6)
Weight
kg (lb)
34.8 (76.7)
Specifications

Out-of-Band Emissions Mask
DVB-T ETSI non-critical
ISDB-T sub critical
ISDB-T critical
ATSC 1.0/ ATSC 3
Channel Bandwidths
MHz
8
6
6
6
Input Power Rating
kW
8.0 @ 474 MHz
7.2 @ 858 MHz
6.8 @ 473 MHz
4.8 @ 803 MHz
6.5 @ 473 MHz
4.7 @ 803 MHz
8.3 @ 473 MHz
6.0 @ 803 MHz
Insertion Loss at fc
dB
<0.22 @ 474 MHz
<0.28 @ 858 MHz
<0.33 @ 473 MHz
<0.40 @ 803 MHz
<0.35 @ 473 MHz
<0.41 @ 803 MHz
<0.33 @ 473 MHz
<0.41 @ 803 MHz
Attenuation
dB
<0.8 at Fc ± 3.8 MHz
>5.0 at Fc ± 4.2 MHz
>16.0 at Fc ± 6.0 MHz
>41.0 at Fc ± 12.0 MHz
<1.28 at Fc ± 2.79 MHz
>8.0 at Fc ± 3.15 MHz
>24.0 at Fc ± 4.5 MHz
>50.0 at Fc ± 9.0 MHz
<1.55 at Fc ± 2.79 MHz
>11.0 at Fc ± 3.15 MHz
>26.0 at Fc ± 4.5 MHz
>53.0 at Fc ± 9.0 MHz
>0.65 at Fc±2.69 MHz
>3.0 at Fc ± 3.5 MHz
>8.0 at Fc ± 4.0 MHz
>40.0 at Fc ± 6.0 MHz
>65.0 at Fc ± 9.0 MHz
Note 1
VSWR average across carriers
<1.1
<1.17
<1.2
<1.1
Return Loss Average Across Carriers
dB
26.4
22.1
20.8
26.4
Group Delay Variation
ns
<285 at Fc ± 3.8 MHz
<455 at Fc ± 2.79 MHz
<555 at Fc ± 2.79 MHz
<150 at Fc ± 2.69 MHz
Maximum Operating Temperature
°C (°F)
80 (176)
Ambient Temperature Range
°C (°F)
-5 to 55 (23 to 131)
Maximum Temperature Rise
°C (°F)
40 (104)
Freq Drift - Tx Operation
kHz/°C(°F)
<2 (1.2)
Freq Drift - Ambient Temperature
kHz/°C(°F)
<2 (1.2)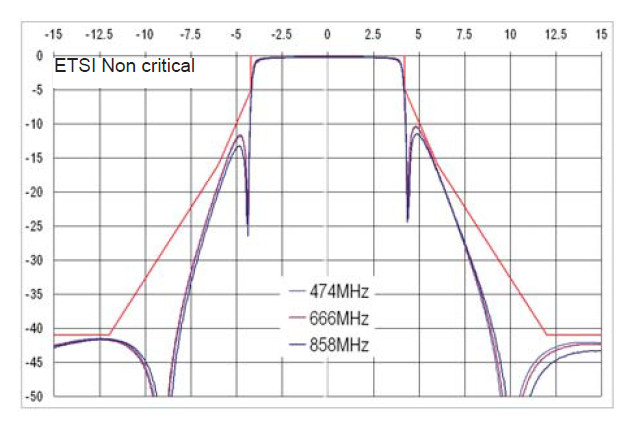 6PPXX162E Filter Response - ETSI Mask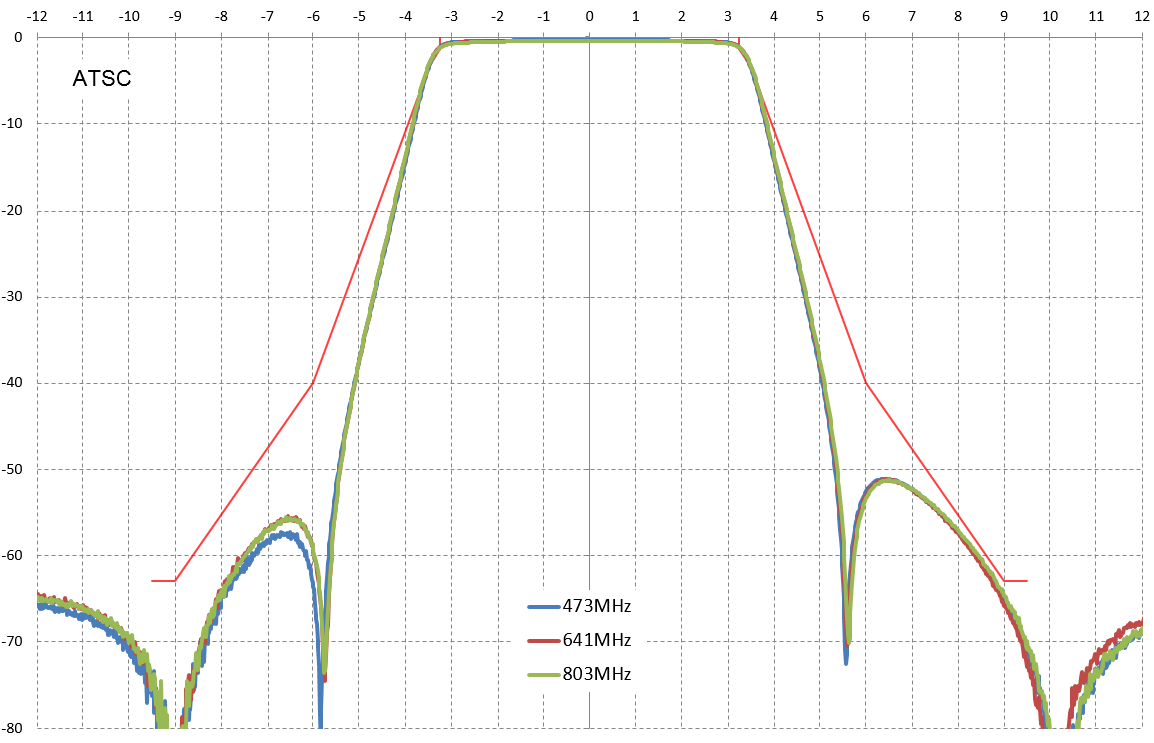 6PPXX162E Filter Response - ATSC Mask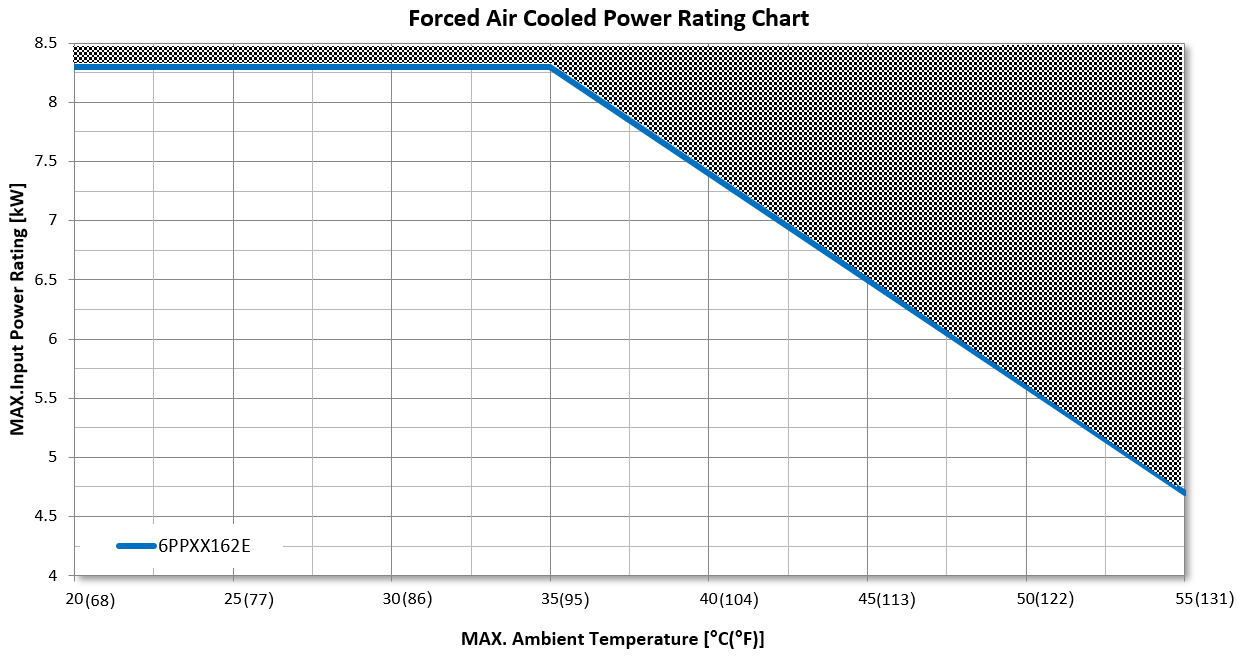 6PPXX162E Power Rating vs Ambient Temperature [°C(°F)]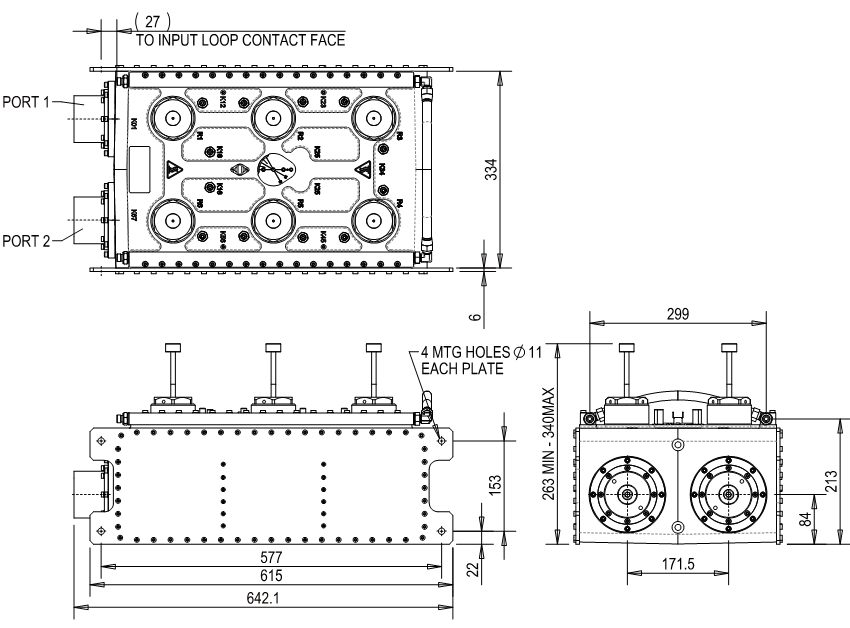 6PPXX161E Liquid Cooled Filter Dimensions
Notes
Note 1. Tx Intermod shoulder at 37 dB