8PXX270DAB


Band III (VHF) bandpass filter

Rev : 02 | Rev date : 05 Nov 2021

The RFS 8PXX270DAB is designed for global filtering applications associated with Digital Radio transmission. It is a 8-pole natural air-cooled filter incorporating two cross-couplings to meet all mask requirements.

FEATURES / BENEFITS
8 pole filters are preferred instead of 6 pole for High Power DAB transmitters because:

The 8 pole has excellent VSWR well beyond the fc

±

0.77MHz carriers

The ETSI EN 302 077 Case 1 requires an extra dB of mask attenuation for every dB of power over 1kW to provide an absolute level of protection to other VHF broadcasters and nearby Military frequencies.

Very compact for easy integration into equipment.

Very low insertion loss (lowest for this size).

Highest power rating for size/class.

Tunable over full VHF band (168.16 to 239.2 MHz).

Tunable to ETSI EN 300 401 Critical, and ETSI EN 302 077 Cases 1 to 4 Mask Applications,
Europe Channels 5A to 13F, China Channels 6A to 12D, Korea Channels 7A to 13C

-5 to 55°C degree ambient temperature operation.

Natural air-cooled.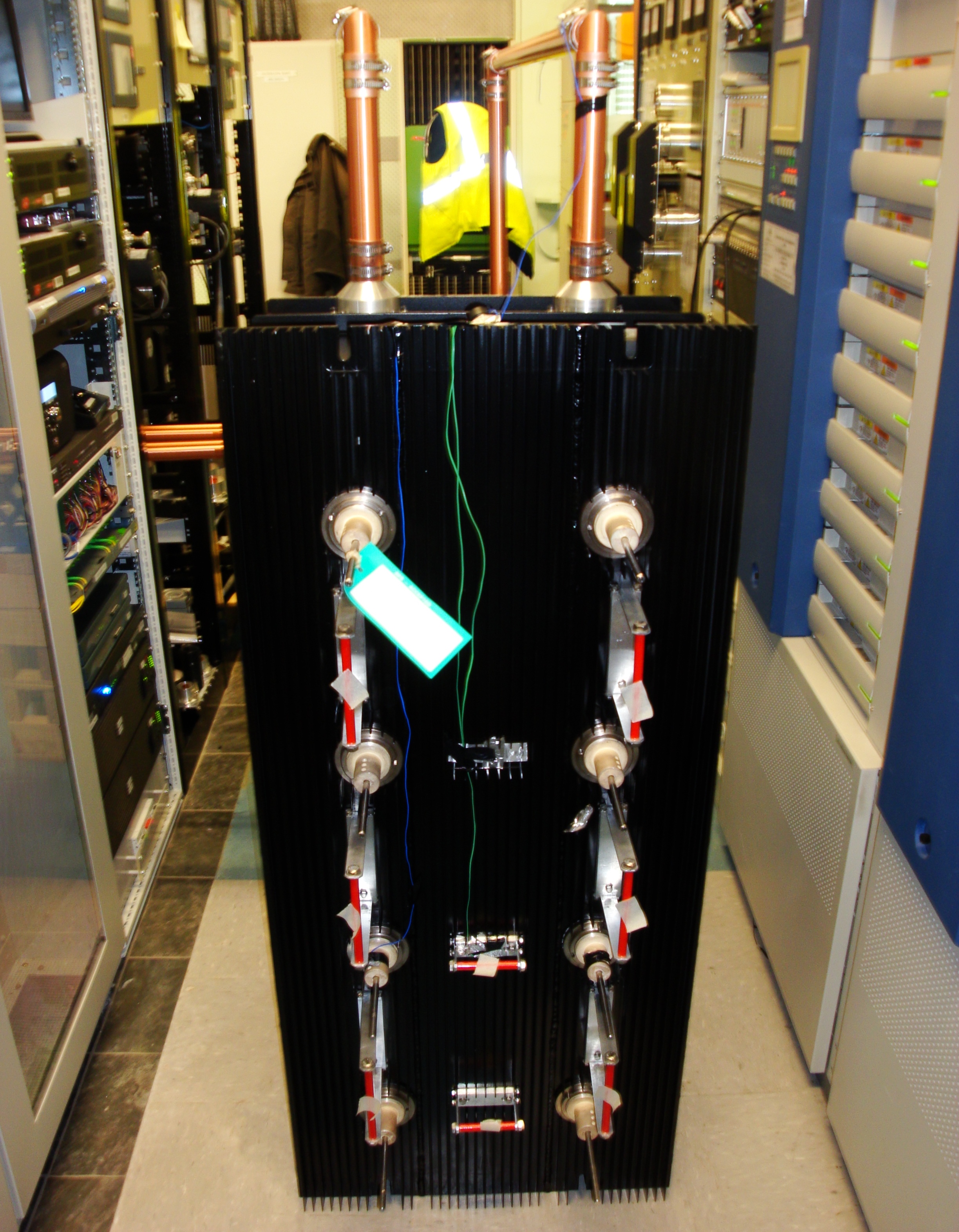 8PXX270DAB Natural Air Cooled Filter
Undergoing 8 kW Power Testing
General Specifications

Product Line
Filters
Product Type
Band III (VHF) DAB Bandpass Filter
Model
8PXX270DAB
Filter type
8 Pole with 2 cross couplings - 270 mm ground plane spacing
Input / Output Connector
1-5/8" EIA Unflanged or Flanged Female (Standard) or
3-1/8" EIA Unflanged or Flanged Female (Optional)
Mechanical Specifications

Dimensions-WxDxH
mm (in)
563 x 728 x 1278.5 (22.2 x 28.7 x 50.3)
Color
Black
Weight
kg (lb)
69 (152)
Cooling

Cooling
Natural Air Cooled
Specifications

Out-of-Band Emissions Mask
ETSI EN 300 401 Critical &
ETSI EN 302 077 Case 1
ETSI EN 302 077 Case 4
Channel Bandwidths
MHz
1.54
1.54
Frequency Range
MHz
168.16-239.2
Input Power Rating
W
6300
5500
Insertion Loss at Fc
dB
<0.58
<0.7
Attenuation
dB
<1.0 @ fc ± 0.77MHz
>18 @ fc ± 0.97MHz
>54 @ fc ± 1.75MHz
>54 @ fc ± 2.2MHz
>60 @ fc ± 3.0MHz
<1.25 @ fc ± 0.77MHz
>21 @ fc ± 0.97MHz
>54 @ fc ± 1.75MHz
>65 @ fc ± 2.2MHz
>70 @ fc ± 3.0MHz
VSWR average across carriers
<1.1
<1.12
Return Loss Average Across Carriers
dB
26.4
25
Group Delay Variation
ns
<980 at fc ± 0.77 MHz
<1100 at fc ± 0.77 MHz
Maximum Operating Temperature
°C (°F)
80 (176)
Ambient Temperature Range
°C (°F)
-5 to 55 (23 to 131)
Maximum Temperature Rise
°C (°F)
40 (104)
Freq Drift - Tx Operation
kHz/°C(°F)
<0.6 (0.34)
Freq Drift - Ambient Temperature
kHz/°C(°F)
<0.6 (0.34)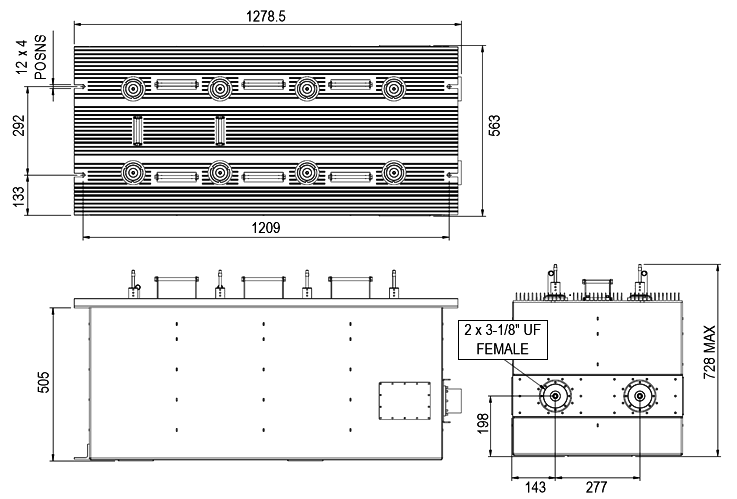 8PXX270DAB Filter dimensions