902CP-6


FM Yagi Antenna
902CP Series

Rev : 01 | Rev date : 22 Jan 2015

These FM Yagi antennas are designed for FM broadcasting applications which require circular or elliptical polarization and low windload.
The 902CP antenna elements are of stainless steel construction thus guaranteeing long life and maintenance free operation.
The antenna can be designed for any number of levels and is designed for easy sidemounting installation. Tower or mast costs are also minimized because of the low antenna windload.
Multiple arrays are supplied as a complete package including 50 ohm flexible interconnecting cables and an appropriate power divider.

FEATURES / BENEFITS

The 902CP series have been developed to provide broadband operation over the range 87.5 to 108MHz. This provides broadcasters with the advantage of sharing antenna systems and reducing establishment costs.

902CP Series showing 902CP-1
Structure

Product Line
Antenna TV
Product Type
Band II (VHF) 902CP-6 FM Yagi Antennas
Electrical Specifications

Frequency Range
MHz
87.5 - 108
Polarization
Circular
Elliptical
Gain per Plane of Polarization
dBd
9.2
Return Loss
dB
> 20
Power Rating
kW
30
Input/Power Rating Comment
5 kW per level
Impedance (unbalanced)
Ω
50
Mechanical Specifications

Number of Levels
6
Input Connector
2 x 7/8" EIA Flange per level
Mounting (Standard)
mm (in)
Suitable for 60mm (2.4") or 90mm (3.5") OD pole
Effective Area Front (full antenna) No Ice
m² (ft²)
0.34 (3.66) per level
Effective Area Front (full antenna) with 12.5mm(0.5") Radial Ice
m² (ft²)
0.34 (3.66) per level
Effective Area Side (full antenna) No Ice
m² (ft²)
0.30 (3.23) per level
Effective Area Side (full antenna) 12.5mm (0.5") Radial Ice
m² (ft²)
0.30 (3.23) per level
Wind Load @ 50 m/sec Front
kN (lb)
0.5 (100)
Weight
kg (lb)
23 (51) Single Bay
Packaging Information

Shipping Weight, Kg (lb)
kg (lb)
23 ()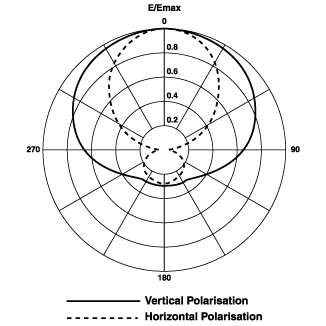 Horizontal Radiation Patterns