904VPS


Band II Panel Arrays
904 Series

Rev : 01 | Rev date : 19 Sep 2014

The 904 series of panels are designed as building blocks for broadband, high power FM arrays for broadcasting in the FM band (87.5 -108MHz). Panels in this series include 904CP, 904CPX, 904HP, 904VP, 904HPS and 904VPS models.
The 904CP panels comprise a pair of horizontal and a pair of vertical dipoles in a square configuration mounted off a reflective screen. In this configuration RH or LH circular polarization is possible. There are four input connectors on each panel.
The 904VP and 904HP panels are supplied with either a vertical or horizontal pair of dipoles for vertical or horizontal polarization. Radomes are available for these models.
The 904HPS panel comprises a radiator dipole assembly mounted off a reflective screen. In this configuration vertical or horizontal polarization is possible. These panels have a single input connector to simplify the feed system. An integrated feed-point radome is supplied.
The 904CPX panels comprise two crossed dipoles mounted off a reflective screen. This configuration provides circular polarization. There are two input connectors on each panel.

The extremely low VSWR performance of all models together with high power capacity provides the broadcaster with the optimum solutions for multi-channel operation.
The design utilizes stainless steel radiators with galvanized screen and ensures a very long trouble free life, even when installed in remote hostile environments. All panels are suitable to be used as elements in an array on a 4-sided tower.
The 904 panels can be arranged to provide the required coverage for a particular service area. Array design can be carried out by RFS engineers.
Both directional and omnidirectional patterns are available and beam tilt and null fill can be customised to specification. Panels are fed through a power divider network that is designed to meet the power handling requirements of the array.
FEATURES / BENEFITS
Full band (87.5 - 108MHz) operation
Low VSWR over full band
Ideal for multichannel use
Horizontal, vertical or circular polarization depending on model
Solid stainless steel construction, galvanized screen
Cyclone rated
Optional radome available for icing conditions
Temperature range -40 to +60 degrees C available.

904VPS Series Panel
Structure

Product Line
Antenna TV
Product Type
Band II (VHF) 904VPS FM Panel Arrays
Electrical Specifications

Frequency Range
MHz
87.5 - 108
Polarization
Vertical
Gain per Plane of Polarization
dBd
7.5
Half Power Beamwidth Azimuth
degrees
65
Return Loss
dB
20
Impedance (unbalanced)
Ω
50
Mechanical Specifications

Input Connector
7-16 DIN
7/8" EIA Flange
Mounting (Standard)
mm (in)
4 mounting points at 1030mm centres
Effective Area Front (full antenna) No Ice
m² (ft²)
1.08 (11.63)
Effective Area Front (full antenna) with 12.5mm(0.5") Radial Ice
m² (ft²)
1.08 (11.63)
Effective Area Side (full antenna) No Ice
m² (ft²)
0.89 (9.58)
Effective Area Side (full antenna) 12.5mm (0.5") Radial Ice
m² (ft²)
0.89 (9.58)
Design Wind Speed
km/h (mph)
240 (150)
Pressurization Operational
kPa (psi)
10 - 25 (1.5 - 3.6) 7/8" EIA Version
Pressurization Test
kPa (psi)
100 (15) 7/8" EIA Version
Weight
kg (lb)
76 (168)
Packaging Information

Shipping Weight, Kg (lb)
kg (lb)
76 ()
Material

Material - Insulators
PTFE
Material - Reflecting Screen
Galvanised steel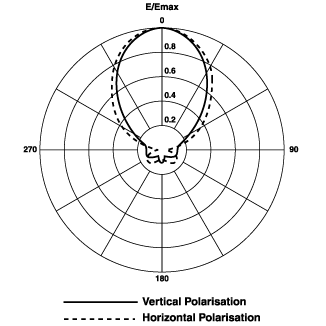 Horizontal Radiation Patterns per plane of Polarization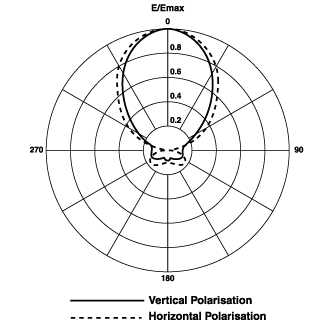 Vertical Radiation Patterns per Plane of Polarization