APXVA18_43-C-A20


Dual Slant Polarized Single Band (2 Port) Antenna, 584-746MHz, 65 deg, 14.7dBi, 1.8m(6ft), VET, RET, 0-12° Tilt Range

FEATURES / BENEFITS

This antenna provides a two port platform for advanced use in 600MHz and 700MHz deployment scenarios in a high quality package design built to withstand harsh environments.
Field Replaceable (Integrated) AISG RET platform for reduced environmental exposure and long lasting quality.
Superior elevation performance across the entire electrical down tilt range.
High Gain performance for optimum site coverage, reduced power and signal integrity.
Excellent Front-to-Back Ratio for less interference from neighboring cells.
Manual Override feature for electrical downtilt adjustment.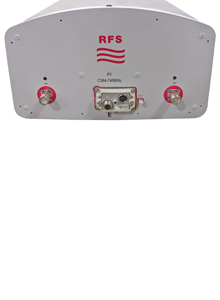 Electrical Specifications

Electrical Specification Header
Antenna Performance - R1
Frequency Range
MHz
584-617
617-698
698-746
Gain
dBi
13.6
14.2
14.7
Horizontal Beamwidth
deg
67
64
62
Vertical Beamwidth
deg
16.6
15.0
13.7
Electrical Downtilt Range
deg
0-12
0-12
0-12
Upper Side Lobe Suppression Peak to +20
dB
22
20
19
Upper Side Lobe Suppression 0 to +20
dB
21
18
17
Front to Back Ratio +/-30 Copolar
dB
27
29
30
Cross Polar Isolation Between Ports
dB
30
30
30
3rd Order IMP 2 x 43dBm
dBc
153
Cross Polarization (XPD) @ Boresight
dB
26
27
28
Cross Polarization (XPD) @ +/-60
dB
14
13
10
VSWR
1.5:1
1.5:1
1.5:1
Maximum Power Input
Watts
250
250
250
Electrical Specifications

Impedance
Ohm
50
Polarization
Deg
±45°
Mechanical Specifications

Dimensions - H x W x D
mm (in)
1726 x 406 x 228 (68 x 16 x 9)
Weight (Antenna Only)
kg (lb)
20.6 (45.4)
Weight (Mounting Hardware only)
kg (lb)
3.4 (7.5)
Packing size- HxWxD
mm (in)
1850 x 500 x 410 (72.8 x 19.7 x 16.1)
Shipping Weight
kg (lb)
29.2 (64.4)
Connector type
2 x 4.3-10 Long Neck Female/Bottom + 2 AISG connectors (1 male, 1 female)
Adjustment mechanism
Integrated RET solution AISG compliant (Field Replaceable) + Manual Override + External Tilt Indicator
Mounting Hardware Material
Diecast Aluminium and Galvanized steel
Radome Material / Color
ASA / Light Grey RAL7035
Testing and Environmental

Temperature Range
°C (°F)
-40 to 60 (-40 to 140 )
Lightning protection
Direct Ground
Survival/Rated Wind Velocity
km/h
241 (150 )
Wind Load @Rated Wind Front
N
889
Wind Load @Rated Wind Side
N
467
Wind Load @Rated Wind Rear
N
861
Environmental
ETSI 300-019-2-4 Class 4.1E
Survival wind Velocity
km/h
241
Ordering Information

Model Number
Configuration
Mounting Hardware
Mounting pipe Diameter
Antenna Weight
APXVA18_43-C-A20
Field Replaceable RET Included (1)
APM40-2 Beam tilt kit
60-120mm
20.6kg (45.4lbs)