BDH230


Broadband Biconical Dipole 2 - 30MHz

Rev : 02 | Rev date : 07 Sep 2021

This broadband series of antennas covering 2 to 30MHz are designed for short to long range (depending on frequency) transmitting or receiving applications. Polarization is horizontal and pattern essentially omnidirectional.

FEATURES / BENEFITS
These antennas, being broadband, do not require tuning, thus eliminating the need for any form of antenna tuning unit (ATU) with its associated losses.
No terminating resistors are employed and so full power is available for radiation.
The broadband feature is ideal for multi-channel or frequency agile synthesized HF radio equipment.
The antenna comprises two horizontal conical sections, the elements of which are connected in the centre to a common feed line. Either a 300-ohm balanced line, or a 50-ohm coaxial feeder with a balun option may be used to feed the antenna.
Average power rating of the standard antenna is 10kW with higher rating for special order.
Baluns are available with an average power rating of 1kW and 10kW. Higher ratings are also available.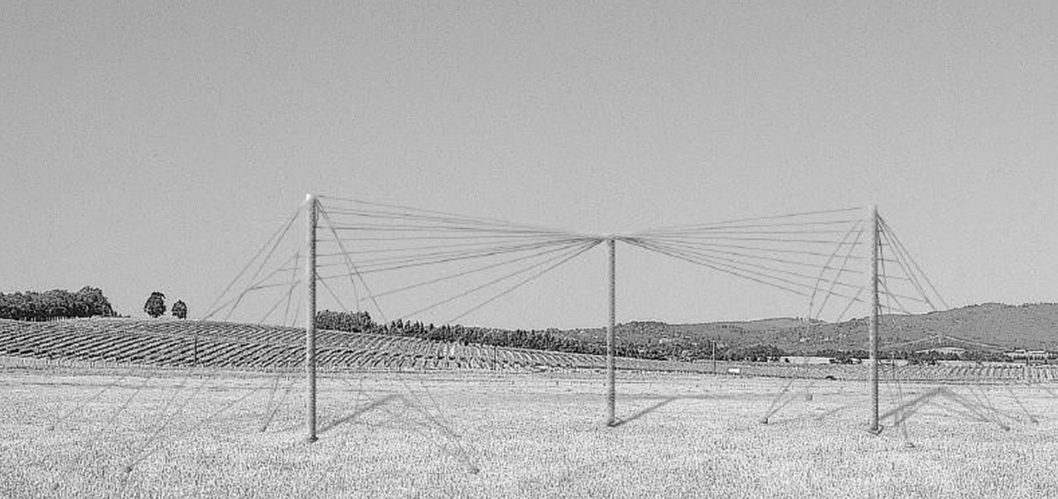 Electrical Specifications

Gain
dBi
6-8 typical (refer to graph)
Polarization
Horizontal
Azimuth Radiation Pattern
Essentially Omnidirectional
VSWR
2.0:1 typical, 2.5:1 max (refer to VSWR graph)
Maximum Power Rating
kW
10 average, 40 PEP with balun option
Input Connector
N-type (1kW) 50ohm
1-5/8" EIA (10kW) 50ohm
Open wire (10kW) 300ohm
Impedance
Ω
50 unbalanced with balun
300 balanced
Mechanical Specifications

Wind Survival Rating (no ice)
km/h (mph)
205 (127.4)
Wind Survival Rating with 10mm Radial Ice
km/h (mph)
130 (80.7)
Wind Load Comment
to AS1170:2.2011
Material

Material - Guys
Galvanised steel
Material - Mast
Hot dipped galvanised steel
PACKAGING INFORMATION

Shipping information
Packed weight [kg]
Packed size [mm]
BDH230
230
950 x 950 x 700
MS3-30/21 Mast (21m)
550
600 x 1700 x 3040
SMBDH Stubmast
18
2800 x 100 x 120
T1000-530 balun
4
included with antenna
T10K-530 balun
70
920 x 660 x 570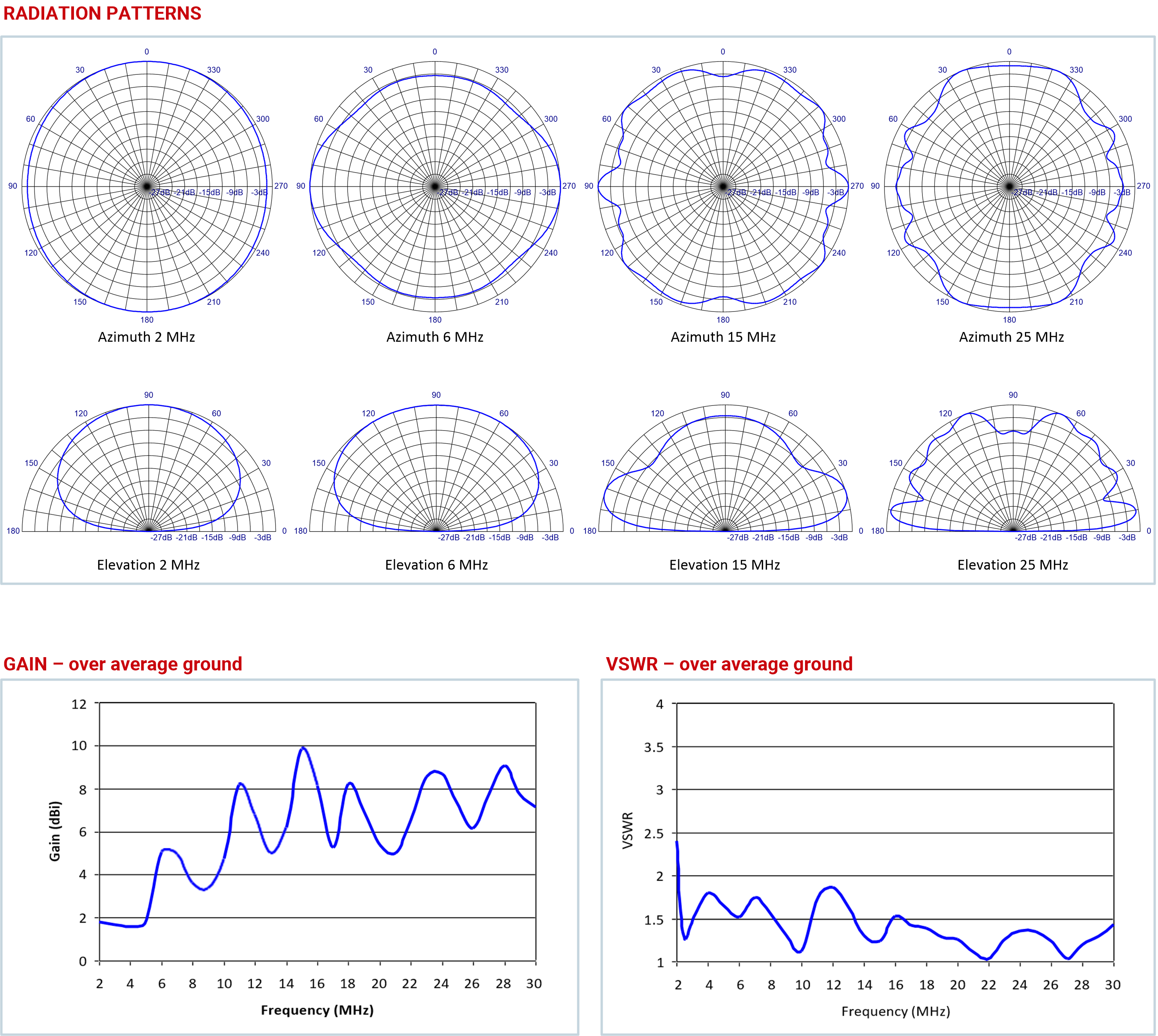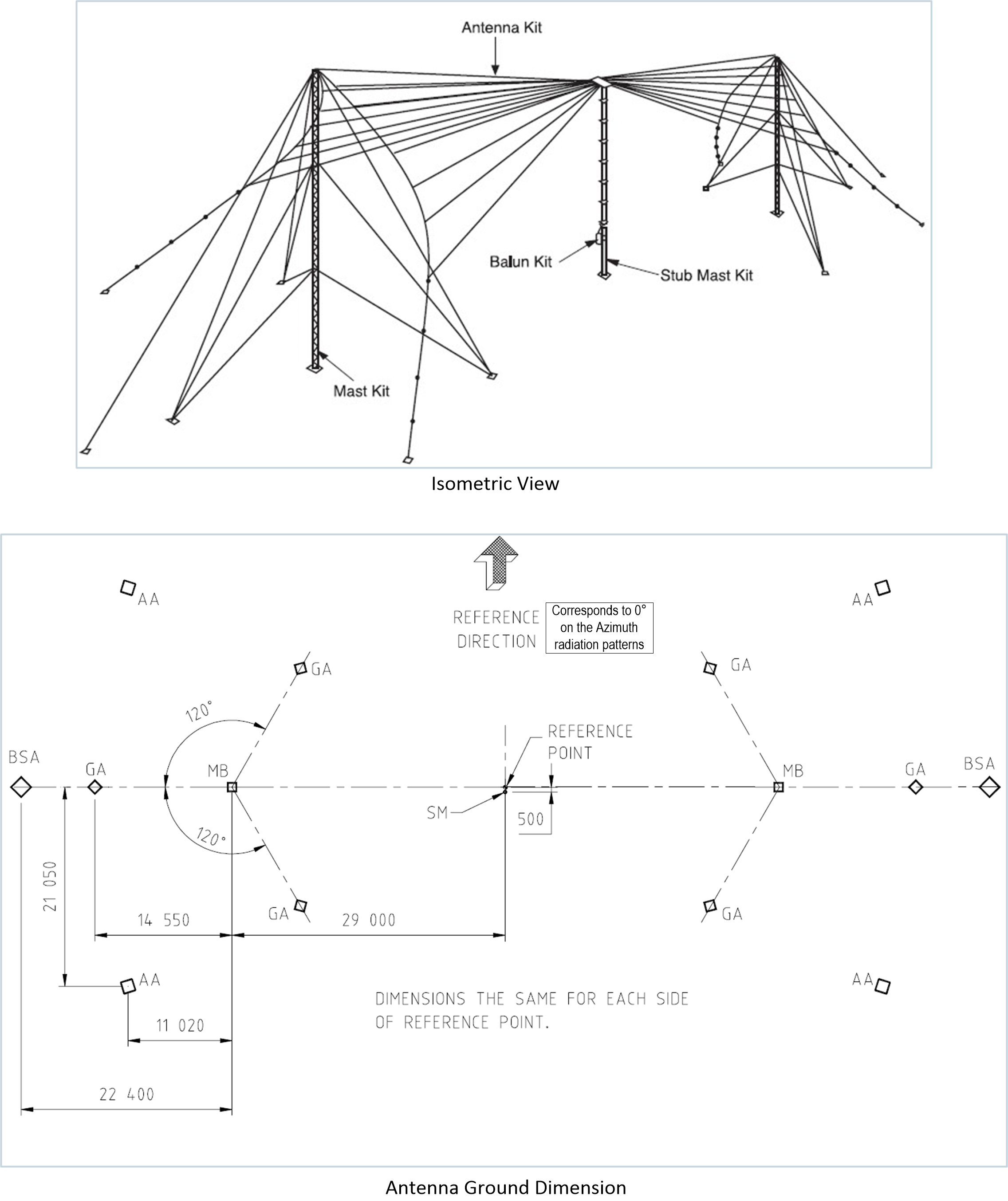 Notes
1. Other power ratings available on request. Contact RFS.
2. Radiation Patterns are above average ground.
3. 0° on azimuth radiation patterns corresponds to the reference direction shown on the antenna ground dimension diagram.