CPF2500-3_20180913


FM Sidemount Antennas
CPF Series

Rev : 01 | Rev date : 29 Jan 2015

The CPF series of FM antennas are designed for low wind load, low cost, single channel requirements. These antenna elements are circularly polarized with an omnidirectional pattern. A choice of two input connector sizes provides power ratings of 500 W or 2.5 kW per bay. An optional radome fully enclosing the radiating element is also available for sites where icing is likely. The antennas are designed to be sidemounted to a vertical pole and a wide range of mounting brackets are available for this purpose.
Multiple element arrays are supplied as a complete package including power dividers and distribution cables. An optional input tuner ensures optimum VSWR performance after installation as it enables the effects of tower steelwork to be eliminated. Beam tilt and null fill can be provided on request.

FEATURES / BENEFITS
Single channel operation
Rugged stainless steel construction
Low cost
Low windload
Power rating of up to 20kW for an 8 bay antenna
Optional radome available for icing conditions
Optional Input tuner ensures optimum VSWR
Parallel (Corporate) feed network provides low downward radiation.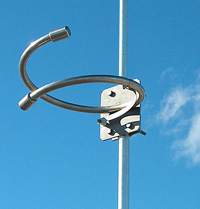 CPF Series showing CPF500-1 antenna
Structure

Product Line
Antenna TV
Product Type
Band II (VHF) CPF2500-3 FM Sidemount Antennas
Electrical Specifications

Frequency Range
MHz
87.5 - 108
Polarization
Circular
Gain per Plane of Polarization
dBd
1.7
Circularity in free space
dB
+/- 2
Return Loss
dB
>20 (typically >26dB)
Power Rating
kW
7.5 (1-5/8" EIA i/p connector)
Impedance (unbalanced)
Ω
50
Mechanical Specifications

Number of Levels
3
Input Connector
Single element 7-16 DIN
Array 7-16 DIN
1-5/8" EIA
Mounting (Standard)
mm (in)
38 to 64 mm diameter mounting pipe (not supplied)
Effective Area Front (full antenna) No Ice
m² (ft²)
0.17 (1.8)
Effective Area Front (full antenna) with 12.5mm(0.5") Radial Ice
m² (ft²)
0.17 (1.8)
Effective Area Side (full antenna) No Ice
m² (ft²)
0.033 (0.35) - Single Bay
Effective Area Side (full antenna) 12.5mm (0.5") Radial Ice
m² (ft²)
0.033 (0.35) - Single Bay
Weight
kg (lb)
17.2 (38)
Packaging Information

Shipping Weight, Kg (lb)
kg (lb)
17.2 ()
Material

Material
Stainless Steel
Material - Radome
Stainless Steel
Material - Insulators
Stainless Steel
Material - Support Pole / Mounting
Stainless Steel
Material - Reflecting Screen
Stainless Steel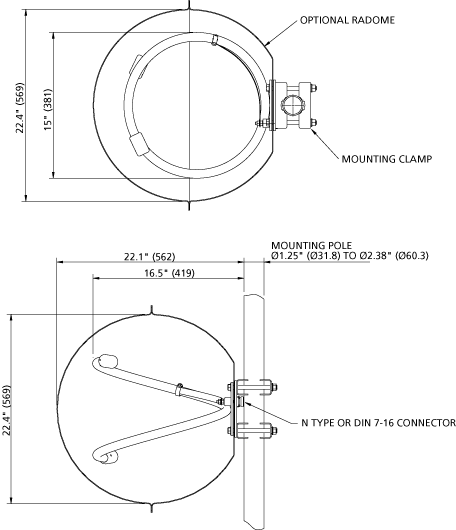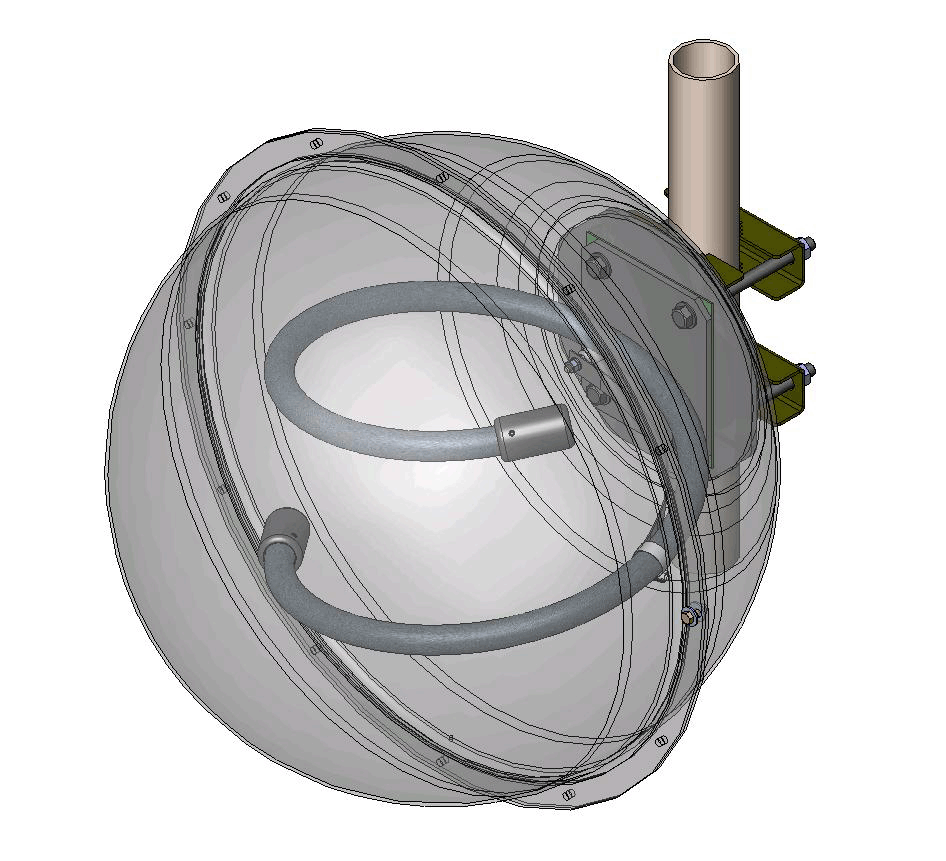 CPF antenna element with radome (semi transparent for illustration purposes only)