CTS8316


Cable Test Sections

Rev : 01 | Rev date : 20 Jun 2017

Cable testing sections may be used to isolate the antenna inputs from the main feeder when testing either the antenna or feeder. These devices are normally installed between the main feeder cable and antenna input connector and allow access to the antenna input without the need to remove the main feeder cable. Cable test sections are particularly useful with large feeder cables that are difficult to manoeuvre.

Test adaptors are available, which allow test access to either the feeder or antenna. Short circuit assemblies simplify the process of feeder equalisation of dual or multiple feeder systems.

FEATURES / BENEFITS
Allows easy access for antenna testing or feeder equalisation without removal of feeder cables
Low VSWR for accurate test measurements
Designed for outdoor use in harsh environments for long life operation
Pressurisation of the antenna can be maintained during testing, if it is necessary to test for extended periods or in adverse conditions
Compact design improves climbing access at the antenna inputs, compared with elbow assemblies
High voltage ratings, wide bandwidth and low VSWR ensure compatibility with all broadcast signals and standards.

Cable test section typical side view showing 4-1/2" model
General Specifications

Product Line
Broadcast Components
Product Type
Cable Test Section
Electrical Specifications

Frequency Range
MHz
0 - 698
Frequency Band
VHF TV Band I, VHF FM Band II, VHF TV Band III, UHF TV Band IV
Power Rating Comments
Refer power ratings below
Input Return Loss
dB
> 38 (0-698MHz)
Input Impedance
Ω
75
Mechanical Specifications

Standard Connector Size
8-3/16" EIA

View on test port without adaptor

Test port without adaptor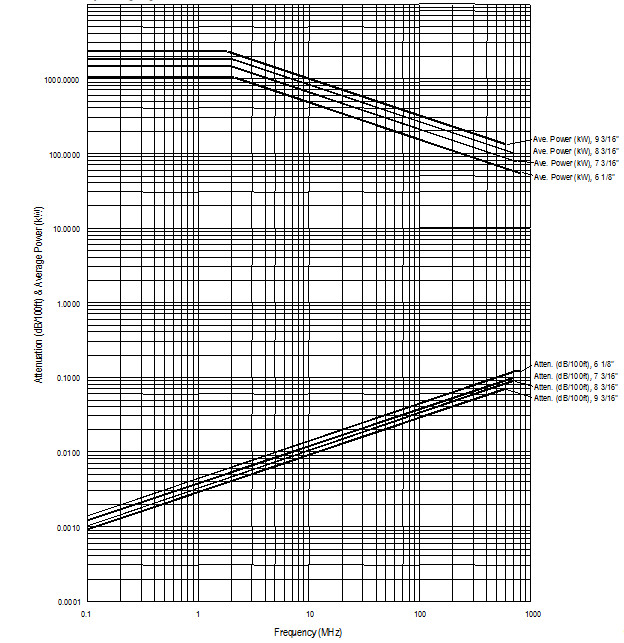 75 ohm power ratings