D230 Series


Delta Antenna Series: D, DC & DCD 2-30MHz

Rev : 01 | Rev date : 06 Jan 2022

D, DC and DCD Series Antennas
Delta antennas are designed for coverage over short to medium distances and exhibit essentially an omni-directional, high angle radiation pattern.
They are available with or without a support mast and are supplied complete with the appropriate balun and termination.
Model D230
With this antenna model, antenna elements are fed from a central balun transformer, through horizontal feed "wings", to the bottom of the oblique elements. The input connector is N-Type 50 ohm.
Model DC230
Although these omni-directional deltas are more expensive than Model D antennas, the lack of overground wings offers advantages for personnel safety and installation on uneven or constrained sites.
With this antenna model, the horizontal feed "wings" are replaced by buried coaxial cables and a suitable feed-point transformer at the base of each oblique element. A central broadband splitter, mounted at the base of the mast, distributes the signal to each of the transformers. The input connector is N-Type 50 ohm.
Model DCD230
This antenna system consists of two model DC antennas attached to one mast and operated as separate transmit antennas. Isolation between the two is 30dB. The DCD antenna can also be configured as an elliptically polarized antenna with either a single input for elliptical polarisation or with two inputs for dual elliptical polarisation.

FEATURES / BENEFITS
Short to medium range operation
Suitable for NVIS operation
Broadband– no tuning units required
Suitable for frequency-agile transmission
Available as a dual input system with two isolated RF inputs (Model DC-D) that can be configured to radiate two horizontally polarized signals or two elliptically polarized signals.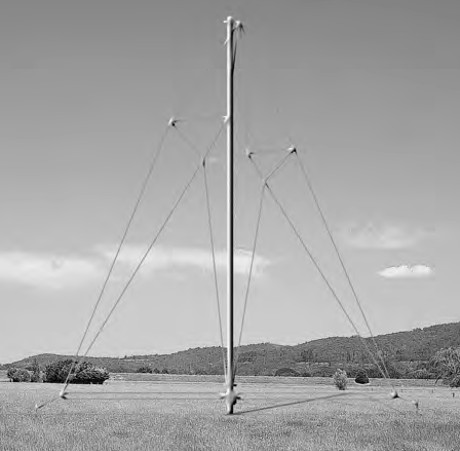 Model D230 shown
Electrical Specifications

Model
D230
DC230
DCD230
Frequency Range
MHz
2-30
Gain
dBi
Refer chart
Polarization
Horizontal or
Elliptical
Elevation Radiation Pattern
Refer plots
Azimuth Radiation Pattern
Essentially Omni-directional, refer plots
VSWR
<2.0:1
Maximum Power Rating
kW
0.25 average, 1.0 PEP
or
1 average, 4.0 PEP
Input Connector
N-type socket
Impedance
Ω
50
Mechanical Specifications

Mast Height
m (ft)
22 (72.18)
22 (72.18)
22 (72.18)
Antenna Width
m (ft)
58 (190.29)
44 (144.36)
44 (144.36)
Antenna Depth
m(ft)
1.5 (4.9)
1.5 (4.9)
44 (144.36)
Mast Guy Radius
m (ft)
14.5 (47.57)
Wind Survival Rating (No ice)
km/h (mph)
230kmh (143mph) *See Note 1 to 3
Material

Material - Radiators
Marine grade stainless steel
PACKAGING INFORMATION

Shipping information
Packed weight, kg (lb)
Packed size, cm (in)
D230
35 (77) excludes mast and balun
90 x 65 x 30 (35-7/16" x 25- 19/32" x 11-13/16") excludes mast and balun
DC230
40 (88) excludes mast and balun
90 x 65 x 30 (35-7/16" x 25-19/32" x 11-13/16") excludes mast and balun
DCD230
70 (154) excludes mast and balun
100 x 70 x 70 (39-3/8" x 27- 1/2" x 27-1/2") excludes mast and balun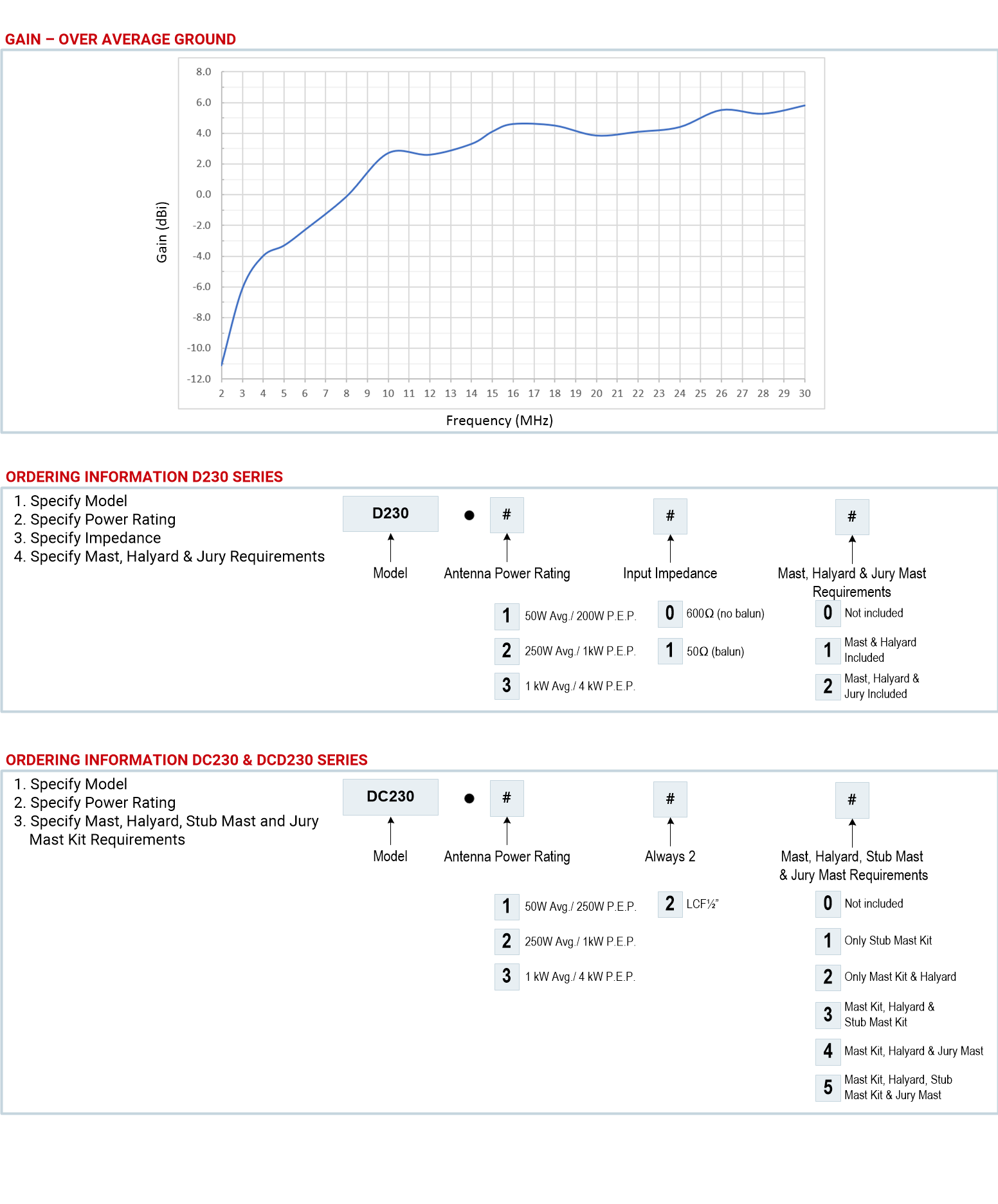 Notes
Wind ratings are calculated to the following Australian standards:
1. AS1664-1975 - SAA Aluminum Structures Code (which gives a safety factor of 65% to material yield)
2. AS1250-1981 - SAA Steel Structures Code (which gives a safety factor of 65% to material yield)
3. AS1170-1981 - Part 2 - SAA Loading Code, Wind Forces