DTLB115


VHF/UHF Tactical Dipole Antennas DTLB Series 115 - 500 MHz

Rev : 02 | Rev date : 07 Apr 2022

The DTLB115 is a Tactical crossband antenna covering the VHF and UHF aeroband frequencies from 115 to 500MHz. This antenna is used extensively for ground-to-air communications from control towers or shelters as well as for counter-measure operations. For detailed model specifications and ordering information please contact RFS.

FEATURES / BENEFITS
The DTLB115 antenna is made of aluminium alloy and wrapped with a polyester radome, providing excellent protection against the harshest conditions of rain, icing, sand storms, marine corrosion and industrial pollution.
The antenna connection is via a coaxial cable which exits from the lower mounting tube: Length - 1m, Connector - N socket.

Structure

Product Line
Tactical Antennas
Product Type
VHF/UHF Omnidirectional - Tactical Dipole Antenna
Electrical Specifications

Frequency Range
MHz
115-500
Isotropic Gain
dBi
2.5
Polarization
Vertical
Azimuth Radiation Pattern
Omnidirectional
Half Power Beamwidth E-Plane
degrees
90
VSWR
2:1
Power Rating
kW
0.4 average
Input Connector
N-type socket
Impedance
Ω
50
Coaxial Tail Length
cm (in)
100 (39.4) length of RG213U
Mechanical Specifications

Overall Height/ Length
cm (in)
135 (53.1)
Radome Height
cm (in)
95 (37.4)
Radome Diameter
cm (in)
36 (14.2)
Dimensions (Height or Length)
cm (in)
Mounting (Standard)
mm (in)
2x U-bolts recommended for 60-95 mm (2.4-3.7") mast
Effective Area Front (full antenna) No Ice
m² (ft²)
0.4 (4.30)
Wind Survival Rating (no ice)
km/h (mph)
220 (137)
Wind Survival Rating (2cm ice)
km/h (mph)
140 (87)
Weight
kg (lb)
11.5 (25.3)
Temperature Specifications

Operating Temperature Range
°C (°F)
-30 to +70 (-22 to 158)
Packaging Information

Shipping Comment
Shipping dimensions: 1600 x 450 x 450 mm (63.0" x 17.7" x17.7")
Material

Material
Aluminium alloy
Material - Radome
Polyester
Colour
Army green (IR NATO 24X5); White; Grey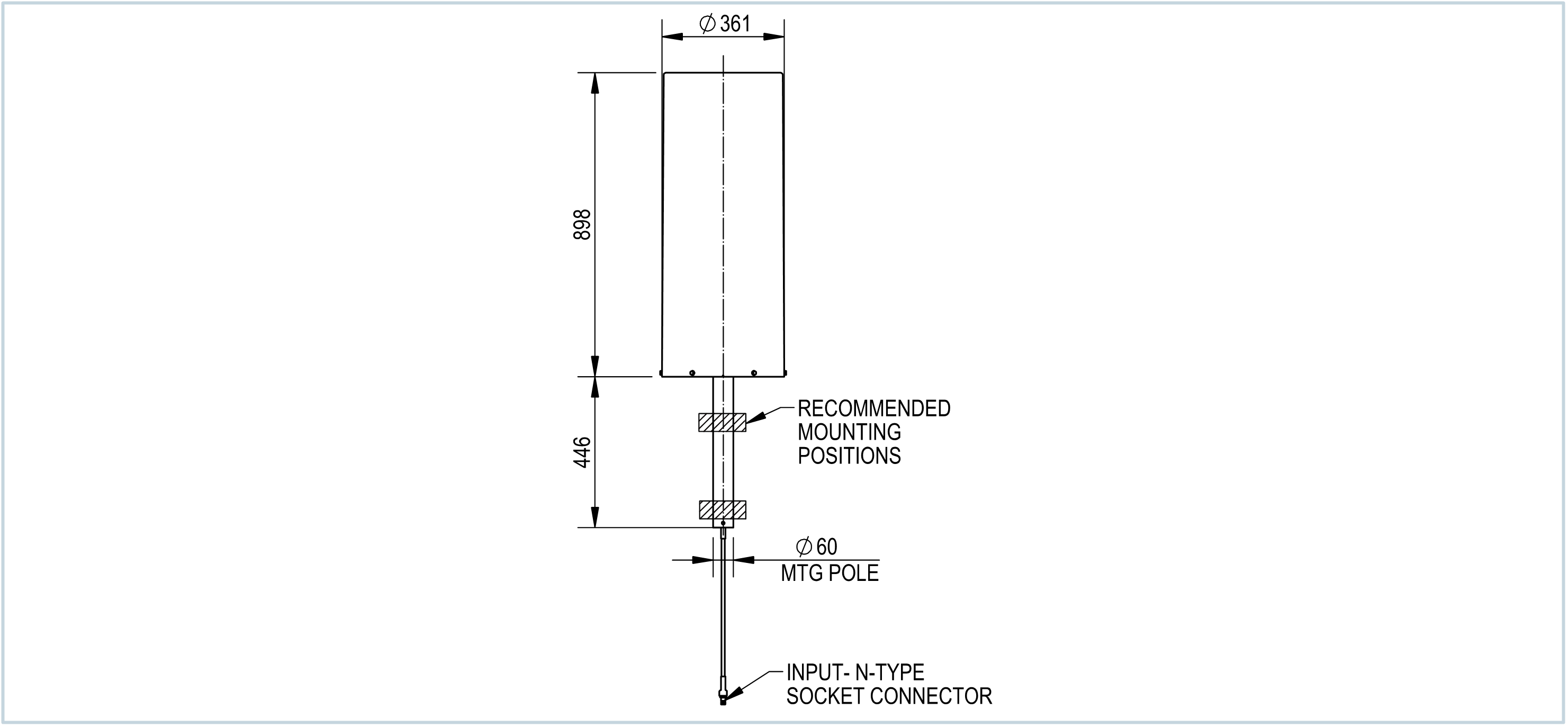 DTLB115 Dimensions and recommended mounting guideline