PCP Panel Array Series


470-806MHz UHF TV Panel Arrays
PCP Series

Rev : 02 | Rev date : 19 Jan 2021

The PCP broadband panel is designed as a building block for integration into complex antenna arrays. It is a dual feed circularly or eliptically polarised UHF panel antenna. The panel can also be used individually for simple distributed or infill applications.

FEATURES / BENEFITS
Fully engineered for Digital TV, Mobile TV, Analogue TV and MIMO applications
Corrosion resistant aluminium construction with fibreglass radome
Independent inputs allowing utmost polarisation and pattern flexibility
Horizontal / Vertical, Circular or mixed polarization
Low wind loading
Cyclone rated
High power rating
Array design allows a variety of horizontal radiation patterns with or without vertical beam tilt and null fill, contact RFS for details
Temperature range -40 to +60 C available
For detailed technical information use the external document link below.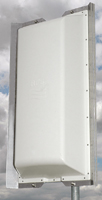 Structure

Product Line
Antenna UHF TV
Product Type
Band IV/V (UHF) TV Panel Arrays
Electrical Specifications

Frequency Range
MHz
470 - 806
Polarization
Circular