PVP Panel Array Series


470-860MHz UHF TV Panel Arrays
PVP Series

Rev : 02 | Rev date : 04 Aug 2021

The PVP broadband panel is designed as a building block for integration into complex antenna arrays or it can be used individually for simple antenna systems. The PVP panel covers the UHF band without field adjustment.

FEATURES / BENEFITS
Fully re-engineered for Digital TV
Corrosion resistant aluminium construction with fibreglass radome
Vertical polarization
Low wind loading
Cyclone rated
Full band operation
High power rating
Array design allows a variety of horizontal radiation patterns with or without vertical beam tilt and null fill, contact RFS for details
Temperature range -40 to +60 C available
For detailed technical information use the external document link below.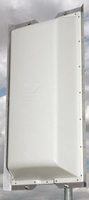 Structure

Product Line
Antenna TV
Product Type
Band IV/V (UHF) TV Panel Arrays
Electrical Specifications

Frequency Range
MHz
470 - 860
Polarization
Vertical
Nominal Gain (Mid-band)
dBd
11 - 13
Half Power Beamwidth Azimuth
degrees
60
Return Loss
dB
25
Power Rating
kW
2.5 Note 1
Impedance (unbalanced)
Ω
50
Mechanical Specifications

Number of Channels
Multi-channel
Input Connector
7-16 DIN
7/8" EIA
Mounting (Standard)
mm (in)
4 x 12mm (1/2") bolts
Effective Area Front (full antenna) No Ice
m² (ft²)
Front 0.55 (5.92)
Back 0.7 (7.5)
Side 0.4 (4.3)
Design Wind Speed
km/h (mph)
240 (150)
Pressurization Operational
kPa (psi)
10 - 21 (1-3) 7/8" EIA version
Weight
kg (lb)
12 (26)
Material

Material - Radome
Fibreglass
Material - Insulators
PTFE
Material - Reflecting Screen
Corrosion resistant aluminium
Colour
White radome standard, other upon request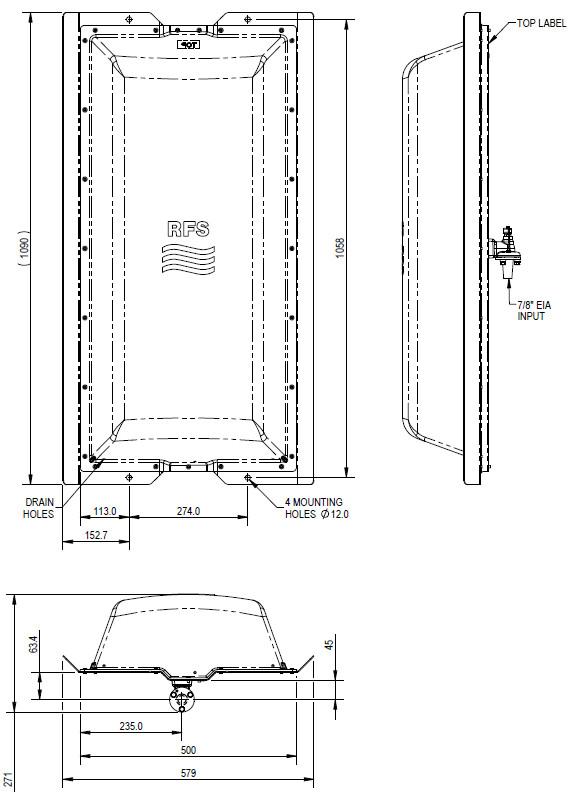 PVP Panel Views
Notes
Open external document at left for application guide containing array patterns and technical specifications.
Note 1 Power rating is limited by input connector - 5 kW version available with dual 7/8" EIA inputs.