RL478-50ALU


4-7/8" Unflanged Rigid Line (Aluminium outer conuctor)

Rev : 03 | Rev date : 11 Aug 2022

RFS manufactures a range of unflanged and flanged rigid coaxial transmission lines and accessories to meet all commonly used EIA/IEC standards from 1-5/8" to 8-3/16".
4-7/8" unflanged rigid line is a 50-ohm rigid coaxial transmission line, and is ideal for indoor connections between RF broadcasting equipment.

FEATURES / BENEFITS
Inner conductor is of the highest purity copper (99.95%) for minimum attenuation and lowest operating temperature.
Outer conductor is made from lightweight aluminium, easy to cut and install
Materials are milled to exact dimensions to ensure strict compliance with specifications and stable characteristic impedance.
Elbow spigots and couplings are of silver-plated brass for high conductivity.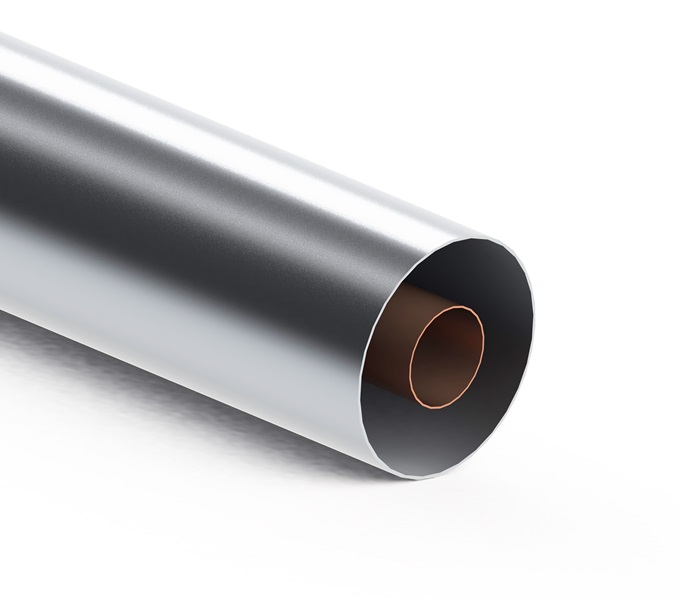 4 7/8" Unflanged Rigid Line
Structure

Product Line
Rigid Line
Product Type
Unflanged rigid line (Aluminium outer conductor)
Size
4-7/8"
Feeder Type
Rigid coaxial transmission line (unflanged)
Outer Conductor Material
6060-T8 Aluminium
Outer Conductor OD
mm (in)
123.2 (4.85)
Outer Conductor ID
mm (in)
120 (4.724)
Inner Conductor Material
C102000 Copper, 99.95% pure
Inner Conductor OD
mm (in)
52.1 (2.051)
Inner Conductor ID
mm (in)
50.1 (1.972)
Electrical Specifications

Maximum Frequency
MHz
862
Impedance
Ω
50 +/- 0.5
Relative Propagation Velocity
%
99.8
Peak Power Rating
kW
2160
RF Peak Voltage
kV
14.7
Mechanical Specifications

Weight
kg/m (lb/ft)
3.7 (2.48)
Finish
Natural
Recommended clamp spacing
m (ft)
2 (6.5)
Ordering Information

Standard Lengths
mm (ft)
2750, 5500 (9, 18) [Note 3]
Environmental Specifications

Ambient Temperature Range
°C(°F)
-40 to + 60 (-40 to 140)
Humidity
95%, non condensing
Attenuation and Power Rating

Frequency, MHz
Attenuation, dB/ 100m
Attenuation, dB/ 100ft
Average Power kW
(Note 1)
Average Power kW
(Note 2)
50
0.14
0.044
153
205
88
0.19
0.059
115
154
98
0.20
0.062
109
146
108
0.21
0.065
104
139
150
0.25
0.077
88
118
174
0.27
0.082
82
110
202
0.29
0.089
76
102
240
0.32
0.097
70
93
300
0.36
0.108
62
84
400
0.41
0.125
54
72
470
0.44
0.135
50
67
500
0.46
0.140
48
65
520
0.47
0.143
47
63
600
0.50
0.153
44
59
665
0.53
0.161
42
56
719
0.55
0.168
40
54
800
0.58
0.177
38
51
820
0.59
0.179
38
51
862
0.60
0.183
37
49
Attenuation at 20°C (68°F)
Mean power rating at 40°C (104°F) ambient temperature
Note 1. Outer temp rise 24°C (75°F), Inner temp rise 65°C (149°F)
Note 2. Outer temp rise 30°C (86°F), Inner temp rise 85°C (185°F)
Note 3. Custom lengths are available on request

Elbows

Elbow Model No
RL478-50ALU-EL
RL478-50ALU-ELT
Elbow Type
Non-tuneable
Tuneable
VSWR 0-862 MHz
1.025:1
1.014:1
Elbow Weight
kg (lb)
5.3 (11.7)
5.6 (12.3)
Accessories

Accessory Model No
RL478-50ALU-STR
RL478-50AL-FLA
RL478-50-IJK
RL478-50-SHR
AD49U-N
Accessory Description
Straight Coupling - Inner & Outer
Flange Adaptor - Clamp Type
IEC Inner Joining Kit
Suspension Hanger
4-7/8"u/f - Type N
Adaptor
Accessory Weight
kg (lb)
0.54 (1.19)
0.7 (1.54)
1.3 (2.9)
1.3 (2.9)
2 (4.4)