SL1-1


Sidemount FM Dipoles
SL1 Series

Rev : P1 | Rev date :

These vertically polarized antennas for FM broadcasting applications are intended for use where low wind loadings are required. They are designed to be sidemounted to a tower leg or pole and optional mounting brackets are available for this purpose.
The SL1 series is intended for low power applications, with a maximum of 500W input power. These versions cover the full FM band without adjustment, although factory optimization on the frequencies of operation is possible.
SL1 antennas are constructed of heavy gauge, corrosion resistant aluminium tubing (6000 series) and are extremely robust whilst having very low weights and wind loads. A variety of mounting clamps are available to facilitate mounting to most tubular or lattice structures.
Multiple element arrays are supplied as a complete package including power dividers and distribution cables. An optional input tuner ensures optimum VSWR performance after installation as it enables the effects of tower steelwork to be eliminated. Beam tilt and null fill can be provided on request.

FEATURES / BENEFITS
Rugged construction for maximum corrosion protection
Broadband operation
Multichannel use if required
Low windload to minimize tower or mast costs
Vertical polarization.

Structure

Product Line
Antenna TV
Product Type
Band II (VHF) FM Sidemount Antennas
Electrical Specifications

Frequency Range
MHz
87.5 - 108
Polarization
Vertical
Nominal Gain (Mid-band)
dBd
0
Return Loss
dB
Typically 17 over 87.5 - 108MHZ band
Power Rating
kW
5
Impedance (unbalanced)
Ω
50
Mechanical Specifications

Input Connector
N type
Dimensions (Height or Length)
cm (in)
130 (51)
Effective Area Front (full antenna) No Ice
m² (ft²)
0.2 (2.15)
Effective Area Front (full antenna) with 12.5mm(0.5") Radial Ice
m² (ft²)
0.2 (2.15)
Weight
kg (lb)
3.5 (7.7)
Packaging Information

Shipping Weight, Kg (lb)
kg (lb)
3.5 ()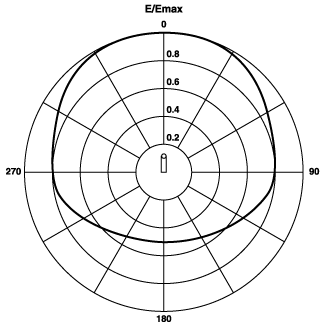 Azimuth Radiation Pattern (Typical)