TDG230


Tandem Delta Antenna TDG Series 2 - 30 MHz

Rev : 01 | Rev date : 23 Jun 2021

A high angle radiating antenna designed for ionospheric propagation over short to medium distances. Specifically designed for ground to air systems utilising high performance and reliability.

FEATURES / BENEFITS
The Tandem Delta is a derivation of the RFS series of delta antennas.
Unlike the standard delta or other travelling wave antennas, where radiation results from a wave travelling upward to a resistive termination at the apex, the Tandem Delta does not incorporate a terminating resistor. All input power is therefore radiated and, in consequence, these new antennas have a higher gain than the standard delta. Furthermore, removal of the terminating resistor means that higher power ratings are more readily achieved.
Because of its high radiation angle characteristics, the Tandem delta antenna is less prone to long-distance interference and local electrical noise. It is strongly recommended for high-grade communication networks.
Tandem Delta antennas operate completely independently of ground conditions. Their polarisation is elliptical.
RFS masts, and stub masts for this antenna, are available as options.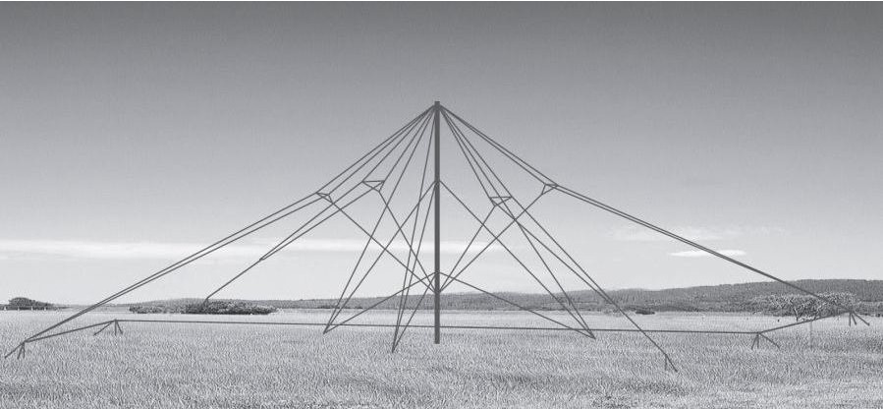 Electrical Specifications

Gain
dBi
refer to graph
Polarization
Elliptical
Azimuth Radiation Pattern
Omnidirectional (refer to plots)
VSWR
2.5:1 max
Maximum Power Rating
kW
20 average, 80 PEP
Input Connector
N-type (1kW)
7/8" EIA (10kW)
1-5/8" EIA (20kW)
Open wire balanced line (20kW)
Impedance
Ω
50 unbalanced with balun
600 balanced
Mechanical Specifications

Wind Survival Rating (no ice)
km/h (mph)
160 (99.4)
Wind Load Comment
to AS1170:2.2011
Material

Material - Guys
Galvanised steel and heavy duty fail-safe insulators
Material - Mast
Hot dipped galvanised steel
PACKAGING INFORMATION

Shipping information
Packed weight [kg]
Packed volume [m3]
TDG230
1300
8