RADIAFLEX Anniversary
50 years of in-tunnel wireless connectivity with RFS RADIAFLEX® radiating cables
50 years ago, we invented RADIAFLEX® radiating cables to take wireless connectivity into tunnels. Today, RADIAFLEX cables are bringing 5G to tunnels and setting world-record speeds along the way. And they're reliably delivering commercial and mission-critical communications in more than half of the world's metros.
Learn more
THE RADIAFLEX STORY
See how RADIAFLEX continues to set new benchmarks for speed, reliability and fire resistance
RFS Solutions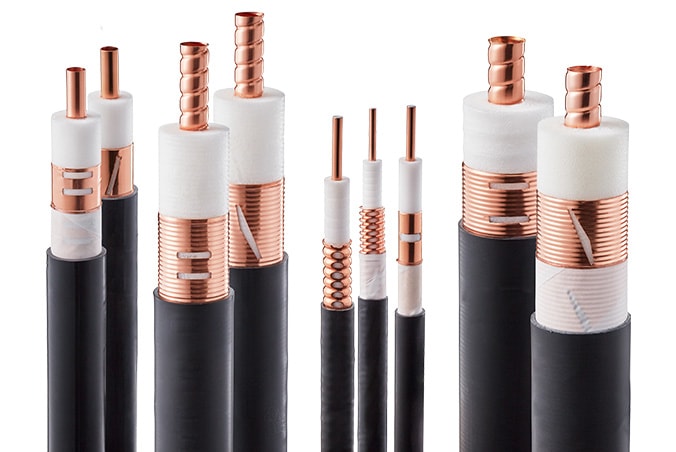 RADIAFLEX® Radiating Cables
RFS RADIAFLEX is the industry's most advanced portfolio of 5G-ready radiating cables for contoured wireless coverage in buildings and underground. RADIAFLEX cables support all services up to 6 GHz with high performance, making them ideal for multiband, multi-operator applications in any indoor environment. With a variety of different bending radii, performance levels and outer conductor types to choose from, there's a RADIAFLEX radiating cable for even the most challenging coverage requirements.
Discover RADIAFLEX® Radiating Cables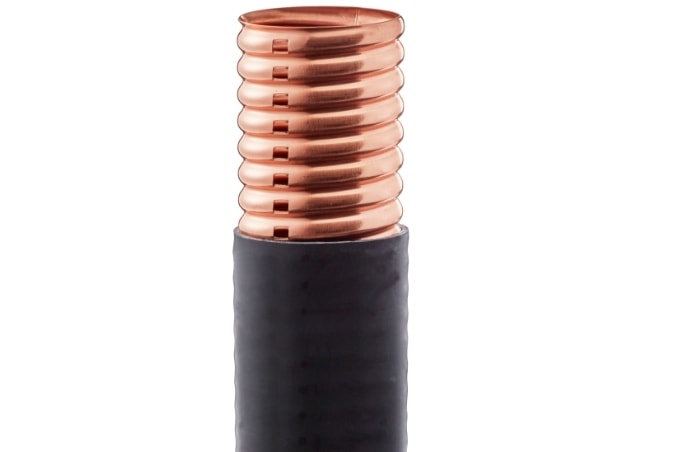 RADIAFLEX® Radiating Waveguide
The RFS RADIAFLEX radiating waveguide is a distributed antenna system for tunnels, mines, large building complexes and other challenging locations. The broadband solution simultaneously supports multiple one-way and two-way communications systems, so a single waveguide can be used for all applications. A specialized manufacturing and longitudinal seam welding process developed by RFS ensures optimal electrical performance and good bending properties.
Discover RADIAFLEX® Radiating Waveguide
References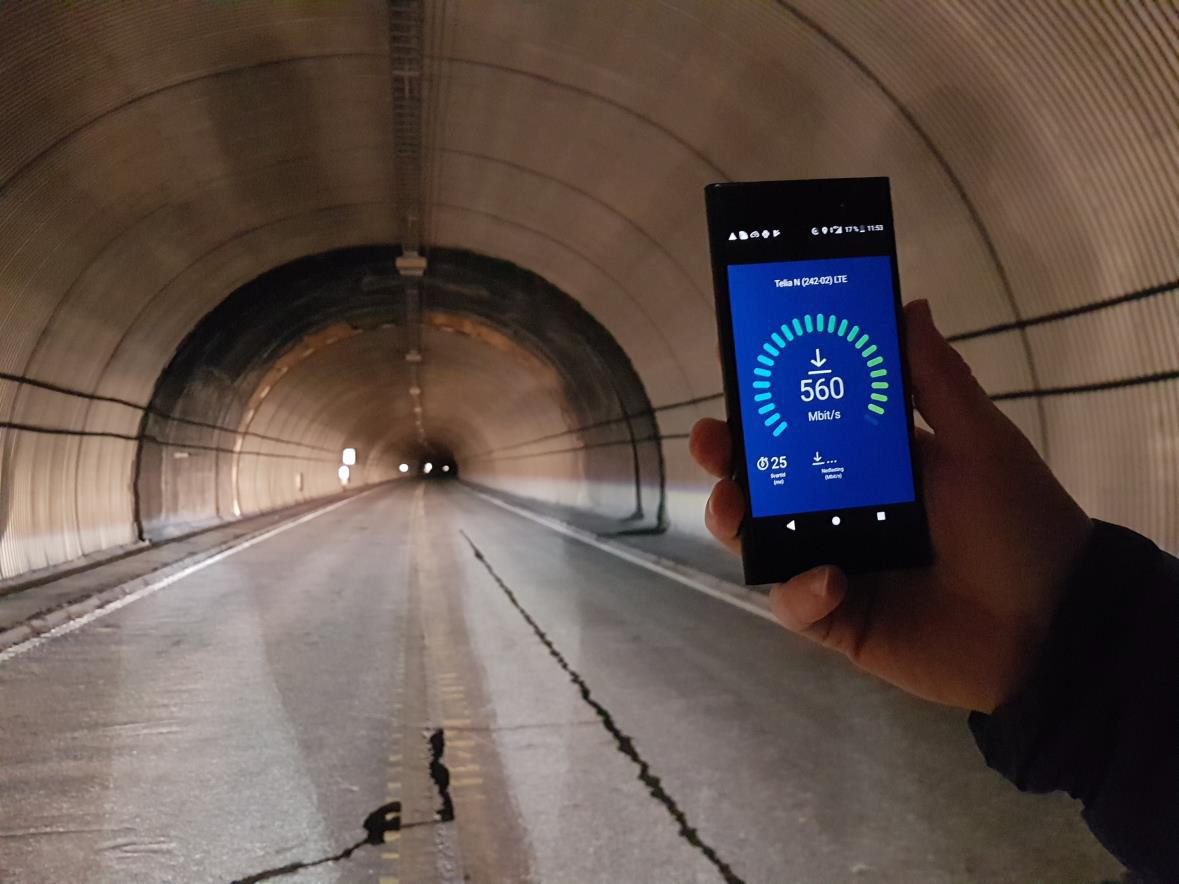 Follobanen
Norway | 2019-2020
RFS RADIAFLEX radiating cables set a new world record for download speeds in tunnels in 2018 with a unique 4x4 MIMO configuration that reached 560 Mbps in a Follobanen tunnel. The innovative RADIAFLEX solution for the high-speed railway project combines "perfect match" vertically and horizontally polarized radiating cables to take advantage of cross-polarization effects and optimize MIMO conditions in tunnels.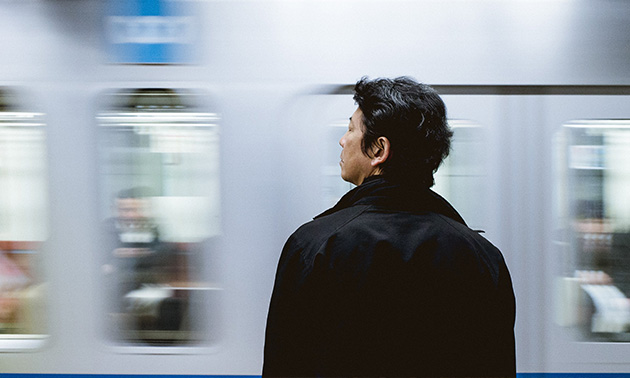 Railway Tunnels in Japan
Japan | 2022
Following successful equipment trials in Tokyo, RADIAFLEX has been selected by Japan Mobile Communications Infrastructure Association (JMCIA) for wireless infrastructure projects in new railway tunnels. The new projects will use 8km of RFS RADIAFLEX cable throughout new underground tunnels. The delivery of the project is already underway and will be able to offer 4G LTE and 5GNR to customers before the end of 2022.
Technical Information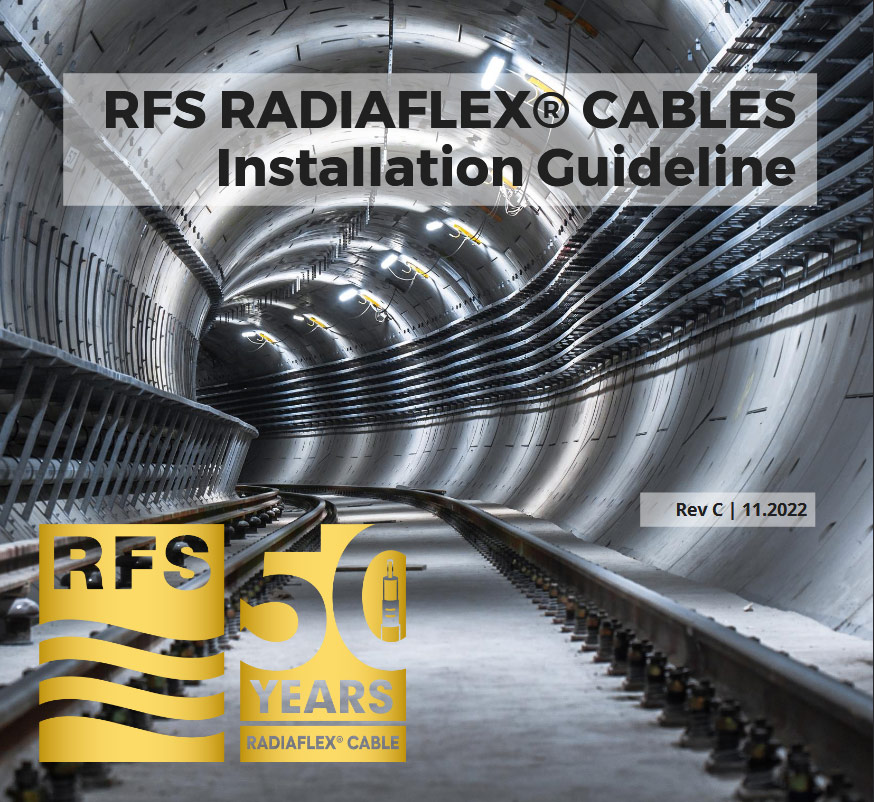 RADIAFLEX Installation Guidelines
Everything you need to know to successfully install RADIAFLEX cables is included in this comprehensive guide. Access detailed instructions, step-by step-visuals and expert techniques to ensure a fast and precise installation.
Download the Guide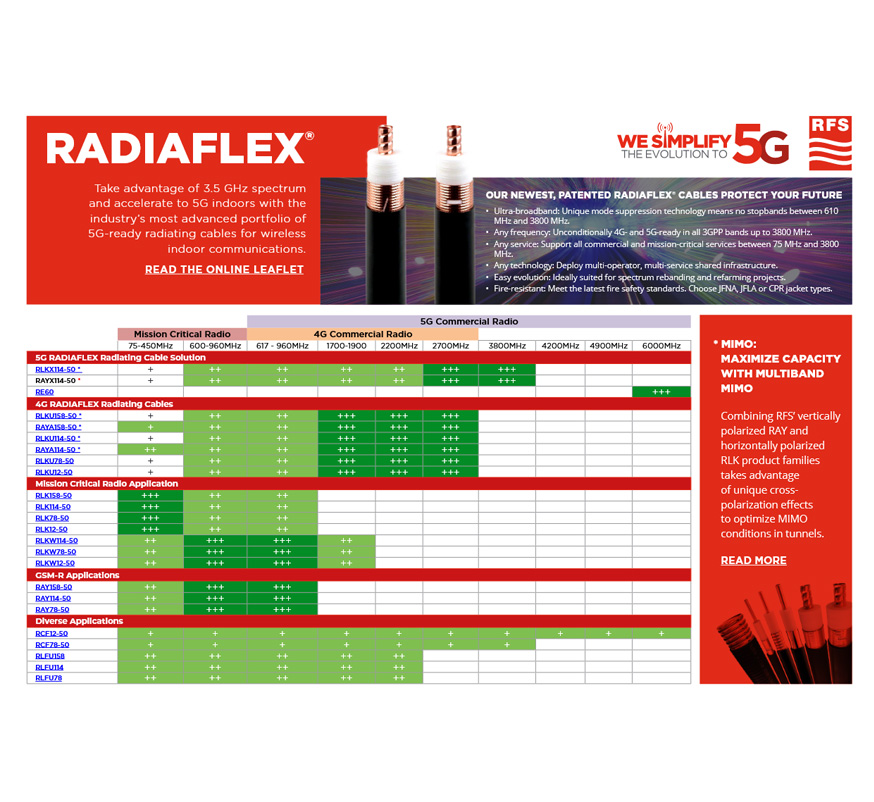 RADIAFLEX Product Selection Matrix
With many different families of RADIAFLEX cables to choose from, you can find the right combination of bending radius, performance level and outer conductor type needed to support every application, in every environment.
Download the Matrix
Contact us
Are you looking for more information on our solutions or would like to get in touch with an RFS expert?
Fill in the form below to tell us more about your request and we will get you to the right people as soon as possible