SAFETY COLLARS KIT 48-60 / 60-114


SAFETY COLLARS KIT 48-60 / 60-114

Rev : A | Rev date : 23 May 2022

This safety collars kit ease the antenna installation and can be installed on all pipe diameters from 48mm to 114mm.

FEATURES / BENEFITS
This kit has been engineered and dimensioned to match all pipe diameters (48mm to 114mm).
The kit is made of materials (aluminium and hot-dip galvanized steel) with proven mechanical and environmental performance.
Easy to install & robust, this kit contributes to ease the antenna installation.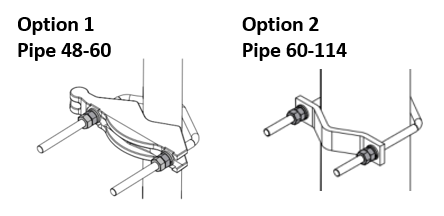 Mechanical Properties

Weight
kg (lb)
1.2 (2.646)
Structure

Product Type
Reinforcement Hardware
Kit Type
Safety collar kit
Material
Aluminium & Hot-dip galvanised steel
Notes
Tower pipe compatibility : Ø48mm up to Ø114mm.
Approximative weight : 1.2kg.