SC1-W800Axxx


NEW ETSI 1ft HIGH GAIN ANTENNA

Rev : B | Rev date : 19 Dec 2022

As a pioneer of the E-band antenna solution, RFS has been refining the products since they were launched in 2012. Now, RFS has introduced the market to a new 1ft, high gain E-band antenna. This new ETSI compliant 1ft antenna features significantly improved performance levels, especially on gain specifications, to support longer links and better quality of service.

RFS E-Band antennas enable high-capacity applications on short distances. They are ideal for small cell, front haul and traditional short distance backhaul applications in urban environments. The antennas small form factor and compact mounting system simplify installation time and effort. In fact, the new E-Band antenna can be field-assembled in less than 6 minutes for faster and safer deployments.

FEATURES / BENEFITS

It can survive winds up to 320 Km/h without additional reinforcement. It is available in single and dual-polarized models with the ability to upgrade from single to dual polarization to support future capacity increases

Note: E-band antennas are only available for direct mount installation.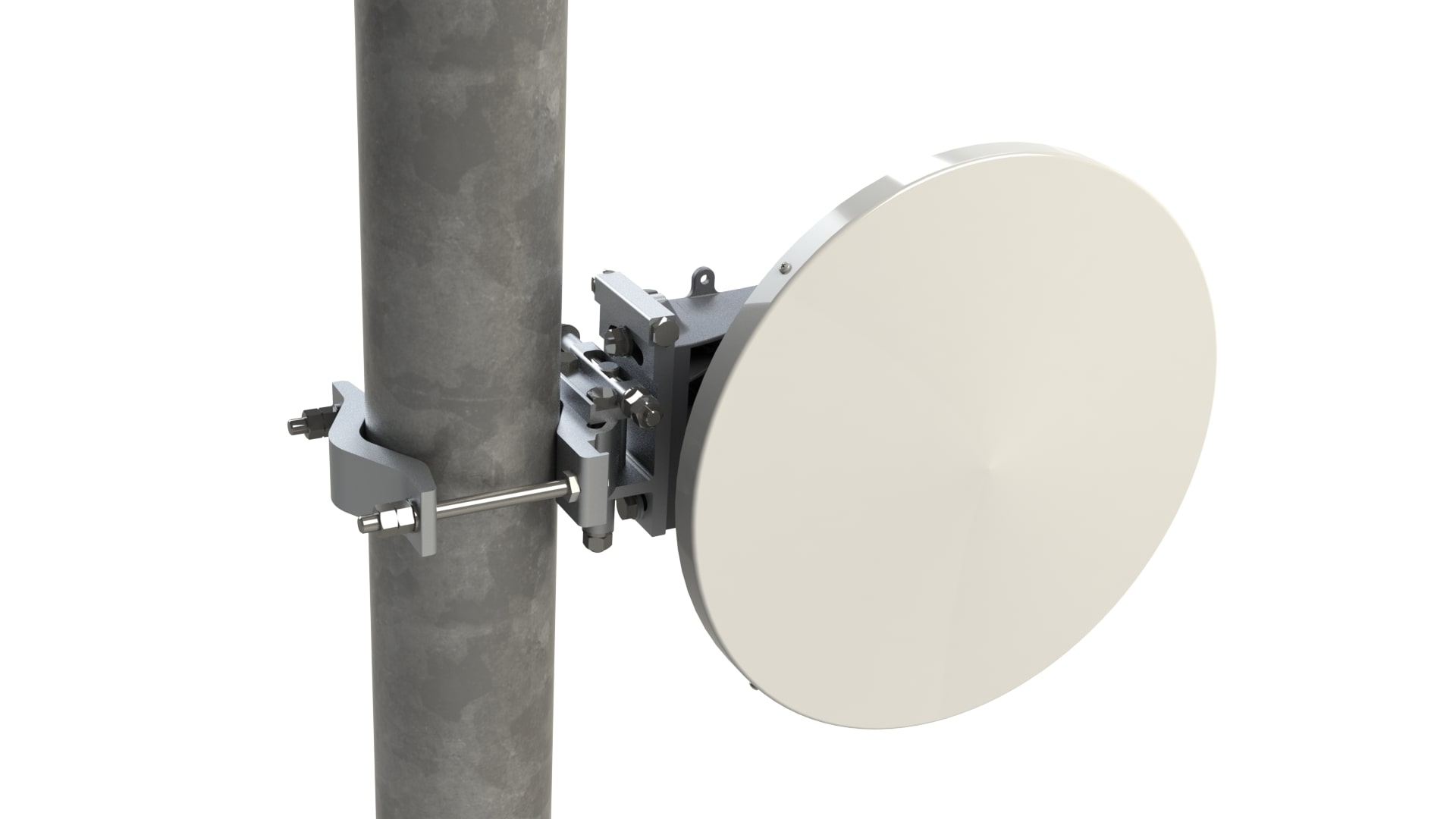 General Specifications

Product Type
Point to point antennas
Profile
CompactLine
Performance
Ultra High
Polarization
Single
Antenna Input
UG-387/U
Reflector
1-part
Radome
Rigid
Antenna color
White RAL 9010
Swaybar
0: (not applicable)
Electrical Specifications

Frequency
GHz
71 - 86
3dB beamwidth
degrees
0.7
Low Band Gain
dBi
45.2
Mid Band Gain
dBi
46
High Band Gain
dBi
46.5
F/B Ratio
dB
66
XPD
dB
27

Max VSWR / R L
VSWR / dB
1.5 (14)
Regulatory Compliance
ETSI EN 302217 Range 7 Class 3
Mechanical Specifications

Diameter
ft (m)
1 (0.3)
Elevation Adjustment
degrees
± 15
Azimuth Adjustment
degrees
± 15
Polarization Adjustment
degrees
± 5
Mounting Pipe Diameter minimum
mm (in)
48 (1.9)
Mounting Pipe Diameter maximum
mm (in)
114 (4.5)
Approximate Weight
kg (lb)
5 (11)
Survival Windspeed
km/h (mph)
320 (198)
Operational Windspeed
km/h (mph)
252 (156)
Further Accessories

optional Swaybar
0: (not applicable)
Mountoutline

Dimension_A
mm (in)
387 (15.2)
Dimension_B
mm (in)
187 (7.4)
Dimension_C
mm (in)
165 (6.5)
Dim_D-51mm(2_in)Pipe
mm (in)
250 (9.8)
Dim_D-89mm(3.5_in)Pipe
mm (in)
270.5 (10.65)
Dim_D-114mm(4.5_in)Pipe
mm (in)
283 (11.1)
Dimension_E
mm (in)
46 (1.8)
Dimension_F
mm (in)
40 (1.6)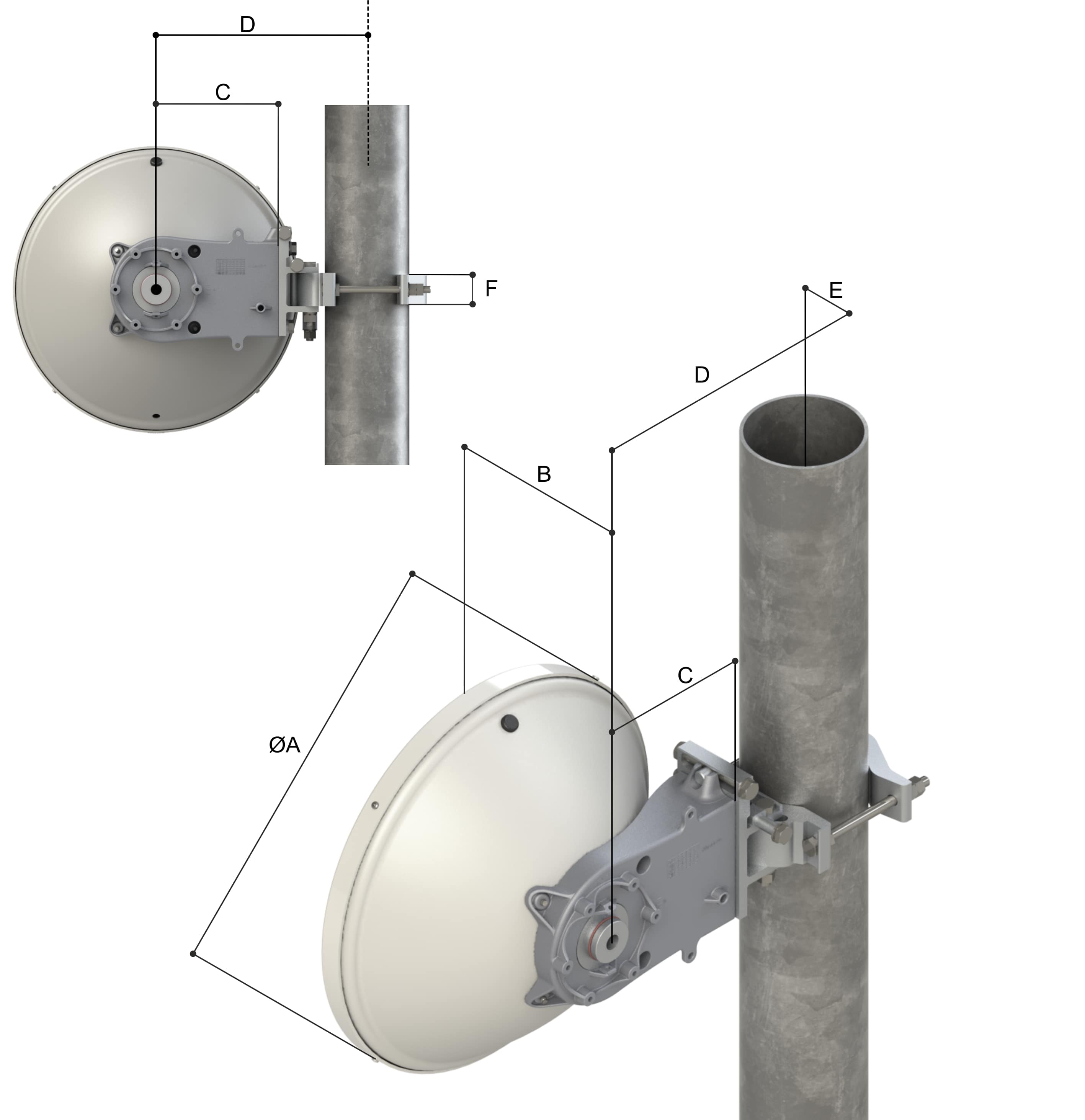 Windload

Fs Side force max. @ survival wind speed
N (lb)
354 (80)
Fa Axial force max. @ survival wind speed
N (lb)
715 (161)
M Torque maximum @ survival wind speed Nm (ft lb)
Nm (lb ft)
230 (170)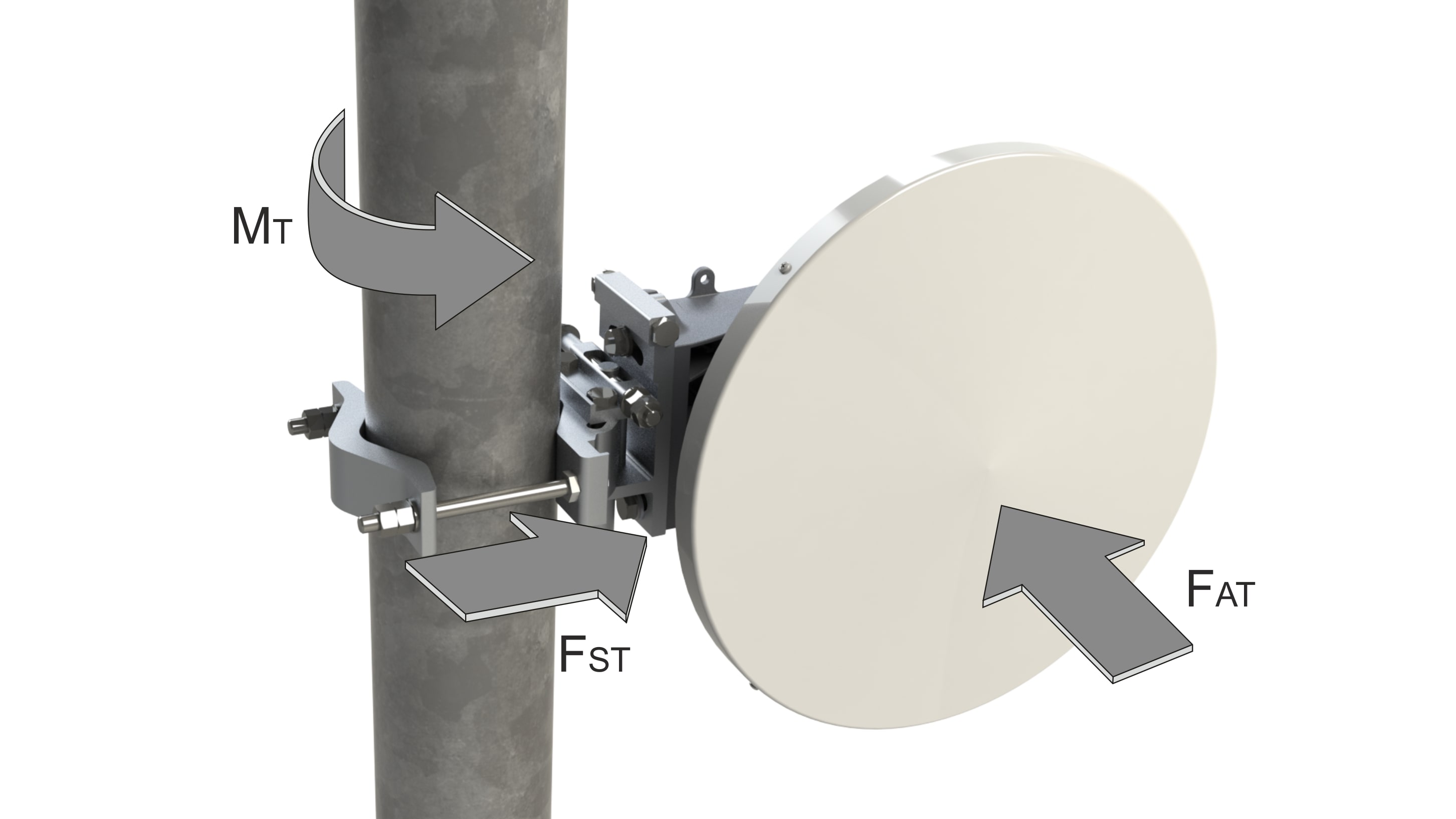 Packaging

Packaging type
Cardboard
Packaging Width
cm (inch)
40 (15.7)
Packaging Length
cm (inch)
40 (15.7)
Packaging Height
cm (inch)
25 (9.8)
Packaging Volume
m³ (ft³)
0.04 (1.4)
Packaging Weight gross
kg (lb)
6 (13.2)
Package dimensions valid for delivery from European factory. Deliveries from other factories might differ.