SMA-SK-OMT-SCX2


Perimeter Sway Bar for OMT at Parabolic Antenna 2ft

Rev : A | Rev date : 07 Jul 2016

Perimeter Sway Bar 0.41 Meters length for OMT with Parabolic Antenna 2ft

FEATURES / BENEFITS
The perimeter sway bar increases the stability of the OMT in case 4 ODUs are installed on the antenna.

The perimeter sway bar reduces vibration of the OMT and increases stability of the antenna in worst case conditions.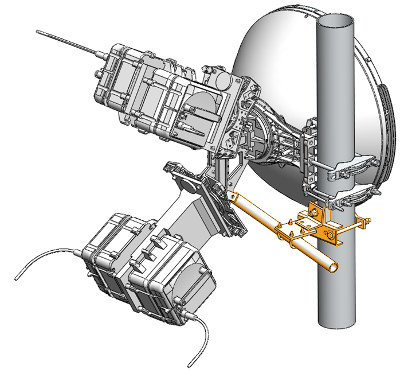 Mechanical Properties

Diameter
m (ft)
Weight
kg (lb)
3 (6.6)
Sway bar length
m (ft)
0.41 (1.35)
SWAYBARDIAMETER
mm (in)
27 (0.09)
Structure

Product Type
Reinforcement Hardware
Kit Type
Perimeter Sway Bar
Material
Hot-dip galvanised steel
Notes
Only accessable for CompactLine Easy SCX2 antennas with RFS OMT from 6 GHz to 25 GHz
Only necessary in case of the installation of 4 ODUs.


Packing
CARDBOARD BOX 460*210*210