SMA-SKO-UNIVERSAL-L SMA-SKO-UNIV-L


Sway Bar / Tower Universal Connecting Kit

Rev : A | Rev date : 17 May 2021

This connecting kit allows to attach the sway bar on any kind of support (pipes or L-sections) without needing to drill holes in the structure.

FEATURES / BENEFITS
The RFS universal fixation kit SMA-SKO-UNIVERSAL-L (aka SMA-SKO-UNIV-L) allows to attach the sway bars of RFS 6ft through 15ft antennas onto towers, without drilling holes.
This kit has been engineered and dimensioned to match all scenarios that occur in the field (pipes and L-sections).
The kit is made of materials (stainless steel and hot-dip galvanized steel) with proven mechanical and environmental performance.
Easy to install, less bulky, robust, this kit contributes to a perfect installation of RFS 6ft through 15ft antennas, from both a safety and a sustainability perspective.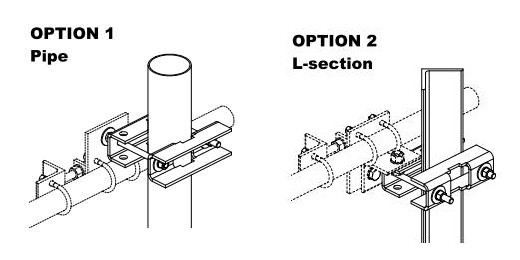 Mechanical Properties

Weight
kg (lb)
5.6 (12.3)
Structure

Product Type
Sway Bar Fixation Hardware
Kit Type
Sway Bar / Tower Fixation Kit
Material
Stainless steel & Hot-dip galvanised steel
Notes
Tower pipe compatibility : Ø60mm up to Ø114mm.
Tower L-section compatibility : L 60mm x 60mm up to L 110mm x 110mm.
Compatible with RFS sway bar models in following diameters : Ø60mm.
Approximative weight : 5.6kg.
Only the red marked parts are delivered with the kit (see picture).