TRIM-T01


Hand tool kit for the installation of connectors and grounding kits on CELLFLEX® Cables

Rev : B | Rev date : 26 Jan 2022

The hand tool kit for CELLFLEX® cables contains all devices required for the installation of OMNI FIT™ connectors onto CELLFLEX® cables from SCF14 up to LCF158 using the manual way as described in the installation instruction. By seperately acquiring of the required trimming tools, this kit also supports the automated process.

FEATURES / BENEFITS

All tools for manual installation of connectors and grounding kits in one box.

 

For easier installation and in order to get the highest possible quality of installation we recommend going for our Universal Trimming Tools (TRIM-SET*-****-***) in addition.
For easier and safe installation of grounding kits and for the dismantling of cable jacket for the connector installations we recommend using our jacket stripping tools (JSTRIP-***-*) in addition.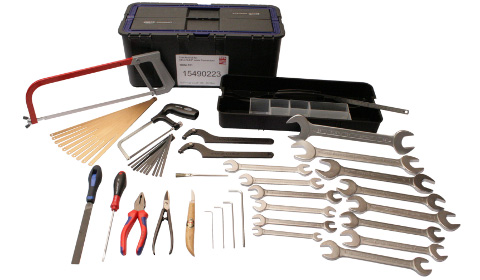 TRIM-T01
Notes
Component:
1 tool box
1 knife (carving)
1 tinner's shears
1 combination plier
1 flat brush
1 flat file (smooth cut)
1 hack saw
10 hack saw blades (smooth fine teeth)
1 pocket saw
12 saw blades for pocket saw (smooth fine teeth)
1 screw-driver 4.5 x 125 mm
2 poly hook spanner 60-90 mm
1 steel measuring tape 300 mm
always 1 hexagon socket key 2 mm; 2.5 mm; 3 mm; 5 mm
always 1 open end wrench SW 10x11; SW 13x14;SW 14x15;SW 16x17;SW21x22; SW 30x32; SW30x36; SW32x36
always 2 open end wrench SW18x19; SW20x22; SW24x27
Structure

Product Line
Coaxial Cable Accessories
Product Type
Tool
Transmission Line Type
SCF14, SCF38, SCF12, UCF78, UCF114, LCF14, LCF38, LCF12, LCF78, LCFS114, LCF158
Coaxial Cable Type
Foam Dielectric
Cable Size
1/4", 3/8", 1/2", 7/8", 1-1/4", 1-5/8"
Type of Tool
Hand tool kit
Configuration
Please see other documentation below.
Mechanical Specifications

Length
mm (in)
470 (18.5)
Height
mm (in)
185 (7.28)
Width
mm (in)
235 (9.25)
Packaging Information

Package Quantity
1
Weight per piece
kg (lb)
7.4 (16.3)