660


174-240MHz TV/DAB Panel Arrays
659, 660 Series

Rev : 03 | Rev date : 17 Jun 2022

This series of panel antennas are ideal for four-sided array design to provide customized coverage for vertically polarized use in Band III. Model 659 has a nominal gain of 8dBd and the model 660 has a nominal gain of 11dBd.
Construction from a thick-walled tube and solid steel bar gives a heavy-duty panel which is designed for operation in very harsh environments. This design also ensures ideal hot-dip galvanizing for optimum corrosion protection.
The coaxial feed system can be fully pressurized and features twin "O" ring seals on the feed point insulators. The panels are tolerant of light icing (radomes are available for use under heavy icing conditions down to -40 degrees C) and have a very low VSWR (typically less than 1.05:1) over the entire 174 - 230MHz band depending on the system configuration.
These panels are ideal array elements having low sidelobes, low mutual couplings between panels and high power ratings across the full band. This results in complete antenna systems that have very wide VSWR and pattern bandwidth.
The ability to utilize larger tower cross-sections allows support for a top-mounted UHF antenna such as our PHP or PVP UHF antenna arrays. This provides a powerful combination for delivering DTV and/or DAB systems customized to suit the coverage requirements of the customer.

FEATURES / BENEFITS
Suitable for multi station use, DAB and DTV
Vertical polarization
Cyclone rated
Rugged galvanized steel construction for maximum corrosion protection
Low wind load
Pressurizable coaxial feed
Low VSWR full band operation
Ideal array element allowing for a number of standard horizontal radiation patterns as well as customized patterns. Contact RFS for details
Medium power, unpressurized version available
Temperature range -40 to +60 degrees C available.


659 and 660 Series Antennas showing 659 Panel
Structure

Product Line
Antenna TV
Product Type
Band III (High VHF) TV/DAB 660 Panel Arrays
Electrical Specifications

Frequency Range
MHz
174 - 240
Polarization
Vertical
Nominal Gain (Mid-band)
dBd
11
Half Power Beamwidth Azimuth
degrees
64
Return Loss
dB
26
Power Rating
kW
3
4
Impedance (unbalanced)
Ω
50
Mechanical Specifications

Number of Channels
Multichannel
Input Connector
7-16 DIN
7/8" EIA Flange
Mounting (Standard)
mm (in)
4 x 12mm (4 x 1/2") bolts
Effective Area Front (full antenna) No Ice
m² (ft²)
0.80 (8.61)
Effective Area Side (full antenna) No Ice
m² (ft²)
1.10 (11.83)
Design Wind Speed
km/h (mph)
240 (150)
Pressurization Operational
kPa (psi)
10 - 25 (1.5 - 3.6) 7/8" EIA Version
Pressurization Test
kPa (psi)
100 (15) 7/8" EIA Version
Weight
kg (lb)
80 (177)
Material

Material - Insulators
PTFE
Material - Reflecting Screen
Hot Dipped Galvanised steel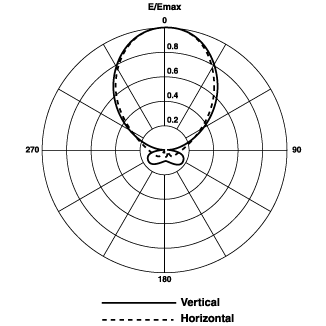 Radiation Pattern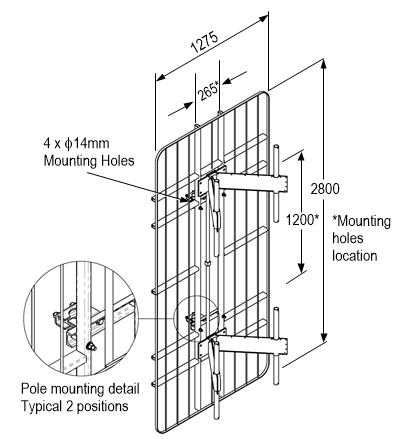 660 Panel
Notes
Note 1 Power rating is limited by the input connector type. 3kW for 7-16 DIN, 4kW for 7/8" EIA