CBS4


UHF Slot Antennas
CBS and 2CBS Series

Rev : 01 | Rev date : 20 Jan 2021

Slot antennas are a popular method of providing versatile antennas for UHF TV broadcasting applications. The RFS CBS series of slot antennas were developed for Band IV and V antenna applications, offering bandwidths up to 110MHz for multichannel operation.
The standard CBS series is also available as a dual stack antenna (designated 2CBS series) with two CBS radiators stacked in a single fibreglass radome. Dual inputs are available on the 2CBS series as an option.
An improved VSWR over 1 or 2 channels can be achieved by the addition of a tuning unit that is connected to the input terminal of the antenna.
CBS antennas offer extremely low wind loading characteristics and thus, low cost support structures.
These antennas offer many advantages over comparable panel arrays. Of compact cylindrical construction they are ideal for use in situations where low wind loadings are a primary concern. They are also aesthetically pleasing, having a low profile while maintaining great strength for the most severe weather including cyclonic conditions.
Top mounting and mounting to a single leg of a tower structure is possible and on site assembly, erection and aligning are relatively simple. Minimal maintenance is required.
Having a 7/8"" EIA flange input (excepting the CBS7LP), plus the totally sealed fibreglass radome, these antennas are fully pressurized. Unpressurized operation is achieved simply by removing the drain plug in the base plate.

FEATURES / BENEFITS
Copper/brass construction - stainless steel mounting interface
Horizontal polarization
Low wind loading
Fully pressurized
Multichannel operation is possible
Temperature range -40 to +60 degrees C available.


CBS Antenna Series showing CBS7
Structure

Product Line
Antenna TV
Product Type
Band IV/V (UHF) TV Slot Antenna CBS4
Electrical Specifications

Frequency Range
MHz
470 - 536
Polarization
Horizontal
Nominal Gain (Mid-band)
dBd
9.5
Return Loss
dB
20 Note #1
Power Rating
kW
1.3
Null Fill (minimum)
%
5
Beam Tilt
degrees
0
Impedance (unbalanced)
Ω
50
Mechanical Specifications

Input Connector
7/8" EIA Flange
Dimensions (Height or Length)
cm (in)
260 (102)
Radome Diameter
mm (in)
217 (8.5)
Base Diameter
mm (in)
336 (13.2)
Mounting (Standard)
mm (in)
8 x 22mm (7/8) holes on a 292mm (11.5) PCD
Effective Area Front (full antenna) No Ice
m² (ft²)
0.54 (5.8)
Wind Load @ 50 m/sec Front
kN (lb)
0.64 (140)
Pressurization Operational
kPa (psi)
10 - 25 (1.5 - 3.6)
Pressurization Test
kPa (psi)
100 (15)
Weight
kg (lb)
38 (84)
Material

Material - Radome
Fibreglass
Material - Support Pole / Mounting
Base Flange - Stainless steel
Colour
Radome colour white or grey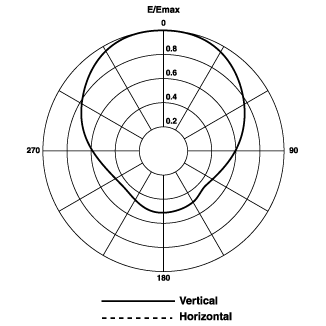 Typical Azimuth Radiation Pattern
Standard
Notes
Note 1 Better than 26dB over limited bandwidth with additional tuning/cost.