DC-KIT-260-B


Desiccant Cartridge Kit for rectangular waveguide R260

Rev : C | Rev date :

Desiccant cartridge kit R260 consisting of:
Straight rectangular waveguide section with PBR/UBR 260 flanges
Gas inlet adapter with G1/8" thread
Desiccant cartridge - in an airproofed can
Desiccant cartridge holder
Right angle adapter with G1/8" thread
Screw kit and O-Ring for PBR Flange,
Teflon Tape
Installation Instruction

FEATURES / BENEFITS

The RFS desiccant cartridge is a compact and economical solution designed to protect antenna/feeder systems against moisture. The desiccant cartridge is connected to the system and the humidity indicator will provide an early warning (long before link failure) if moisture has entered the system in spite of all the precautionary measures taken. In case of high humidity, the material inside the cartridge will be saturated. This is indicated if the colour changes from blue to violet of the material visible through the window in the front side of the desiccant.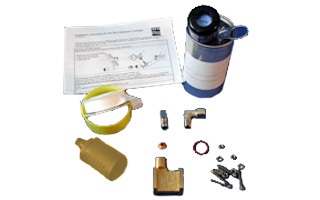 Structure

Type of Rectangular Waveguide Component
Desiccant Cartidge
Waveguide Size IEC (EIA)
R260 (WR34)
Flange A
PBR260
Flange B
UBR260
Flange Finish
Brass un-plated
Package Quantity
1
Electrical Specifications

Frequency Range
GHz
21.7 - 33
Minimum Return Loss (max. VSWR)
dB (VSWR)
26.4 (1.10)
Mechanical Specifications

Length
mm (in)
30 (1.2)
Material

Material
Rectangular waveguide section: Brass
Gas inlet adapter: Brass nickel plated
Right angle adapter: Brass nickel plated
Screw kit: Stainless steel
O-ring: Silicone rubber
Desiccant cartridge housing: Brass
Related Products

Spare Part / Useful Accessories