GW-16/20


Grounding Wire Kit

Rev : B | Rev date : 25 Apr 2019


Ideally, Surge Arrestors should be installed in a grounded wall entry plate. Another option is the fixation of the Surge Arrestor on a grounded bar or rail. ;If both possibilities are not feasible because of overruling conditions on site, the surge arrestor must be connected to the grounding system by individual grounding wires. ;The grounding wire kit includes the necessary cable and accessories to connect a Surge Arrestor with the grounding system, provided a ground bus terminal is not further than 0.5m away

FEATURES / BENEFITS

• Preassembled cable lug.
The cable lug to connect the grounding wire to the surge arrestor comes preassembled
to save installation time and ensure connection security.
• Screw Kit and field attachable lug included
To connect the grounding wire to the surge arrestor a hex head screw M8x12 with washer and lock washer is included.
For the optimal connection to the grounding point, which should be as short as possible,
a field attachable lug is included which is to be installed once the cable has been trimmed to the final length.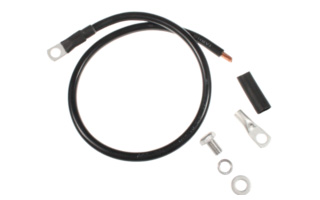 Grounding Wire Kit
Structure

Product Line
Coaxial Cable Accessories
Type of Grounding Kit
Grounding Wire Kit
Mechanical Specifications

Lug Attachment Method
Field Attachable
Lug Style Size
1-hole Ø 10.2mm (13/32") crimp-on, tin-plated
Grounding Wire Length
m (in)
0.5 (20)
Grounding Wire Size
mm²

16mm2 (7 strand)

Grounding Wire Color
Black
Temperature Specifications

Operation Temperature
°C (°F)
-50 to 85 (-58 to 185 )
Storage Temperature
°C (°F)
-50 to 85 (-58 to 185 )
Packaging Information

Package Quantity
1
Weight per piece
kg (lb)
0.17 (0.375)