ICA12-50JPL


1/2" ClearFill®Line Plenum-Rated Air-Dielectric Coaxial Cable for In-Building Applications

Rev : R | Rev date : 12 Jan 2022

ClearFill®Line 1/2" low loss air dielectric cable, Plenum-rated, CMP

FEATURES / BENEFITS
Supports Multiple RF Signals
Complete Shielding
The solid outer conductor of the ClearFill®Line coaxial cable creates a continuous RFI/EMI shield that minimizes system interference.
Outstanding Intermodulation Performance
RFS coaxial cable's solid inner and outer conductors virtually eliminate intermods. Intermodulation performance is also confirmed with state-of-the-art equipment at the RFS factory.
Wide Range of Applications
Typical areas of application are feedlines for plenum-space installations within occupied buildings or structures but also suitable for outdoor use due to jacket UV rating.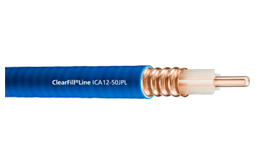 1/2" Plenum-Rated In-Building Cable
Applications

Applications
Wireless Communication
TV & Radio
HF Defense
Mobile Radio
Cable Solutions
In Building
Structure

Cable Type
Air-Dielectric, Corrugated
Size
1/2
Inner Conductor
mm (in)
4.8 (0.19)
Inner Conductor Material
Copper-Clad Aluminum Wire
Dielectric
mm (in)
11.8 (0.464)
Dielectric Material
Extruded Polyethylene
Outer Conductor
mm (in)
13.8 (0.54)
Outer Conductor Material
Corrugated Copper
Jacket
mm (in)
15.93 (0.627)
Jacket Material
PVC, Plenum Rated / Color Blue
UV rated to ASTM G155, Water-resistant
Testing and Environmental

Fire Performance
Flame Retardant, Plenum Rated
Flame Retardant Jacket Specifications
Meets/Exceeds Steiner Tunnel Test Method UL 910, NEC 820-53 (a) CMP, NFPA-262.
Regulatory Compliance
NEC Article 800 Communication Circuits
ETL Listed to UL444
Canadian CSA C.22.2/FT6
Installation Temperature
°C(°F)
-20 to 60 (-4 to 140)
Storage Temperature
°C (°F)
-40 to 85 (-40 to 185)
Operation Temperature
°C(°F)
-40 to 85 (-40 to 185)
Electrical Specifications

Impedance
Ω
50 +/- 1
Maximum Frequency
GHz
6
Velocity
%
91
Capacitance
pF/m (pF/ft)
76 (23.2)
Inductance
uH/m (uH/ft)
0.19 (0.058)
Peak Power Rating
kW
40
RF Peak Voltage
Volts
2000
Jacket Spark
Volt RMS
8000
Inner Conductor dc Resistance
Ω/1000 m (Ω/1000 ft)
1.48 (0.45)
Outer Conductor dc Resistance
Ω/1000 m (Ω/1000 ft)
1.9 (0.58)
Return Loss (VSWR) Performance
24 (1.13) @ 698-960 MHz
24 (1.13) @ 1395-1432 MHz
24 (1.13) @ 1700-2155 MHz
20 (1.22) @ 2300-2700 MHz
18 (1.29) @ 3550-4200 MHz
18 (1.29) @ 5150-6000 MHz
Temperature & Power
High Power Rating
Mechanical Specifications

Cable Weight, Nominal
kg/m (lb/ft)
0.37 (0.25)
Minimum Bending Radius, Single Bend
mm (in)
76 (3)
Minimum Bending Radius, Repeated Bends
mm (in)
127 (5)
Bending Moment
Nm (lb-ft)
4.1 (3)
Tensile Strength
N (lb)
1112 (250)
Recommended / Maximum Clamp Spacing
m (ft)
0.5 / 0.9 (1.8 / 3)
Crush Strength
kg/mm (lb/ln)
1.964 (110)
Attenuation @ 20°C (68°F) and Power Rating @ 40°C (104°F)

Frequency, MHz
dB per 100m
dB per 100ft
Power, kW
0.5
0.15
0.05
40
1
0.21
0.06
34.30
1.5
0.26
0.08
27.90
2
0.30
0.09
24.20
10
0.67
0.20
10.70
20
0.95
0.29
7.55
30
1.17
0.36
6.15
50
1.52
0.47
4.74
88
2.04
0.62
3.53
100
2.18
0.67
3.30
108
2.27
0.69
3.17
150
2.70
0.82
2.67
174
2.92
0.89
2.47
200
3.14
0.96
2.30
300
3.89
1.19
1.85
400
4.54
1.39
1.59
450
4.84
1.48
1.49
500
5.13
1.56
1.41
512
5.19
1.58
1.39
600
5.66
1.73
1.28
700
6.16
1.88
1.17
750
6.40
1.95
1.13
800
6.64
2.02
1.09
824
6.75
2.06
1.07
894
7.06
2.15
1.02
900
7.08
2.16
1.02
925
7.19
2.19
1.01
960
7.34
2.24
0.99
1000
7.51
2.29
0.96
1250
8.52
2.60
0.85
1400
9.08
2.77
0.80
1500
9.45
2.88
0.77
1700
10.20
3.09
0.71
1800
10.50
3.20
0.69
2000
11.20
3.40
0.65
2100
11.50
3.50
0.63
2200
11.80
3.59
0.62
2300
12.10
3.69
0.60
2400
12.40
3.78
0.59
2500
12.70
3.87
0.58
2600
13
3.96
0.56
2700
13.30
4.05
0.55
3000
14.10
4.31
0.52
3500
15.50
4.73
0.47
3600
15.80
4.81
0.47
4000
16.80
5.13
0.44
4500
18.10
5.51
0.41
5000
19.30
5.88
0.38
5500
20.40
6.23
0.36
6000
21.60
6.58
0.34