LPD9-III


Log Periodic Antennas
LPD 9 III Series

Rev : 01 | Rev date : 19 Sep 2014

The LPD 9 III series log periodic antenna is a directional wideband antenna, with low VSWR and without lateral lobes. It can be used in vertical or horizontal polarization due to its rear fixation.

FEATURES / BENEFITS
Receiving from principal television emitters at re-emission stations
Directive emissions
High 9.5dBi gain
Multi-assembly possible
Easy to implement due to its low weight
Easily transportable as the rods can be dismantled
Individual packaging: 2.41 x 0.30 x 0.30m (15kg)
All the metallic parts of the antenna are connected to the ground, helping static load out-flow.

Structure

Product Line
Antenna TV
Product Type
Band III (High VHF) TV Log Periodic Antenna
Electrical Specifications

Frequency Range
MHz
170 - 230
Polarization
Horizontal
Vertical
Nominal Gain (Mid-band)
dBd
7.5
Return Loss
dB
> 19
Power Rating
kW
0.4
Min. Front to Back Ratio
dB
20
Impedance (unbalanced)
Ω
50
Mechanical Specifications

Input Connector
N socket on RG213 U coaxial cable
Boom Length
cm (in)
200 (79)
Reflector Length
cm (in)
90 (35.4)
Effective Area Front (full antenna) No Ice
m² (ft²)
0.17 (1.83)
Effective Area Front (full antenna) with 12.5mm(0.5") Radial Ice
m² (ft²)
0.17 (1.83)
Wind Rating (no ice)
km/h (mph)
220 (140)
Wind Rating with 12.5mm (0.5") Radial Ice
km/h (mph)
150 (90)
Weight
kg (lb)
6.7 (14.7)
Packaging Information

Shipping Weight, Kg (lb)
kg (lb)
15 (33)
Shipping Dimension - Length
cm (in)
241 (94.9)
Shipping Dimension - Width
cm (in)
30 (11.8)
Shipping Dimension - Height
cm (in)
30 (11.8)
Material

Material - Support Pole / Mounting
Hot galvanized mounting interface
Coating
Thermo gloss paint
Colour
White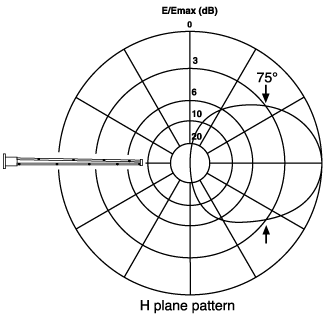 Single LPD 9 III antenna
H-Plane

Superposition of two LPD 9 III antenna arrays powered at the same phase and amplitude.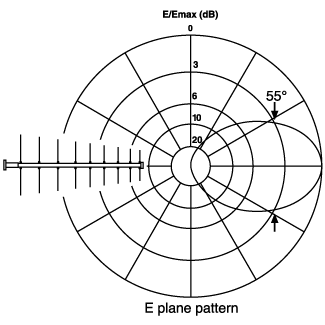 Single LPD 9 III antenna
E-Plane
Notes
Options
• Hot-galvanized fixation interfaces for diameter 50mm to 115mm tubes (available from diameter 30mm up to 150mm upon request)
• Power splitter (BJ) for antenna array
• Phasing coaxial straps
• Fitted, measured, low loss coaxial cables - any length
• Supporting pylons (SL 190 - SL 450, ...)