NGV-C170-SBL Series


High-band VHF Broadband Slot Antennas with Enhanced Front to Back Ratio for NextGen Single Frequency Networks. Low Wind-load, Elliptically or Circularly Polarized.

Rev : 02 | Rev date : 28 Apr 2021

PRODUCT DESCRIPTION

The NGV-SBL (Suppressed Back Lobe) series antennas are ideal for multi-channel Next Generation TV networks. These antennas are designed to reduce radiation in the rear direction to minimize interference to adjacent services. For difficult network planning scenarios, these antennas will enable the network designer to meet the FCC requirements without resorting to large reductions in radiated power.
The high-power rating and broadband performance allow multiple channels to be transmitted from an SFN site, thus reducing capital costs and providing consistent coverage across channels. Elliptical or circular polarization is available for improved transmission to portable and indoor devices.
The NGV-SBL family of antennas provide both top-mounted and side-mounted solutions in a low wind load format.
A wide range of radiation patterns are available. The RFS Antenna Selection Tool contains pattern data for all NGV antenna models and works alongside modern SFN planning tools to help you choose the right NextGen antenna for each SFN site. To download, click Here

FEATURES / BENEFITS
Broadband performance from CH7-13 for multi-channel SFN networks allows infrastructure sharing and reduces overall CAPEX.
Reduced rear radiation (suppressed back-lobe design) simplifies network planning for difficult sites reducing the need for large ERP reductions to mitigate interference.
Broadband performance for multi-channel SFN networks allows SFN infrastructure sharing and reduces overall CAPEX.
Low wind-load reduces tower loads thus simplifying SFN site acquisition.
Large range of azimuth radiation patterns – simplifies the SFN planning process to provide optimum network coverage.
Broadband elliptical or circular polarization performance – improves signal penetration and network performance.
Supplied with brackets for side mounting to a wide range of tower leg sizes.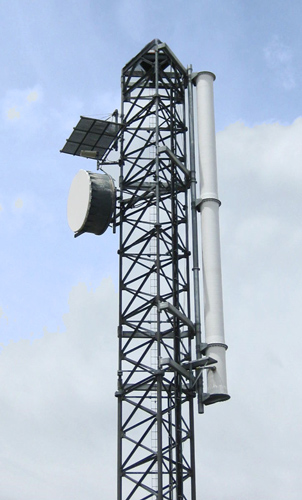 Details

Product Type
NextGen-TV Broadcast Antenna
Electrical Specifications

Antenna Type
Broadband Slot Antenna
Operating Frequency Range
MHz
174-216
Polarization
Elliptical or Circular
Azimuth Radiation Pattern
Cardioid C170
VSWR
<1.1:1
Impedance
Ohms
50
Mechanical Specifications

Radome Diameter
mm (in)
571 (22.5)
Pressurization Operational
kPa (psi)
10 to 25 (1.4-3.6)
Pressurization Test
kPa (psi)
100 (15)
Material

Material - Radome
UV Resistant Fibre Glass
Material - Insulators
Virgin PTFE
Material - Support Pole / Mounting
Hot Dipped Galvanized Steel
Material - Feedline & Radiators
Copper
Material - Reflecting System
Aluminum
Color
White, others on request
Model Number Specifications

Antenna Model
NGV04-C170-SBL
NGV06-C170-SBL
NGV08-C170-SBL
NGV12-C170-SBL
Number of Bays
4
6
8
12
Elevation Gain at 195MHz
Numerical
5.1
6.8
9.7
13.7
Azimuth Pattern Directivity
Numerical
2.0
Peak Gain at 195MHz
Numerical
10.1
13.6
19.4
27.3
Peak Gain at 195MHz
dBd
10.1
11.3
12.9
14.4
Standard Beam-Tilt
[note 1]
2.0
1.5
1.5
1.0
Power Rating: High Power Model
kW
15
23
30
45
Connector: High Power Model
3-1/8" EIA
3-1/8" EIA
3-1/8" EIA
4-1/16"
Power Rating: Low power Model
kW
7
12
14
24
Connector: Low Power Model
1-5/8" EIA
3-1/8" EIA
3-1/8" EIA
3-1/8" EIA
Mounting Type
Side
Side
Side
Side
Height
m (ft) [note2]
6.61 (21.7)
9.92 (32.5)
13.22 (43.4)
19.83 (65.1)
Weight
kg (lb) [note2]
420 (926)
630 (1389)
840 (1852)
1260 (2778)
Effective Area Front (No Ice)

m2 (ft2)
[note 2,3,4]

2.66 (28.6)
3.99 (42.9)
5.32 (57.3)
7.98 (85.9)
External Document Links
Antenna Selection Tool: Download
Notes
Note 1: Other Beam-tilts available on request
Note 2: Data shown is for side mounted antennas
Note 3: Design Parameters in accordance with TIA-222-G are:
160 kmh (100 mph) Basic Wind Speed with no ice
Structure Class II
Topographic category 1, Exposure category C
Interface steelwork to tower not included in calculations.
Note 4: Moment of arm from mounting pole to centre of antenna = 0.65m (2.1ft).