SPD


Power Dividers
LPD, MPD, PD, SPD Series

Rev : P1 | Rev date :

Power dividers are manufactured in a broad range of styles and types for varied applications. Generally a power divider consists of a junction block with a multi-stage quarter wave transforming section. Unequal power division may be achieved by adding quarter wave transforming sections between the junction block and the outputs.

Power dividers are available in 4 basic series:
LPD series - Low cost , low power equal split dividers using N type connectors.
MPD series - Low cost, low power equal split dividers (up to 4 way) using 7/8"" EIA input connectors and N type output connector.
PD series:
Used for most common applications with up to 8 way division with ratios of up to 7dB in almost any combination. Wideband performance with multistage transforming sections, 7/8"" EIA flanged input and EIA or DIN output connectors. Connectors are in-line to conserve space.
SPD series:
Similar to PD series but with up to 4 way split. EIA or IEC connectors, short circuit stub across the junction provides tuning and DC grounding. Additional low power arms are available where unequal power splits are required.

FEATURES / BENEFITS
Low VSWR
Wide bandwidth
Fully welded outer construction
Connectors are DIN, EIA or IEC standards
Temperature range -40° to +60° C available
EIA connectors have fixed male output spigots
Available in 4 basic series
Unequal power dividers with a wide range of power division ratios available and engineered to customer requirements. Contact RFS for details.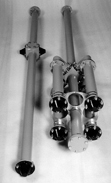 SPD power dividers.
General Specifications

Product Line
Components
Product Type
Power Dividers
Electrical Specifications

Frequency Band
VHF Band I, VHF Band II, VHF Band III, UHF Band IV/V
Input Return Loss
dB
34
Input Impedance
Ω
50 unbalanced
Output Impedance
Ω
50 unbalanced
Power Division Ratio
dB
< 6
Power Division Variation
dB
within 0.5 of specified ratio
Output Phase Variation
degrees
< +/-10
Mechanical Specifications

Number of Outputs
2 to 4

PD and LPD power dividers.