TRIM-SET-R158-P02


Combination preparation tool (Universal Trimming Tool), RADIAFLEX® Cable 1 5/8" for P-Series connector

Rev : A | Rev date : 02 Mar 2017

This special trimming tool improves the cable preparation prior to connector attachment. No further tools are required to prepare the cable for the connector attachment. This is due to the unique design of the trimming tool, which combines all necessary functions in one tool. It can be used for RADIAFLEX® 1 5/8"" foam dielectric cables in combination with the
RADIAFLEX® P-Series connector.

The Universal Trimming Tool Series offers the additional advantage to be convertible to different connector families and cable types and sizes (CELLFLEX® cables and RADIAFLEX® cables 1 1/4" and 1 5/8") only by changing the inserts. Different inserts are available as optional items, for references see below or contact your RFS sales contact.

FEATURES / BENEFITS
Universal Trimming Tool concept
One basic tool can be used for cable sizes 1 1/4"" and 1 5/8"" only by changing the insert
Precision cable preparation tool
Always exact and repeatable trimming dimensions.
Intuitive use of tool
Easy and precise preparation of cables for connector installation.
Long-lasting cutting blades
Easy to clean, smooth dielectric surface improves IM performance.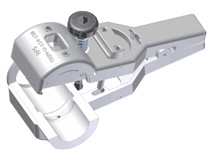 TRIM-SET for RADIAFLEX 1 5/8"
Notes
Other available inserts to convert the tool for use with other connector families or cable sizes:
TRIM-IL114-001 for connectors B32, 062/072 on cable LCFS/UCF114-50
TRIM-IL114-D01 for connectors D01 on cable LCFS/UCF114-50
TRIM-IL114-C02 for connectors C02 on cable LCFS/UCF114-50
TRIM-IL158-001 for connectors B32, 022, 062/072 on cable LCF158-50
TRIM-IL158-D01 for connectors D01 on cable LCFS/UCF158-50
TRIM-IL158-C02 for connectors C02 on cable LCF158-50
TRIM-IR114-P01 for all connectors on RADIAFLEX® cables 1 1/4" with copper foil outer conductor except for jacket options JFCLA
TRIM-IR114-P02 for all connectors on RADIAFLEX® cables 1 1/4" with copper foil outer conductor except for jacket options JFCLA
TRIM-IR158-P01 for all connectors on RADIAFLEX® cables 1 5/8" with copper foil outer conductor except for jacket options JFCLA
Structure

Product Line
Coaxial Cable Accessories
Product Type
Tool
Transmission Line Type
RADIAFLEX radiating cables of RLK, RAY, RLF series
Coaxial Cable Type
Foam dielectric radiating cables with copper foil outer conductor
Cable Size
1 5/8"
Type of Tool
Combination Cable Preparation Tool
Configuration
Universal Trimming Tool
Accessories

Spare Part / Useful Accessories
Spare blades : TRIM-B34
Mechanical Specifications

Color
Aluminum Color
Material
Aluminum Alloy
Length
mm (in)
260 (10.2)
Height
mm (in)
130 (5.12)
Width
mm (in)
110 (4.33)
Packaging Information

Package Quantity
1
Weight per piece
kg (lb)
1.75 (3.86)