UD Series


UHF Dipole Arrays
UD Series (Band IV/V)

Rev : 01 | Rev date : 01 Mar 2017

The UD series are vertically polarized antennas that are complementary to the CBS series of slot antennas.
They are ideal for low power UHF TV transposer applications as well as higher power applications.
These dipole antennas are designed for broadband operation.
Construction is of aluminum and the antenna is housed within a fibreglass radome that has been designed to survive wind speeds of 240 km/h (150mph) to AS1170.2:2011. A range of dipole arrays, 4, 8, 12 and 16 bay, are designed for various gain requirements.
Dual inputs are standard on high power models and custom VRPs are available as optional extras on most models.

FEATURES / BENEFITS
Broadband design for Digital TV or multi-channel use
Low power models available in 3 versions: 470 - 650MHz, 520 - 720MHz, 620 - 860MHz
High power models available in 2 versions: 470 - 650MHz, 620 - 860MHz
Designed for maximum corrosion protection
Vertically polarized
Pressurized
Low wind loading
For detailed technical information use the external document link below.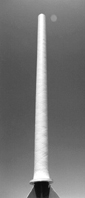 8UD-LP antenna shown
Structure

Product Line
Antenna TV
Product Type
Band IV/V (UHF) Dipole Arrays
Electrical Specifications

Frequency Range
MHz
470 - 860
Polarization
Vertical
Azimuth Radiation Pattern
Directional
Return Loss
dB
> 20 (across frequency range)
Impedance (unbalanced)
Ω
50
Mechanical Specifications

Number of Channels
Multi-channel
Mounting (Standard)
mm (in)
Flange base for 323 mmm radome
Design Wind Speed
km/h (mph)
240 (150)
Pressurization Operational
kPa (psi)
10 - 25 (1.5 - 3.6)
Pressurization Test
kPa (psi)
100 (15)
Material

Material - Radome
Fibreglass
Colour
White