UXA8-U57ACSQGE


PrimeLine Antenna, Ultra High Performance,
High Cross Polar Discrimination, Dual Polarized, 8 ft

Rev : A | Rev date : 02 Jul 2019

RFS PrimeLine Antennas are designed for all microwave applications that require best RF performance, especially when high cross polar discrimination (XPD) is required.
Tested and field proven ultra-high (ETSI EN 302 217 Class 3 and FCC Class A) electrical performance.
Sizes ranging from 0.6 m (2 ft) to 4.6 m (15 ft), frequencies ranging from 4GHz to 15GHz
Dual-polarized models with high XPD up to 40dB

FEATURES / BENEFITS
Frequencies range from 4 GHz to 15 GHz with support for one ultra wideband frequency range (5.725-7.125 GHz) to reduce antenna requirements and simplify logistic
Extremly high XPD performance for complete isolation between the signals in each polarization
Excellent radiation patern envelope (RPE), particularly in cross-polar area
Survive winds up to 200 km/h (125 mph) with standard antenna version, survive winds up to 252 km/h (155 mph) with high wind antenna version
An optional sway bar adds assurance to antenna stability
8 ft (2.4m) to 12 ft (3.7m) diameters can be ordered in split reflector configuration. The split design provides a reduced packaging volume which minimizes shipping cost.
The model UXA8-U57ACSQGE (high wind & high ice version) features :
Ultra wideband (5.725-7.125GHz) design to cover different applications
A reinforced mounting structure
3 sway bars, strategically located
A PVC coated radome optimized for areas with high wind and snow
Survival wind speed up to 250km/h (155mph) with 25mm (1 inch) radial ice or up to 225km/h (140mph) with 55mm (2inches) radial ice
Antenna and radome in gray color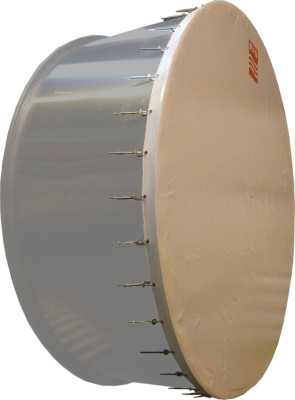 Antenna with snowradome
General Specifications

Product Type
Point to point antennas
Profile
PrimeLine
Performance
Ultra High, High Cross Polar Discrimination
Polarization
Dual
Antenna Input
CPR137G
Reflector
1-part
Radome
flexible
Antenna color
Gray RAL 7000
Swaybar
3: 3 x (3.0 m x Ø60 mm)
Electrical Specifications

Frequency
GHz
5.725 - 7.125
3dB beamwidth
degrees
1.3
Low Band Gain
dBi
40.6
Mid Band Gain
dBi
41.6
High Band Gain
dBi
42.6
F/B Ratio
dB
77
XPD
dB
40

IPI
dB
45

Max VSWR / R L
VSWR / dB
1.5 (14) @ 5.725 - 5.85 GHz
1.12 (25) @ 5.925 - 7.125 GHz
Regulatory Compliance
ETSI EN 302217 Range 1, class 3
FCC Category A
Mechanical Specifications

Diameter
ft (m)
8 (2.4)
Elevation Adjustment
degrees
± 5
Azimuth Adjustment
degrees
± 5
Polarization Adjustment
degrees
± 5
Mounting Pipe Diameter minimum
mm (in)
114 (4.5)
Mounting Pipe Diameter maximum
mm (in)
114 (4.5)
Approximate Weight
kg (lb)
180 (396)
Survival Windspeed
km/h (mph)
252 (155)
Operational Windspeed
km/h (mph)
190 (118)
Structure

Radome Material
PVC coated fabric
Further Accessories

optional Swaybar
3: 3 x (3.0 m x Ø60 mm)
Further Accessories
SMA-SKO-UNIVERSAL-L : Universal sway bar fixation kit
MountOutline

Dimension_A
mm (in)
2616 (103.4)
Dimension_B
mm (in)
1450 (57.1)
Dimension_C
mm (in)
460 (18.1)
Dim_D-114mm(4.5_in)Pipe
mm (in)
190 (7.5)
Dimension_E
mm (in)
310 (12.3)
Dimension_F
mm (in)
1120 (44.1)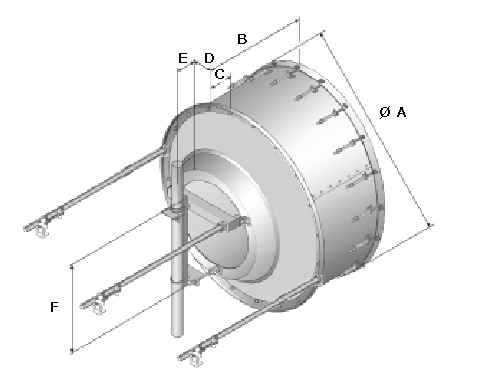 Mount outline High Ice High Wind antenna
WindLoad

Fa Axial force max. @ survival wind speed
N (lb)
19344 (4333)
M Torque maximum @ survival wind speed Nm (ft lb)
Nm (lb ft)
9313 (6875)
Fs Side force max. @ survival wind speed
N (lb)
9922 (2222)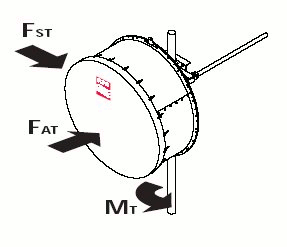 Notes
listed wind speeds are on "ASD" level