YLV3


FM Yagi Antenna
YLV Series

Rev : P1 | Rev date :

The YLV3 yagi antenna is suitable for use as an element in VHF transmitting arrays. By arranging a number of these elements around a suitable tower or mast an omnidirectional or a number of directional radiation patterns can be achieved. The YLV3 can also be used as a stand alone antenna.
The antenna can be centre mounted for single antenna applications or by an extended boom for mounting to tower or mast in an array configuration. Bracing kits are supplied as standard with antennas that require them. Mounting hardware is stainless steel. To facilitate package and transport, yagi antennas are transported as components. Detailed assembly instructions are provided.
Mounting clamps and tower brackets are available to suit a range of tower types. Contact RFS with your requirements.

FEATURES / BENEFITS
Suitable for use as an array element or for stand alone operation
Engineered for transmission of both Digital and Analog TV/Radio
Light weight and low wind load
All elements are DC grounded for lightning protection.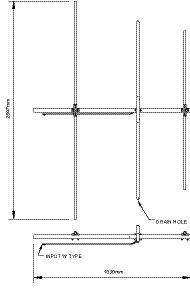 YLV3 - Dimensions shown for the model covering 47 - 54 MHz
Structure

Product Line
Antenna TV
Product Type
Band I (Low VHF) Yagi Antennas
Band II (VHF) FM Yagi Antennas
Electrical Specifications

Frequency Range
MHz
47 - 108
Polarization
Horizontal
Nominal Gain (Mid-band)
dBd
4.2
Return Loss
dB
>21 (typically 26 across channel)
Impedance (unbalanced)
Ω
50
Mechanical Specifications

Number of Channels
Single channel up to 8 MHz
Input Connector
N type
Dimensions (Height or Length)
cm (in)
20
Effective Area Front (full antenna) No Ice
m² (ft²)
0.46 (4.95)
Effective Area Front (full antenna) with 12.5mm(0.5") Radial Ice
m² (ft²)
0.46 (4.95)
Effective Area Side (full antenna) No Ice
m² (ft²)
0.13 (1.4)
Effective Area Side (full antenna) 12.5mm (0.5") Radial Ice
m² (ft²)
0.13 (1.4)
Design Wind Speed
km/h (mph)
240 (150)
Wind Load @ 50 m/sec Front
kN (lb)
0.69 (155)
Wind Load @ 50 m/sec Side
kN (lb)
0.2 (45)
Weight
kg (lb)
17 (37)
Packaging Information

Shipping Weight, Kg (lb)
kg (lb)
17 ()
Material

Material - Support Pole / Mounting
Aluminium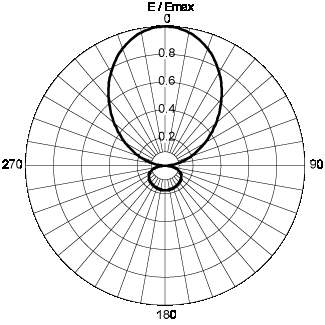 RADIATION PATTERN - Typical Azimuth Single antenna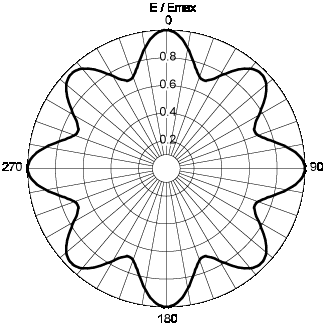 RADIATION PATTERN - Typical Azimuth Array of four antennas on square mast