158EIA-HCA158-009


1-5/8" EIA Connector for 1-5/8" Coaxial Cable, Gas stop, Sealing compound

Rev : D | Rev date : 16 Apr 2021

Radio Frequency Systems line of high performance HELIFLEX® coaxial cable connectors are characterized by excellent gas tightness and extremely low losses. HELIFLEX®Lite connectors can be installed with basic hand tools, but the use of dedicated installation tools further facilitates ease of assembly and improves performance.
RFS connectors are fully tested for mechanical and electrical compliance specifications.
HELIFLEX®Lite premium connectors have excellent electrical values and provide outstanding performance for the most demanding applications. The RFS connector design provides maximum sealing integrity and gas tightness.

FEATURES / BENEFITS
Lightweight
Excellent gas tightness, Overpressure for increased voltage handling is maintained throughout the system.
Robust Mechanical Design, Superior and consistent performance guarantees outstanding system characteristics.
Extremely low reflection factor, Outstanding low reflection factor improves overall system performance and margin and reduces mismatch losses
Totally Waterproof according to IP 66 / 68, Assures safe, long term operation in the harshest of environments. System tightness doesn't have to rely on overpressure from dehydration equipment.
Easy to install, no special tools needed. Only basic hand tools required. No additional cost to the installer.
RoHs (EU) and CRoHs (China) compliant, can be used on a global basis.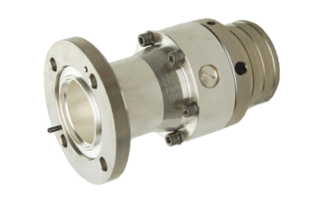 Connector 1-5/8" EIA
General Specifications

Transmission Line Type
Coaxial Cable
Cable Size
1-5/8"
Cable Type
Air Dielectric
Model Series
HCA158-50 Series
Connector Interface
1-5/8" EIA
Connector Type

Gas stop / pass

Sealing Method

Sealing compound ¹ )

Gender
Female
Electrical Specifications

Insertion loss
dB

< 0.05dB

VSWR, Return Loss
VSWR (dB)
0 <f ≤ 1.0 GHz: 1.02 (40)
1.0 <f ≤ 2.7 GHz: 1.06 (30.7)
Mechanical Specifications

Plating Outer/Inner
Silver/Silver
Length
mm (in)
135 (5.3)
Outer Diameter
mm (in)
89 (3.5)
Inner Contact Attachment
Threaded
Outer Contact Attachment
Tab Flare
Testing and Environmental

Waterproof Level
IP66
IP68
Sealing Volume, cm3 (ounces)
cm³ (ounces)
12 (0.40)
Notes
To join two cables with EIA connectors, two identical socket connectors are installed on either end of the cables to be joined, and a coupling element is used to make the connection of the center conductor.
The coupling element must be ordered separately.
¹) The sealing compound must be ordered separately.