SBIF-0ZXXSS-APCA-YC


Optical Fiber Cable Distribution Box, ABS,12-48 Cores

Rev : A | Rev date : 17 Jan 2022

RFS' HYBRIFLEX ™ Optical fibre cable distribution box is a wiring line device of user distributions in FTTH system and distrubuted Radio system , it provides protection and management for fiber cable, and be used for terminating, cable branching, cross connection. It is mainly used for user access point in FTTH-ODN network , it can be divided into indoor and outdoor type according to the installation scenario, for example distribution type and optic-split type . Splice protection sleeve is included.

FEATURES / BENEFITS
Made of high quality engineer plastic material (PC+ABS)
Good mechanical strength, Elegant appearance, sturdiness and durability
Provides interconnection for F/O trunk riser and branch or jumper F/O cable.
Suitable for indoor or outdoor ,wall-mounted , pole installation
Built-in stacked splice tray, easy for open, the splice tray can be taken down, easy for installation and maintenance.
The box door opening Angle is >180°, easy for handling cables and connections inside box
Cable,pigtails,patch cords are running through own path without disturbing each other, cassette type SC adaptor installation, easy maintenance.It is convenient for fixing and maintenance
Fibre routing reasonable, bending radius of fibers in any place is greater than 30mm
Water-proof/dust-proof/anti-aging, protection level up to IP65.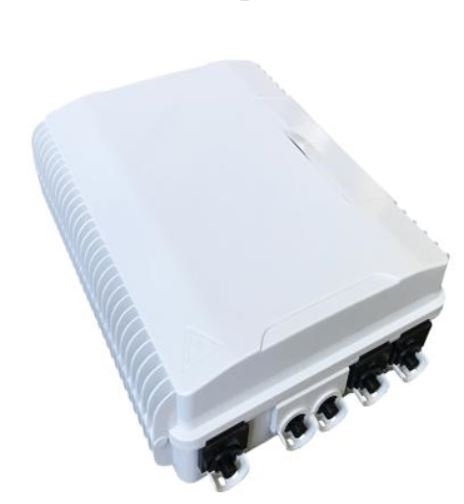 General Specifications

Product Type
Hybriflex
Mechanical Specifications

Material
PC + ABS
Mounting
Wall mounted, pole, aerial installation
Testing and Environmental

Storage Temperature
°C (°F)
-40 to 65 (-40 to 149 )
Operation Temperature
°C (°F)
-40 to 65 (-40 to 149 )
Installation Temperature
°C (°F)
-40 to 65 (-40 to 149 )
Sealing Class
IP65
Cables Supported

Supported F/O Connections
SC/APC
Additional Information

SBIF-0Z06SS-APCA-YC
SBIF-0Z12SS-APCA-YC
SBIF-0Z24SS-APCA-YC
Outer Dimension
292,5 mm × 227,5 mm × 102 mm
250 mm × 340 mm × 110 mm
420 mm × 320 mm × 130 mm
Splitter and Adapter Ports
12
24
48
Quantity of Pigtails included
0
0
0
Quantity of Splice Protection Sleeves included
24
50
100
Insertion loss (adapter&pigtail)
≤ 0.3dB
≤ 0.3dB
≤ 0.3dB
Return loss (SC/APC)
≥ 60dB
≥ 60dB
≥ 60dB
Operation Humidity
≤95%(30℃)no corrosive gases around
≤95%(30℃)no corrosive gases around
≤95%(30℃)no corrosive gases around
Atmospheric pressure
70Kpa~106Kpa
70Kpa~106Kpa
70Kpa~106Kpa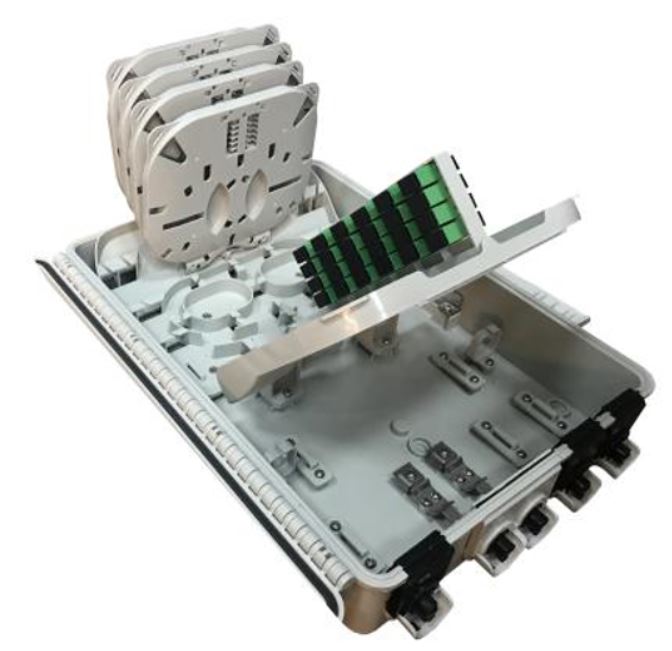 Example for 24 Fiber