WOIF-0ZXXSS-APPD-YC


Hybriflex Wall Outlet Box with different options

Rev : A | Rev date : 19 Jan 2022

RFS' HYBRIFLEX ™ Optical fibre wall outlet is a fixed connection device, which is used to terminate the drop cable in the office area, residential area, business district, and is made up of bottom box and front cover.

Optical fibre wall outlet can be classified into exposed and concealed type for installation.

FEATURES / BENEFITS
Atmospheric pressure: 70kPa~106kPa
Cable types: drop cable, pigtail, outdoor cable(Φ8mm~Φ10.5mm)
Meet domestic standard Q/CT 2353-2011.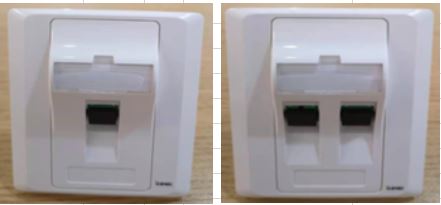 General Specifications

Product Type
Hybriflex Wall Outlet Box
Mechanical Specifications

Dimensions (LxWxD)
mm (in)
86 x 86 x 26 (3.38 x 3.38 x 1.02)
Testing and Environmental

Storage Temperature
°C (°F)
-40 to 70 (-40 to 158 )
Operation Temperature
°C (°F)
-40 to 60 (-40 to 140 )
Family Information

WOIF-0Z01SS-APPD-YC
WOIF-0Z02SS-APPD-YC
Quantity of Adapters
1
2
Quantity of Pigtails
1
2


Backview of a double and single layer


Drawing of a Pigtail