GKSPEED20-12P


High speed grounding kit for CELLFLEX® LCF 12

Rev : J | Rev date : 06 Jul 2022

This Grounding Kit has been developed by RFS for the CELLFLEX® cable series. The Grounding Kit body facilitates a proper attachment to the coaxial cable, ensuring that the performance of the coaxial cable is not being compromised. The tin plated copper mesh provides a secure, low resistance contact to the cable outer conductor. The installation only takes a few minutes. No additional sealing with mastic and electrical tape required.

FEATURES / BENEFITS
Compatible with both copper and aluminium cable types i.e. one Grounding Kit for both outer conductor materials eliminates the risk of faultyGrounding Kit installation and helps to keep inventory down.
This kit has been verified by independent labs to withstand the damaging effects of lightning current in excess of 50kA 8/20µs. The copper wire provides the most practical and effective low inductance transfer of lightning induced current to ground.
No influence on the electrical transmission characteristics of the coaxial cable.
Robust mechanical design.
UV resistant according to DIN EN ISO 4892-2 (Plastics - Methods of exposure to laboratory light sources - Part 2 Xenon-arc-lamps).
Ozone resistant according to DIN 53509 (Testing of rubber - Determination of resistance to ozone cracking).
Compliant to RoHS (EU 2002/95/EC) and CRoHS (China SJ/T11363-2006) i.e. usable on a global basis.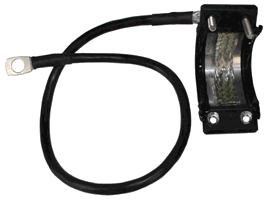 GKSPEED20-78P shown for illustration
Notes
Datasheet also applies to GKSPEED20-12GRP (gray) except for grounding wire color
Structure

Product Line
Coaxial Cable Accessories
Hybrid Cable Accessories
Type of Grounding Kit
High Speed
Transmission Line Type
LCF12, HB012
Cable Type
Coaxial Foam Dielectric, Hybrid
Cable Size
1/2"
Number of Cable / Waveguide Runs
1
Material

Grounding Kit Body: Stainless steel, with vulcanised EPDM (Ethylene-Propylene-Caoutchouc)
Screws: Stainless steel with safety washers
Contact element: Tin-plated copper mesh
Accessories

Recommended Tool
JSTRIP-12-3 (not for Power Cable)
Mechanical Specifications

Lug Attachment Method
Factory Attached
Lug Style Size

1-hole Ø 10.2mm (13/32") crimp-on, tin-plated

Grounding Wire Length
m (in)
0.5 (20)
Grounding Wire Size
mm²

16mm2 (7x7 strand)

Grounding Wire Color
Black
Grounding Body Color
Black
Sealing Class
IP68
Temperature Specifications

Operation Temperature
°C (°F)
-50 to 85 (-58 to 185 )
Storage Temperature
°C (°F)
-50 to 85 (-58 to 185 )
Packaging Information

Package Quantity
1
Weight per piece
kg (lb)
0.3 (0.66)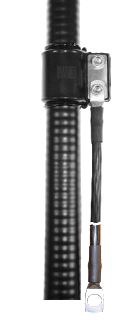 GKSPEED20-78P shown for illustration