MBHS158-2-F


Single Multi-block hanger, with angle member adapter

Rev : E | Rev date : 27 Sep 2022


Single Multi block hanger support systems are designed for organizing bundled runs of coax cable.
Each space-saving block securely holds one run of coax, allowing a compact bundle of up to 3x runs to be supported by stacking three blocks.

FEATURES / BENEFITS
Single Multi Blocks are manufactured of polypropylene providing thermal, chemical and UV resistance in all environments.
They come including angle member adapter and necessary hardware.
The angle member adapter fastens the clamp to the tower without drilling.
The angle member adapter includes a tower member set screw.
The hanger mounting rod may be located in either of two mounting holes, depending on orientation of the fixing member.
Compliant to RoHS (EU 2002/95/EC) and CRoHS (China SJ/T11363-2006) i.e. usable on a global basis.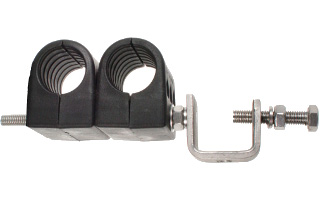 picture shows MBHS78-2-F for illustration purpose
Notes
For applications under wind speed conditions from 160 km/h (100 mph) up to 200 km/h (125 mph) a maximum clamp spacing of 1.0m (3.25 ft) must not be exceeded.
General Specifications

Product Line
Coaxial Cable Accessories
Product Type
Hanger
Hanger Type
Single Multi-block
Transmission Line Type
LCF158
Cable Type
Coaxial Foam Dielectric
Color
Black
Mechanical Specifications

Cable Size
1-5/8
Number of Cable / Waveguide Runs
1 per layer, 2 layers, 2 runs
Configuration
incl. Angle member adapter
Angle member adapter clamping range mm (in)
4 / 24 (0.157 / 0.945 )
Angle member adpter threads
2x M8
Material

Metal part: Stainless steel
Plastic parts: Polypropylene

Length
mm (in)
258 (10.1) see picture below (L)
Height
mm (in)
92 (3.62) see picture below (H)
Width
mm (in)
54 (2.13) see picture below (W)
Recommended / Maximum Clamp Spacing
m (ft)
1 / 1.5 (3.25 / 5)
Temperature Specifications

Operation Temperature
°C (°F)
-50 to 85 (-58 to 185 )
Storage Temperature
°C (°F)
-50 to 85 (-58 to 185 )
Packaging Information

Package Quantity
10
Weight per piece
kg (lb)
0.35 (0.77)
Weight per kit
kg (lb)
3.7 (8.15)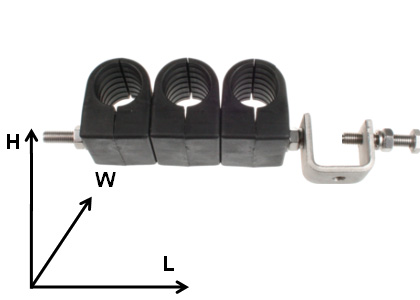 picture shows MBHS78-3-F for illustration purpose