/

/

/

/

/

412IEC-HCA495-019
412IEC-HCA495-019


412" EIA Connector for 5" Coaxial Cable, Gas stop / Gas pass, O-Ring Sealing

Rev : G | Rev date : 19 Apr 2023

Radio Frequency Systems line of high performance HELIFLEX® coaxial cable connectors are characterized by excellent gas tightness and extremely low losses. HELIFLEX®Lite connectors can be installed with basic hand tools, but the use of dedicated installation tools further facilitates ease of assembly and improves performance.
RFS connectors are fully tested for mechanical and electrical compliance specifications.
HELIFLEX®Lite premium connectors have excellent electrical values and provide outstanding performance for the most demanding applications. The RFS connector design provides maximum sealing integrity and gas tightness.

FEATURES / BENEFITS
Easy installation utilizing only basic hand tools.
Tab flare of outer contact attachment means quick and simple installation.
No need for sealing compound. The connector is ready for pressurization immediately after installed to the cable.
Excellent gas tightness. Overpressure for increased voltage handling is maintained throughout the system.
Outstanding VSWR performance improves overall system performance.
Totally waterproof, assures safe, long term operation in the harshest of environments.  
RoHS (EU) and CRoHS (China) compliant, can be used on a global basis.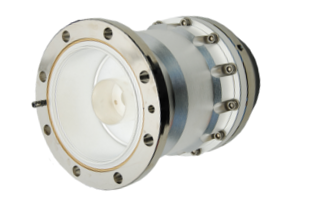 Connector 4-1/2" IEC
Notes
The connector is converted to gas pass by drilling through the pilot hole in the insulator.
Connector model with -019KT suffix denote connectors that are supplied with an inner connector and flange hardware.
Connector model -019 does not include an inner connector and flange hardware.
Gas inlet: NPT1/8"
Peak power capability: 1560 kW
Average power capability (at 40°C ambient temperature): 27.5 kW @ 860 MHz
Proof voltage, max.:12.5 kV
General Specifications

Transmission Line Type
Coaxial Cable
Cable Size
5"
Cable Type
Air Dielectric
Model Series
HCA495-50 Series
Connector Interface
4-1/2" EIA (50 Ω) per IEC 60339-2
Connector Type

Gas stop / Gas pass - See Note 1.

Sealing Method

silicone rubber

Gender
Female - See Note 3.
Electrical Specifications

Connector Frequency Range
GHz
DC - 860MHz
VSWR, Return Loss
VSWR (dB)
DC - 860MHz: 1.02 (40)
Mechanical Specifications

Plating Outer/Inner
silver
Length
mm (in)
205.9 (8.071)
Outer Diameter
mm (in)
176.6 (6.929)
Weight
kg (lb)
10 (22.046)
Body Material
copper alloy / nickel plated
Inner Contact Material
copper alloy / silver plated
Testing and Environmental

Waterproof Level
IP68 (pressure-tight up to 4 bar / 400 kPa)
STORAGETEMPERATURECF
°C (°F)
-70 to 85 ( to )
OPERATIONTEMPERATURECF
°C(°F)
-40 to 85 ( to )